THE WEEKEND STARTS HERE: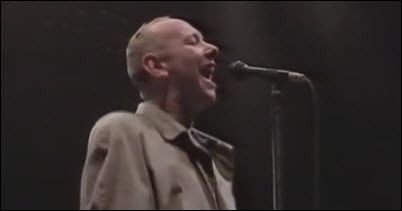 ...with JOE JACKSON! Live in Tokyo on1986, for the Big World tour. Your set list: One More Time, Wild West, Right & Wrong, You Can't Get What You Want (Til You Know What You Want), (It's a) Big World, Hometown, On Your Radio, Shanghai Sky, Fifty Dollar Love Affair, Cancer/Be My Number Two/Breaking Us in Two, Steppin' Out, Survival, Soul Kiss, It's Different for Girls, The Jet Set, Monday Papers, Tonight and Forever, Jumpin' Jive Medley: Jack You're Dead/What's the Use of Getting Sober (When You're Gonna Get Drunk Again)/Jumpin' Jive, I'm the Man, and Man in the Street.
OH PEP! advance streams I Wasn't Only Thinking About You...
MERCY UNION streams The Quarry.
KAIA KATER advance streams Grenades.
LAURA GIBSON advance streams Goners.
THE BEATLES: Listen to a previously unreleased acoustic demo of "While My Guitar Gently Weeps."
CHARLES BRADLEY: Listen to the posthumous "Can't Fight the Feeling."
ARCTIC MONKEYS' explosive debut single "I Bet You Look Good on the Dancefloor," which turns 13, revolutionized the way music was sold in the UK forever. I remember hearing it and thinking that someone finally built on The Jam and Buzzcocks properly.
CAT POWER tours the soundtrack of her life.
KURT VILE talks to Aquarium Drunkard about his new record, recording with Dean Ween of Ween, the influence of Sonic Youth, working with Kim Gordon, and how collaborating with his "sister" Courtney Barnett helped shape the new album.
ROXY MUSIC's debonair art-glam should get its due.
PEAK GRUNGE: An oral history of the fall of '93.
THE NUMBER ONES looks at Bobbie Gentry's "Ode To Billie Joe," a great work of short American fiction.
NOW SHOWING: This weekend's wide rleases include the Halloween sequel-reboot, which is currently scoring 80 percent on the ol' Tomatometer; and The Hate U Give, which expands wide at 96 percent. The Old Man and the Gun, which may or may not be Robert redford's last acting gig, opens on 600 screens scoring 90 percent.
JOHN CARPENTER talks to Rolling Stone about the Halloween sequel-reboot, soundtracks, and more. He's also interested in a They Live sequel.
GEORGE R.R. MARTIN answers NYT staffers' questions.
JADA PINKETT SMITH & LEAH REMINI have ended their feud. A greatful nation breathes a sigh of relief.
REAL POLITICS IMITATES VEEP, because 2018.
THE ENDURING APPEAL of Oscar the Grouch.
BISCUIT THE CHIHUAHUA has dog siblings, but he much prefers hanging out with his chicken sister Rose.
A SPIDER SWARM cloaks Lake Vistonida in northern Greece.
A RUSSIAN TOWN hires a cat chief to handle strays.
WHALE-WATCHERS watch great white sharks eat one.