THE WEEKEND STARTS HERE: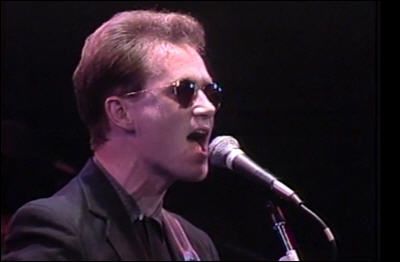 ....with MARSHALL CRENSHAW! Live at The Ritz, July 6, 1985. Your setlist includes: "Blues Is King," "Whenever You're On My Mind," "Shake Rattle And Roll," "Our Town," "Maryann," "Right Now," "The Distance Between Me And You," "Someday Someway," "Little Wild One," " I'm Sorry (But So Is Brenda Lee)," "Yvonne," "There She Goes Again," "Cynical Girl," "Shake Up Their Minds," and "Soldier Of Love."
BAT FOR LASHES advance streams The Bride.
MARTHA advance streams Blisters In The Pit Of My Heart.
SARA WATKINS advance streams Young In All The Wrong Ways.
JJ DOLL streams a 5-song, self-titled 7".
DRIVE-BY TRUCKERS share "Surrender Under Protest," the first single from its anticipated upcoming album, American Band.
THE ISLEY BROTHERS: "Shout." Shindig. Friday. A little bit louder now.
LED ZEPPELIN wins the "Stairway to Heaven" copyright case;the jury found Led Zeppelin members indeed heard Spirit's "Taurus," but that there was no substantial similarity in the extrinsic elements of the two songs.
STEVE EARLE talks to Paste about Guitar Town -- a record I got to spin as a DJ when it was released.
ERIC JOHNSON talks to Paste about returning to the Fruit Bats brand.
THE STROKES: Ten of Their Best.
THE TOP 10 BEATLES BOOKS, according to The Guardian, to which I would add Tell Me Why.
NOW SHOWING:This weekend's wide releases include Independence Day: Resurgence, which is currently scoring 52 percent on the ol' Tomatometer; Free State of Jones, currently scoring 16 percent; The Shallows, scoring 88 percent; and The Neon Demon, scoring 52 percent.
LINDSAY LOHAN live-tweeted the Brexit referendum...or did she?
BEN AFFLECK offered a bizarre rant on Bill Simmons' Any Given Wednesday.
KATHERINE HEIGL & JOSH KELLEY are expecting their third child.
ANTON YELCHIN did not suffer much before his tragic death this past weekend, which is...good news, I guess?
DWAYNE JOHNSON is producing Son Of Shaolin, a feature pitch based on the soon to be published graphic novel created and written by scribe Jay Longino.
MALCOLM IN THE MIDDLE could be headed for a reunion.
A STRAY KITTEN crashes a newscast, heads for adoption.
THE SQUIRREL THREAT: London doesn't get it.
A RATTLESNAKE could not disrupt this couple's wedding day.
HUNDREDS OF MEGA-SPIDERS were released into the wild in the UK.