LITERALLY THE END OF AN ERA: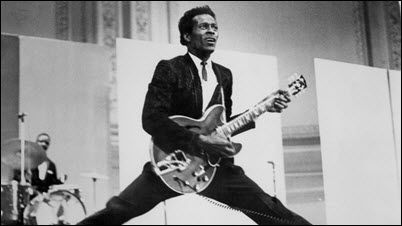 CHUCK BERRY, who with his indelible guitar licks, brash self-confidence and memorable songs about cars, girls and wild dance parties did as much as anyone to define rock 'n' roll's potential and attitude in its early years, died on Saturday. He was 90. Singer, songwriter, guitarist, and showman, with a keen understanding of marketing and American youth. A man with flaws to be sure, but there may be no more single influential man in the genre. Here's Chuck with John Lennon, playing "Johnny B. Goode," a classic American rags-to-riches story married to music so unforgettable that few rock bands ever live without playing it. Lennon's old band, The Beatles, had covered Berry tunes like "Roll Over Beethoven," which Berry plays here with great drive and twang. Here's "Sweet Little Sixteen," with a melody and geographical conceit so catchy Brian Wilson would steal it for "Surfin' U.S.A."; Berry won a suit for a co-writing credit. (Note the song also namechecks "Bandstand," which was a good way to get Dick Clark's attention.) He would tap into the restless teen id on "School Days," and crusing culture on "No Particular Place to Go." Here he is in 1959, syncing "Back in the USA" with all the verve and joy of the song itself, proudly American at a time when an African-American would have every reason to be a bit less than celebratory. Here's the essential "Great 28" comp on Spotify.
BIG THIEF played a set at Stubb's for NPR at SXSW.
PWR BTTM played a set at Stubb's for NPR at SXSW.
HURRAY FOR THE RIFF RAFF played a set at Stubb's for NPR at SXSW.
FEIST shares "Pleasure," the title track of he upcoming LP.
METRIC shares "Come On, Angel."
THE EXCITERS: What's a bear doing in the video for "Tell Him"? I have no idea

THE NEW PRONOGRAPHERS' Carl Newman talks to Stereogum about America's political climate, depression, Dan Bejar's absence this time around, songwriting and more.

THE BEST SMITHS SONGS, according tp Paste.

THE KINKS: Video of Ray Davies being knighted (and talking about it).

GRACELAND TURNS 60: How well do you know the history of rock'n'roll's White House?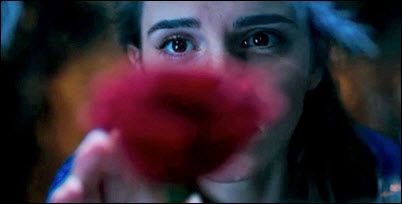 WEEKEND BOX OFFICE:The live-action Beauty and the Beast trounced exen lofty projections with 170-174MM, the biggest March debut and seventh biggest debut ever (before inflation, anyway). It also made 180MM in foreign markets, which means Disney can stop worrying about having to earn 300MM to recoup production and marketing costs. This could make a billion. Kong: Skull Island places a distant second with 29.9MM on a 53 percent drop, as expected; this still needs more strength overseas if it's going to profit on big screens. Logan shows with 17.5MM on a 54 percent drop, withshorter legs the mutants seem to have starting to show. Nevertheless, Jackman breaks the 500MM mark worldwide and thus exits this franchise with good reviews and good receipts. Get Out slides to the fourth slot with 13.MM on a 36 percent drop, but this si already hge;y profitable and is just now opening overseas. The Shack rounds out the Top Five with 6.1MM on a 39 percent drop. Below the fold, The Belko Experiment debuted in seventh with 4MM against a 5MM budget; hardly the makings of a quick horror hit, tho the association with James Gunn may turn it into a cult thing in the home market.
SCARLETT JOHANSSON & CHRIS EVANS? Nah, not really.
MARION COTILLARD and her actor/director beau Guillaume Canet welcome a daughter.
TORI SPELLING: No Money, Mo Problems.
HANS ZIMMER talks film scores and why he's quasi-quitting superhero movies.
JIMMY BRESLIN, the New York City newspaper columnist and best-selling author who leveled the powerful and elevated the powerless for more than 50 years with brick-hard words and a jagged-glass wit, died on Sunday at his home in Manhattan. He was 88.
BERNIE WRIGHTSON, legendary horror comics artist and co-creator of Swamp Thing, passed away Saturday night after a long battle with brain cancer. He was 68.
NORTH KOREA conducted a test of a newly developed high-thrust engine at its Tongchang-ri rocket launch station and leader Kim Jong Un said the successful test was "a new birth" of its rocket industry, the country's official media said on Sunday.
SYRIA fired missiles at Israeli warplanes early Friday after a series of Israeli airstrikes inside Syria — a rare military exchange between the two hostile neighbors that was confirmed by both sides.
A MILITANT ANTI-SMOKING MONKEY at an Indonesian sanctuary stole a tourist's pack of cigarettes and ripped the smokes to shreds while a visitor filmed.
A FEW GOOD DOGS sniff out ivory poachers in return for tennis balls.
MONKEYS & PIRANHAS: Part of your heart-healthy diet?
A GOLDFISH with a wheelchair.