THE WEEKEND STARTS HERE:
...with AIMEE MANN's CHRISTMAS CAROL (profanity warnings): Part One has your Scrooge-y set-up with Michael Penn. Part Two features The Office's John Krasinski. Part Three has Michael Cera. Part Four has John C. Reilly.
RYLEY WALKER stopped by World Cafe for a chat and mini-set.
YEASAYER stopped by KEXP for a live performance.
ULTIMATE PAINTING, Live at the Bowery Ballroom, Dec. 7, 2016.
TOM WAITS gives a reading of a "Christmas Card From a Hooker in Minneapolis."
THE DECEMBERISTS: Colin Meloy talked to SPIN about the tenth anniversary of The Crane Wife.
THE 100 BEST SONGS of 2016, according to Pitchfork.
THE 70 BEST ALBUMS of 2016, according to PopMatters.
ALL SONGS CONSIDERED publishes its Listeners' Top 20 Album Picks for 2016.
NOW SHOWING: This weekend's wide releases include Rogue One: A Star Wars Story, which is currently scoring 84 percent on the ol' Tomatometer; and Collateral Beauty, which is scoring 19 percent. Manchester By The Sea expands wide scoring 97 percent.
ROGUE ONE is, as advertised, a war story. That's not particularly useful, given that the franchise is Star Wars. It is more accurate to say that this spin-off is more about ground fighting, and gound-level rebellion more than other movies in the franchise, including RotJ's battle on the forest moon of Endor. And it is in that sense perhaps the grittiest of this universe; one can imagine which shots are among the reshoots rumored to lighten a few moments. Given that the story of the construction of the Death Star and the theft of its technical plan is not key to the Skywalker family saga, characters can die and thus the stakes are real, despite knowing the outcome in some general sense. That is not to say that the Skywalker presence is unfelt; it's no spoiler to note that Darth Vader has a role here, and by the end the Sith Lord pretty much delivers the audience what it wants. He may be the film's most prominent cameo, but a number of familiar and obscure faces from the prior films also appear here. The new cast performs well enough, and enough of the characters are drawn enough, with their own arcs. Nevertheless, I suspect people wil remember Alan Tudyk's voicing of the K-2SO droid as much as lead humanoids like Felicity Jones and Diego Luna. Michael Giacchino's reportedly last-minute score isn't all that memorable, but it neatly incorporates and launches from the John Williams catalog, from the obvious to some of the fleeting phrases of the original (now Ep. IV). All told, a really solid movie, one that probably benefits from not having to carry the expectations of the main saga, even if the tone is darker than most of the series.
PRINCE HARRY & MEGHAN MARKLE: Caught on camera.
ALAN THICKE told his son to take a photo as he was being taken to the hospital.
JOHNNY DEPP & AMBER HEARD reached a speed bump in their ongoing divorce saga.
HOW I MET YOUR FATHER now looks set for the small screen, years after How I Met Your Mother ended.
PASSENGERS, starring Chris Pratt and Jennifer Lawrence, may not be what you think, and it's risky. (spoiler alert, obvsly)
BERNARD FOX, the mustachioed actor known to TV viewers as Dr. Bombay on "Bewitched" and Col. Crittendon on "Hogan's Heroes," has died. He was 89.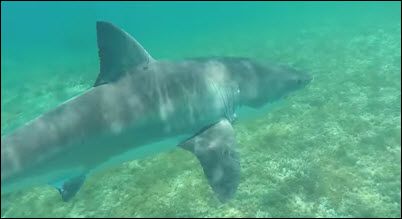 A GREAT WHITE SHARK, filmed without a cage. What say you, Police Chief Brody?
THE SQUIRREL THREAT: They've declared war on Christmas.
THE SWARM: A massive wasp nest was discovered in a Brazilian farmhouse.
ROUND UP THE USUAL SUSPECTS: A New Jersey police department said officers used their patrol cars to round up "a group of suspicious donkeys loitering behind a residence."