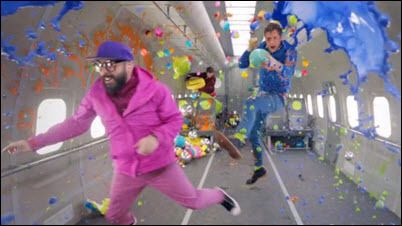 OK GO released a zero-gravity video for "Upside Down and Inside Out."
LUCIUS stopped by World Cafe for a chat and mini-set.
KT TUNSTALL pays tribute to Fleetwood Mac on Morning Becomes Eclectic.
THE RECORD COMPANY stopped by World Cafe for a chat and mini-set.
ST VINCENT covers The Rolling Stones' "Emotional Rescue."
BENNY HESTER, best known as a Christian artist, drops "Give Your Love Forever" from his previously unreleased 1972 LP recorded with Elvis Presley's TCB Band.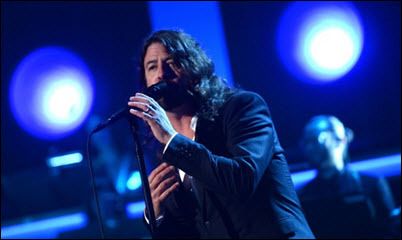 DAVE GROHL, RHIANNA, STEVIE WONDER & MANY MORE cover Lionel Richie for this year's Musicares concert.
ELTON JOHN accused THE ROLLING STONES of being "irrelevant" for chasing pop success. Um.
BELLY: The making of King.
JULIA HOLTER is profiled by The Guardian.
PRETTY IN PINK; Stereogum revisits the classic John Hughes soundtrack on its 30th anniversary, from the perspective of a Millenial.
WEEKEND BOX OFFICE: Deadpool shattered mutliple records to top the chart with an estimated 135MM, more than double the tracking estimates.The holiday weekend helped, though that's one of the records broken here. It's also the sixth-biggest Marvel debut, despite (or perhaps due to) its R-rating. That rating likely prompted its small-for-superheroes 58MM budget, which means thisone's already well itno the black on 260MM in worldwide receipts. Kung Fu Panda 3 places 19.7MM on a mere 7.5 percent drop after dropping 49 percent the prior weekend. The debut of How to Be Single shows with 18.8MM, which seems weak against a 38MM budget, though it won't have much direct competition in the quasi-rom-comedy space until next month. Zoolander 2 opened in the fourth slotwith 15.7MM, which is about what the original made in its opening weekend with a budget about half of the sequel's reported 50MM; this may falter domestically but is likely to do far better overseas than the original, pushing Ben Stiller and Co. into profit. The Revenant rounds out the Top Five with 7MM, pretty much what it grossed last weekend; it may still be a few weekends short of profit (but some Oscars will likely do the trick).
DEADPOOL breaks all the rules with glee and lands on target nearly perfectly. That said, it is not going to be for everyone. Marvel's first R-rated movie earns that rating at least every few minutes; If Captain America: Winter Soldier was a superhero political thriller, and Guardians of the Galaxy a superhero space opera, Deadpool is a comic book version of a Quentin Tarantino revenge film, filled with gore, profanity, nihilsm, sex ranging from the vanilla to the kinky, and dialog as sharp as the swords strapped to the title character's back. Co-producer Ryan Reynolds gives a star turn as mercenary-turned-mutant Wade Wilson, skewering himself, other superheroes, other movies, and a large number of bad guys, though he's the first to remind you he's not a good guy. The rest of the cast generally perfoms admirably, particularly Morena Baccarin (Firefly, Homeland, Gotham) as the hooker with a heart of gold in Wilson's life (I daresay she will boost home video sales also). It's an impressive directorial debut for Tim Miller, whose prior experience was in animated shorts and title sequences -- the opening credits here are one of my favorite sequences in years and perfectly set the table for the meal to come. Conversely, this is one of those Marvel movies where you'll want to stay past the end of the credits, for a dessert perfectly in keeping with the meal you you just consumed.
THE BAFTAS went to these folks.
BEN AFFLECK & JENNIFER GARNER spent the Valentine's Day weekend together with their kids.
SPORTS ILLUSTRATED went with three swimsuit covers this year.
TWIN PEAKS: Ashley Judd joins the revival of David Lynch's cult classic.
ROADIES, the upcoming Showtime series from Cameron Crowe, has a trailer online.
ABRAHAM LINCOLN: I missed the 205th birthday of the 16th President of the United States on Friday. Even if you saw the Spielberg biopic, here are two things you may not have known about Honest Abe: (1) he was an early adopter of the telegraph; and (2) he once sported a punky haircut.
GEORGE WASHINGTON: Though now lumped in with everyone for Presidents' Day, Feb 22nd is the birthday of the "Father of his Country." In 1776, David McCullough notes that when Washington took command in July 1775, he thought he would be home at Mount Vernon by Christmas. McCullough catalogs Washington's blunders -- many of them nearly fatal to the Cause -- but concludes: "He was not a brilliant strategist or tactician, nor a gifted orator, not an intellectual... He had made serious mistakes in judgment. But experience had been his great teacher from boyhood... and above all, Washington never forgot what was at stake, and he never gave up." That, as much as anything, is why Washington is usually ranked among the greatest of US presidents. not to mention the subject of a profane, animated rap cartoon.
A POLAR CUB in Toronto is introduced to snow.
A HORNY, REJECTED ELEPHANT rampaged on a highway in southern China.
TORTOISES upstaged a New York Fashion Week show.
IS THAT A TROUT IN YOUR PANTS, or are you just...oh.