THE WEEKEND STARTS HERE:
with ELVIS PRESLEY! The King died on August 16, 1977, but remains a global pop phenomenon, so it's worth a recap of highlights from his legendary career. For the 30th anniversary, Canada's Star-Phoenix, discussing ten important parts of Elvis history worth reliving, noted: "His was a sequined coat of many colours: '50s Greaser Elvis. Military Elvis. Hollywood Elvis. Aloha from Hawaii Elvis. Vegas Elvis. And, ultimately, Dead Fat Elvis." The BBC had friend and aide Sonny West recall life with The King.
ACTION NEWS 5 still has its local coverage from Aug. 16-17, 1977 (here, here, here and here) on the Tube, where you can also see funeral footage from the BBC Archive. Here's read the obit that ran the next day in the Washington Post. Elvis Presley News recaps the international headlines from the event and links to the eulogy at his funeral. On a happier note, check out what is likely the first footage taken of Elvis, with backstage shots of Carl Perkins, Johnny Cash and Buddy Holly in 1955; shades of Walk The Line! Let's start with his performance of "Hound Dog" o­n The Milton Berle Show six months later, not o­nly because it's historic, but also because Paul Miller and I often reached for it when we would stumble into our KUSR shift at the last minute -- on the broadcast, Uncle Miltie vamped for awhile, which gave us time to pull records for the show. He was also iconic in "Jailhouse Rock" that year. Elvis sang a mashup of "Love Me Tender" and "Witchcraft" with Frank Sinatra when he got back from the Army. All of his movies -- such as "Viva Las Vegas" --made money, but his musical career stalled in the 1960s until he electrified and charmed the public with his televised '68 Comeback Special (Part One, Part Two). 1970 finds him singing "In The Ghetto" and "Suspicious Minds" in the jumpsuit, though pre-bloated. I'm going to throw in "Little Sister" just 'cause I like it. Sadly, in a few short years, bloated jumpuit Elvis would be delivering a wacked-out take on "Are You Lonesome Tonight?" -- though to be fair, this audio-only version from 1969 is even more demented and he knows it. I would rather remember Jumpsuit Elvis for the signature horns that open "See See Rider." a tribute to his enduring legacy as the fact that he could hit the charts decades after his death with a remix of "A Little Less Conversation," a video subtly recalling "Jailhouse Rock," and Paul Oakenfold's remix of "Rubberneckin'". The King may be gone, but the brand lives on, making millions and recruiting new fans under the watchful eyes of Elvis Presley Enterprises and CKX, Inc.
GREETINGS FROM GRACELAND: It must be said, however, that Elvis Presley Enterprises did not have a good handle on the King's affairs in the years immediately following his death. Chicago radio personalities Steve Dahl and Garry Meier won a local emmy for their 1981 comedic look at what was then a very seedy exploitation of Elvis in Memphis. (Part 1, Part 2, Part 3, Part 4, Part 5, Part 6, Part 7.)
MOJO NIXON & SKID ROPER: "Elvis Is Everywhere."
NATHANIEL RATELIFF advance streams Nathaniel Rateliff & The Night Sweats.
RONNIE STONE & THE LONELY RIDERS stream the '80s synth-rock pastiche, Møtorcycle Yearbook.
ADVANCE BASE, f/k/a Casiotone For The Painfully Alone, advance streams Nephew In The Wild.
WAVVES drop "Heavy Metal Detox" ahead of V. Oh yeah.
SON LITTLE drops "Lay Down" ahead of his self-titled debut LP.
WOODSTOCK: On Aug. 15-17, 1969, hundreds of thousands of people gathered in a lovely natural amphitheater in Bethel (not Woodstock), NY for "three days of peace and music," including sets from Crosby, Stills and Nash, The Who, Santana, Joe Cocker, Jefferson Airplane, Arlo Guthrie, Canned Heat, Jimi Hendrix, and the proverbial many more.
DRIVE-BY TRUCKERS: Patterson Hood talks to WGN about the growth of the band, playing shows without a set list and an upcoming live record recorded at The Fillmore in San Francisco.
PSYCHEDELIC TEXAS: When Janis Met Roky.
PARLIAMENT-FUNKADELIC, ranked by Stereogum.
THE 95 BEST ALT-ROCK SONGS of 1995, according to SPIN.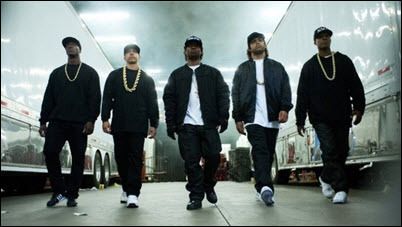 NOW SHOWING: This weekend's wide releases are The Man From U.N.C.L.E., which is currently scoring 67 percent on the ol' Tomatometer; and Straight Outta Compton, scoring 85 percent.
STRAIGHT OUTTA COMPTON: The former N.W.A legends go deep with Rolling Stone on their triumphs and controversies.
BEN AFFLECK is not funding the new, lavish lifestyle of his former nanny, according to people very close to the situation.
KRISTEN STEWART is profiled by NYLON. Of her sexuality, she notes: "Google me, I'm not hiding."
KHLOE KARDASHIAN & LAMAR ODOM: Did he ambush her, or didn't he?
TOM CRUISE is goiung to try to make Jack Reacher happen again.
SESAME STREET, brought to you by the letters H, B, and O.
STAR WARS: Kathleen Kennedy persuaded JJ Abrams to helm Star Wars: The Force Awakens by asking a simple question.
DEADWOOD: The HBO ciult fave may be headed to the big screen.
THE ISLAMIC STATE militants likely used mustard agent in an attack earlier this week on Kurdish forces in Iraq, senior U.S. officials said Thursday, the first indication the militant group has obtained a banned chemical weapon.
IRAQ: The systematic rape of women and girls from the Yazidi religious minority has become deeply enmeshed in the organization and the radical theology of the Islamic State in the year since the group announced it was reviving slavery as an institution.
IRAN's nuke deal could lead the country to export an additional 600K barrels of oil per day by the end of next year, federal energy analysts predict.
SYRIA: Three U.S. diplomats stepped up pressure against the Syrian government on Friday by accusing it of continuing to use chemical arms against its opponents in the country's four-year civil war.
DEEP BLUE: The Biggest Shark Ever Filmed? What say you, Police Chief Brody?
"ROYALS" brings all the cows to the yard.
THE FLYING SPAGHETTI MONSTER actually floats.
THEY'RE SPARING NO EXPENSE: Google, soon-to-be Alphabet,wants to start a project looking at GMO mosquitoes as a way to fight malaria and Dengue fever all around the world.