THE WEEKEND STARTS HERE:
... with GRAM PARSONS! As a member of both The Byrds and The Flying Burrito Brothers, and as a solo artist, Parsons anticipated the so-called country rock of the 1970s and the alt-country movement that began around 1990. There is not a lot of GP video floating around, but "Christine's Tune" is a good place to start, though the video for "Older Guys" is great because someone made them go out to christen Judge Smails' sloop. The Hell's Angels make an unfortunate cameo in the clip of "Six Days o­n the Road" from the infamous Altamont festival in 1969. The posthumous video for "Sin City" is nice also. BONUS: Dwight Yoakum covers "Wheels" at a Parsons tribute concert. DOUBLE BONUS: Frequent duet partner Emmylou Harris covers "Return of the Grievous Angel" with alt-country icon Ryan Adams (and Buddy Miller o­n bass) at a different tribute.
THE ARCS: The Black Keys offshoot advance streams Yours, Dreamily.
LOU BARLOW advance streams Brace The Wave.
DIANE COFFEE: Shaun Fleming, former Disney voice talent and touring drummer for Foxygen, advance streams Everybody's A Good Dog.
JOAN SHELLEY advance streams Over and Even.
SUPERCHUNK drops a 2000 live cover of "Born to Run" (with Crooked Fingers and...Trail of Dead) to mark the song's 40th anniversary.
TAYLOR SWIFT hosted Beck and St. Vincent on a cover of Beck's "Dreams." She also brought on Lisa Kudrow for "Smelly Cat."
THE PIPETTES: "Your Kisses are Wasted On Me." Before it all went wrong. Sigh.
YO LA TENGO: Ira Kaplan lists 10 of his influences, musical and otherwise, for the New York Times magazine.
ELENI MANDELL talks to Magnet about the countrified sound of Dark Lights Up.
LAMONT DOZIER: The legendary songwriter talks to The Guardian about the early days of Motown, Detroit in the 1960s, and how to write a hit song.
THE LEMONHEADS: Ten of the Best.
NOW SHOWING: This weekend's wide releases are No Escape, which debuted Wednesday scoring 41 percent on the ol' Tomatometer; We Are Your Friends, which is scoring 43 percent; and War Room, which wasn't screened for critics. Estimates favor War Room to edge We Are Your Friends, despite being on many fewer screens.
BEN AFFLECK & JENNIFER GARNER lose their wedding rings.
LUCY LIU welcomed a baby boy via surrogate on Thursday.
ROSIE O'DONNELL's daughter Chelsea — who went missing on August 11 only to return a week later — has left home again to live with her birth mother.
JENNIFER LAWRENCE & AMY SCHUMER are writing a screenplay.
BRADGELINA are house-hunting in London.
DERRICK ROSE of the Chicago Bulls is being sued by a woman who claims the NBA superstar and two of his friends drugged and gang raped her.
CHRISTOPHER GUEST is putting most of his players back together for Mascots.
UKRAINE and pro-Russian separatists, in a gesture to shore up a tenuous ceasefire, agreed on Wednesday to strive for an end to all truce violations from next Tuesday, the OSCE and rebel representatives said.
IRAN appears to have built an extension to part of its Parchin military site since May, the U.N. nuclear watchdog said in a report on Thursday, as part of its inquiry into possible military dimensions of Tehran's past nuclear activity.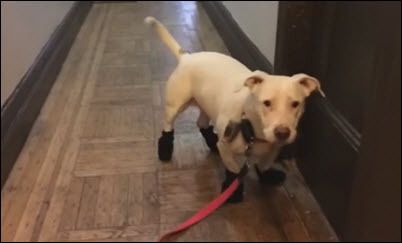 A DOG unhappy with her shoes.
A RATTLESNAKE SELFIE is a bad idea. The More You Know.
A HUMPBACK WHALE backflips for tourists.
AN ELEPHANT in northern Thailand went berserk Wednesday, killing his "mahout" keeper before running off into the jungle with three terrified Chinese tourists still on his back, police said.