THE WEEKEND STARTS HERE: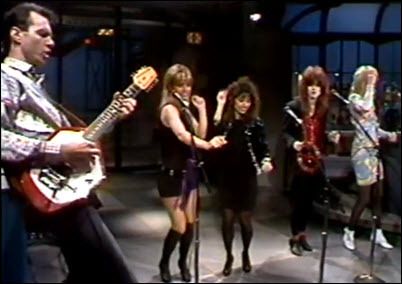 ... with THE BANGLES! There's no better way to start than with these live takes on "Hero Takes A Fall" and Kimberley Rew's "Goin' Down To Liverpool" for Dave in 1984. It was that sort of rawk (and the hotness of Susanna Hoffs) that got Prince to give them "Manic Monday," their first mainstream hit, from the A Different Light album, which included Jules Shear's "If She Knew What She Wants," Alex Chilton's "September Gurls," and -- inevitably -- Liam Sternberg's "Walk Like An Egyptian." Nevertheless, their fondness for the genres of the mid-60s was still evident in their take on Simon & Garfunkel's "Hazy Shade of Winter" for the Less Than Zero soundtrack, and the psych-garage-bubblegum of "In Your Room" on the Everything album, which yielded their final No.1 hit, "Eternal Flame." The draw from the 60s is a constant I saw them in a club, on a big stage and in a club again -- the last time was at a House of Blues, where they covered the We Five's "You Were On My Mind." However, I'll confess that I put off featuring the band for about a bit, until the Susanna Hoffs solo cover of Bad Company's "Feel Like Makin' Love" popped back up on the Tube after an absence. That woman knows how to shake her tambourine.
GANG OF FOUR stopped by Morning Becomes Eclectic for a session.
JEFF THE BROTHERHOOD play a mini-set including a cover of Neil Young's 'Cinnamon Girl' and Flower Travel Band's 'Satori Part II' live in the KEXP studio.
BEACH SLANG played a Tiny Desk Concert.
THE SUFFERS stopped by World Cafe for a chat and mini-set.
TURN TO CRIME advance streams Actions.
BRITT DANIEL (Spoon) joins SWEET SPIRIT on "Have Mercy."
ALISON CRUTCHFIELD (Swearin') covers "Special To Me," a Paul Williams-written song that Jessica Harper sang in the 1974 cult-classic horror-musical Phantom Of The Paradise.
MEN WITHOUT HATS: You can dance if you want to.
THE ROLLING STONES: The Grisly Death-And-Drugs Filled Story Of Sticky Fingers.
SLEATER-KINNEY: Carrie Brownstein tells Drowned In Sound why the band originally went on hiatus, what Carrie thinks the impact of Riot Grrrl is over 20 years on, if this will be their last album and why we should never, ever trust a lyric website….ever.
WIRE, ranked by Stereogum.
LEMMY: Ten of the Best.
NOW SHOWING: This weekend's wide releases include The Age of Adeline, which is currently scoring 54 percent on the ol' Tomatometer; and Little Boy, which is scoring 8 percent. Ex Machina expands nationwide at 89 percent.
ADAM SANDLER's newest film production, The Ridiculous Six, had a dozen Native actors and actresses, as well as the Native cultural advisor, leave the set. Had they never seen a Sandler movie before?
CHRIS EVANS & JEREMY RENNER apologized for making tastless jokes about the Black Widow during the Avengers 2 press junket. Or Evans apologized, while Renner was sorry if people were offended.
TOM HARDY is interviewed by Details ahead of Mad Max: Fury Road. He talks fatherhood, acting, mystique and more.
BRADLEY COOPER was spotted on a Broadway date with top model Irina Shayk.
SPIDER-MAN will get animated by The Lego Movie team.
BLACK MASS, featuring Johnny Depp as gangster Whitey Bulger, has a trailer online.
AF-PAK: A grim-faced and apologetic President Obama announced Thursday that two CIA drone strikes on al Qaeda compounds had accidentally killed captive American aid worker Warren Weinstein, an Italian hostage, and two terrorists who were U.S. citizens.
EGYPT and Bahrain will conduct joint military exercises aimed at influencing the political process in Yemen.
SYRIA: The US-led coalition conducted seven airstrikes in Syria between Apr. 21-22, one near Hasakah and six near Kobani. SOHR estimates that the US-led air campaign has killed 2,079 people, including 66 civilians, since its inception in September. A report claims that Al Nusrah's Khorasan Group has regenerated after taking significant losses early in the Western air campaign.
THE INDONESIAN MIMIC OCTOPUS is remarkable.
THE SQUIRREL THREAT: Militant rodents knocked out power to low income senior citizens for three days.
MASSIVE KILLER HORNETS could invade the UK this Summer.
MUD-WRESTLING PIGS at a Wisconsin church's summer fundraiser has been halted after 81K people signed an online petition pressed by animal rights activists who raised concerns about animal abuse.