SIR MIX-A-LOT performs "Baby Got Back" with the Seattle Symphony and a cast of dozens.
THE ANTLERS advance stream Familiars.
TV GIRL is streaming TV Girl's French Exit.
WILLIE NELSON is advance streaming Band of Brothers.
MERIDIAN BROTHERS advance stream Salvadora Robot.
THE RENTALS return with the catchy "Thought of Sound" ahead of Lost In Alphaville.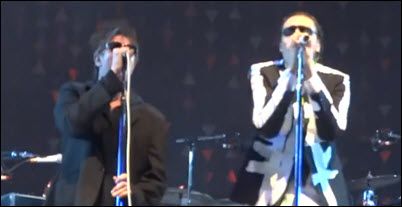 IAN McCULLOCH joined ARCADE FIRE on a cover of Echo & The Bunnymen's 1983 single, "The Cutter".
BOB MOULD talks about the making of Beauty and Ruin at Rolling Stone.
THE KINKS: Ray and Dave Davies...together again?
JENNY LEWIS: The former Rilo Kiley frontwoman sat down with Billboard at the Governors Ball to discuss The Voyager, her first album in six years.
WEEZER's drummer, Patrick Wilson, catches a Frisbee and doesn't miss a beat of "Beverly Hills."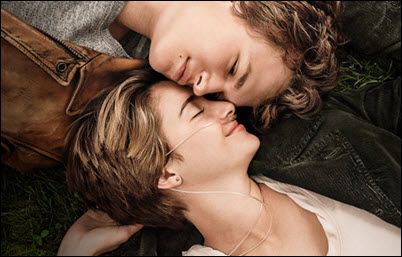 WEEKEND BOX OFFICE:The Fault In Our Stars beat even high predictions to top the chart with 48 million. Most of this was front-loaded, raising questions about next weekend, but for now note that this film is almost certainly already profitable, recouping four times its 12 million production budget. Maleficent places with 33 million on a 55 percent drop that's not bad, given last week's big debut. Even with over 300 million worldwide, it likely has to clear 500 million to profit. Edge of Tomorrow shows with 29.1 million, a shade below projections of 30 mill. It's also a little below the opening of Oblivion, and with a budget of 178 million, this one also needs to break 500 million, which means Cruise's worldwide fanbase will need to come out in force. X-Men: Days of Future Past takes the fouth slot with14.7 million; with 600 million in worldwide receipts so far, this looks to be in the black. A Million Ways to Die in the West rounds out the Top 5 with 7.2 million; Seth MacFarlane has a flop on his hands here, albeit a small one given its 40 million budget.
EDGE OF TOMORROW may sound like the title of a soap opera, but it it actually has more invention and wit than anything Tom Cruise has starred in for years. From the trailers, you may have surmised this is Groundhog Day meets Independence Day (with The Longest Day taking on additional meaning here also). But there's actually a nice little twist in the beginning of the movie that has Cruise playing against the type that made him a megastar in the Eighties and Nineties. There's also a great scene in an English pub that punctures one of the cliches of the alien invasion genre. A further twist at the end is fairly obvious, but overall, it's just the right mix of action, drama and comic relief (some supplied by the ubiqiuous Bill Paxton, but mostly situational) that makes for a nifty summer popcorn movie. Recommended, even though (as longtime readers know) I've been known to mock Cruise offscreen.
TRACY MORGAN: A Georgia truck driver has been charged in connection with the wreck on the New Jersey Turnpike that left comedian-actor Tracy Morgan in critical condition and another man dead, the Middlesex County Prosecutor's Office said in a statement released Saturday.
JUSTIN BIEBER: turned to the Lord while being shaken down over his racist videos — and washed away his sins with a baptism performed in a bathroom.
MELANIE GRIFFITHhas filed for divorce from Antonio Banderas.
JENNIFER LOPEZ and CASPER SMART have split.
CASEY CASEM is in critical condition at a hospital in western Washington.
IAN ZIERING weighs in on Tori Spelling's reality show.
UKRAINE's new leader, Petro Poroshenko, said the violence that's rocked the former Soviet republic's easternmost regions must end this week as peace talks began involving an envoy of Russian President Vladimir Putin.
EGYPT: Ex-army chief Abdul Fattah al-Sisi has vowed to to tackle "terrorism" and bring security, after being sworn in as Egypt's new president.
LIBYA: The mainly Tebu 25th Brigade, a.k.a. Ahmed Al-Shareef Brigade, which guards the Sarir and Messla oilfields as well as at the Shula oil compound, announced it is joining Khalid Haftar's forces.
AFGHANISTAN: Security officials said that the Taliban killed three soldiers in IED attacks, and 13 Taliban fighters died in premature detonations in Sar-i-Pul and Helmand. Security officials also accused the Lashkar-e-Taiba of launching the suicide attack that targeted presidential candidate Dr. Abdullah.
THE SQUIRREL THREAT: A pool man gave a drowning ground squirrel CPR and nursed it back life.
MYSTERY SEA MONSTER swallowed a Great White Shark whole. Gonna need a much bigger boat.
A MOMMA DOG saved her puppies from a drainage canal after rescue teams asked for her help in the southwestern Turkish province of Muğla on June 7.
A PET TIGER? This will end well.