THE WEEKEND STARTS HERE:
...with THREE DOG NIGHT! Once again, I'm enjoying the guilty pleasure of enjoying "Eli's Coming" with fellow fans of the late, lamented SportsNight. That, along with memories of The Service's cover of "Shambala" led me to compile a few more, including "Mama Told Me Not to Come," "Joy To The World," "One," "Liar," and "Celebrate."
RICHARD THOMPSON played a full set at the Clearwater Great Hudson River Revival Festival.
EELS stopped by Morning Becomes Eclectic for a session.
JOLIE HOLLAND plays a mini-set in the KEXP studio.
WUSSY plays a live set in the KEXP studio.
DEE-LITE finds that "Groove Is In the Heart," with a little help from Bootsy Collins and Q-Tip.
MADE IN MINNESOTA: Bob Mould, Tommy Stinson, Craig Finn, and Lori Barbero tour their Twin Cities for you.
AC/DC guitarist Malcolm Young is in the hospital.
RYUICHI SAKIMOTO was diagnosed with throat cancer.
THE 25 BEST LPs of 2014 (So Far), according to Paste.
CUTOUT BIN: From the Jesus & Mary Chain to Run-DMC, from Shoes to Sam and Dave, from Roxy Music to Titus Andronicus, plus the Three Degrees, Los Lobos, Bob Dylan, Elton John and more -- this Friday's fortuitous finds are streaming from the Pate page at the ol' HM.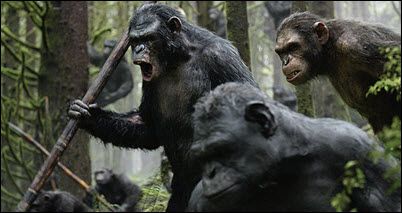 NOW SHOWING: This weekend's wide releases are Dawn of the Planet of the Apes, which is currently scoring 93 percent on the ol' Tomatometer; and Begin Again, which expands to 939 screens scoring 79 percent.
DAWN OF THE PLANET OF THE APES picks up a decade after the successful reboot of htis franchise in Rise of the Planet of the Apes. The simian flu--a side effect of the experimental treatment that boosted the apes' intelligence--has swept Earth, but at least one pocket of humanity is trying to make a comeback. The movie plays out as the humans and the apes both have factions that are trying to avoid or encourage a war. Comparing this sequel with the reboot is surprisingly like apples and oranges. The humans are less compelling than those in Rise, though that's because the humans were more of the focus of that story and a large part of that film's success. Here, the focus is more on the apes; fortunately, the decade of elapsed time has made them a rich and compelling culture, led by the performance of Andy Serkis as Caesar and Tony Kebbell as Koba. Even with today's computer graphics, this is an audacious move, but it pays off handsomely--even moreso in the dramatic scenes than in the action set pieces. Rise was a surprising and clever take on ideas that could not have been done in full before the CGI era; Dawn is even more serious and humanistic sci-fi that's just broad enough fort the audience to never feel nerdy about it.
EMMYS nominations went to these folks.
RYAN GOSLING & EVA MENDES: A forensic artist predicts what their baby may look like. (I'm guessing likke a baby.)
SELENA GOMEZ had some work done?
ROBIN THICKE: How bad are sales of his Paula LP? Really, really, really bad.
JIMMY KIMMEL and wife Molly McNearney welcome a daughter.
MARGOT ROBBIE (The Wolf of Wall Street, About Time) is profiled by Vanity Fair.
UKRAINIAN forces regained more ground but sustained further casualties on Thursday in clashes with separatists, while two Western allies urged Russia's Vladimir Putin to exert more pressure on the rebels to find a negotiated end to the conflict.
ISRAEL claimed to have hit over 750 targets in Gaza so far on the third day of its offensive, including 320 Hamas targets such as underground tunnel networks and rocket launching sites. Of the 250 missiles and mortars launched from Gaza towards Israel in recent days, the Iron Dome interceptor has shot down 70 missiles, a near-90 percent success rate. As a result of the incoming fire, nine Israelis have been slightly injured and 59 treated for shock. Israeli officials, concerned about the long-range missiles being employed by Hamas, said they are not seeking a ceasefire but rather to dismantle Hamas' rocket infrastructure. A military official for the southern command said preparations are underway for expanding the operation; Israel's UN envoy stated that a ground offensive would be prevented if Hamas stopped firing rockets into Israel. Palestinian officials said Israeli strikes in Gaza that began on July 8 have killed at least 77 Palestinians so far. Militants in Gaza continued to launch missiles into Israel; both Islamic Jihad and Hamas' Al Qassem Brigades have claimed attacks. President Abbas has denounced the Israeli attacks, and has not criticized Hamas for launching missiles at Israel.
SYRIA: The American-supported Free Syrian Army was forced to withdraw from a key city on the Iraq-Syria border last week after its pleas for help went unanswered by the United States.
IRAQ: Kurdish members of parliament as well as cabinet ministers said that they would boycott the government. The military claimed it killed 35 Islamic State fighters in Fallujah and Ramadi, 30 more in Rabiah, and an additional 25 Islamic State fighters in Babil. The Islamic State killed four policemen near Tikrit.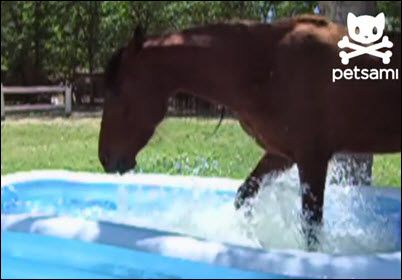 A HORSE in a wading pool.
EASTERN HELLBENDERS, a/k/a/ snot otters, are big ol' salamanders who may be headed for the federal endangered species list.
IMPOTENT CHICKENS pump up poultry prices.
A 4-FT LONG VENOMOUS SNAKE in a toilet in Hueytown, AL.