THE POP ALL-STARS-- Win Butler, Will Butler, Justin Vernon, Regine Chassagne, Nikolai Fraiture, A-Trak, and Kid Koala--covered 'In The Air Tonight' by Phil Collins at a "Pop vs Jock" basketball event.
JULIAN CASABLANCAS + THE VOIDS advance stream Tyranny.
LUCINDA WILLIAMS advance streams Down Where The Spirit Meets The Bone.
KAT EDMONSON advance streams The Big Picture.
APHEX TWIN is streaming Syro via Spotify (but is it official?)
GEORGE HARRISON: Hear an alternate take of "The Inner light."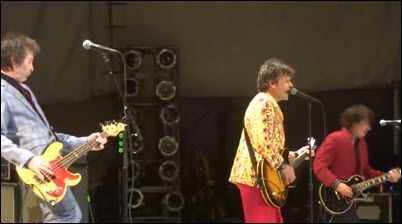 THE REPLACEMENTS have been covering the Jackson 5 classic "I Want You Back" on their latest tour to honor ill guitarist Slim Dunlap. And the crowd goes wild.
JEFF TWEEDY talks to The Guardian about why the album still matters; Sukierae is a double.
30 OF THE BEST DOUBLE-LPs, according to NME.
MIKE WATT talks to PopMatters about his second LP with il Sogno del Marinaio.
THE BEST SCOTTISH ACTS, according to Amoeba Music. (Thx, LHB.)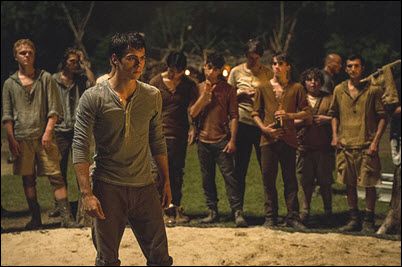 WEEKEND BOX OFFICE: The Maze Runner tops the chart with 32.5 million, a litle below industry projections, though the studio indicated it would be happy with anything over 30. That sounds about right with a 34 million budget, particularly in September. A Walk Among the Tombstones places with 13.1 million, which is pretty soft for a Liam Neeson action pic (Non-Stop opened more than twice as big). But with a 28 million budget, Neeson's international appeal should pull this one into the black. This Is Where I Leave You shows with 11.9 million; the cast and director would make this a disappointment, but not against a 19.8 million budget. No Good Deed drops to the fourth slot with 10.2 million; that's a 58 percent drop, but a 40.1 million total against a 13.2 million budget. Dolphin Tale 2 rounds out the Top 5 with 9 million, on 43 percent drop suggesting this won't have the legs of the original and may even lose money. Guardians of the Galaxy drops out of the Top 5, but enters the all-time Top 40.
THE OVERSEAS MARKETS: Note that summer staples like Lucy and Dawn of the Planet of the Apes are continuing to do do big biz in markets like China.
HACKED NUDE CELEBS: A second round of photos hit the internet, including Kim Kardashian West, Vanessa Hudgens, Hope Solo, Jennifer Lawrence,Kaley Cuoco, Gabrielle Union, Kate Bosworth, Hayden Panetierre, Lake Bell, and possibly Aubrey Plaza.
JENNIFER LAWRENCE turned up again fro Chris Martin's Coldplay gig in Vegas. Could be serious.
POLLY BERGEN, who in a long acting career played Robert Mitchum in Cape Fear, not to mention The Winds of War and War and Remembrance, has passed away at 84.
COLIN FARRELL confirmed his casting in True Detective Season 2.
L. FRANK BAUM, the man who brought to life the magical world of Oz is getting his own big-screen treatment. The screenpaly is already up for an award.
FRIENDS: How NBC almost killed the comedy of the 90s.
RUSSIAN President Vladimir Putin privately threatened to invade Poland, Romania and the Baltic states, according to a record of a conversation with his Ukrainian counterpart.
YEMEN: Shi'ite Houthi rebels and government forces fought for a fourth straight day in the Yemeni capital, residents said, despite the announcement of a UN-brokered peace agreement due to be signed later on Sunday.
SYRIA: Islamic State militants tightened their noose on a northern Syrian border town on Sunday as the United Nations said the number of Syrian Kurds fleeing into neighbouring Turkey may have topped 100,000 and was likely to go much higher.
IRAQ: As America re-engages with Iraq and deepens its involvement in the region's web of sectarian conflicts, the Pentagon has made a practical assessment of the brutal job of stabilizing Baghdad: in the future, U.S. forces may be needed on the front lines.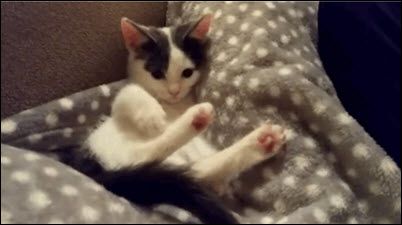 A KITTEN mesmerized by its own tail.
A PLUCKY RAT uses a L.A. subway escalator as a treadmill.
A 100-LB TORTOISE blocked traffic in Sarasota.
GEESE, A CROCODILE, and a hunter make for a dandy Aussie police report.