THE WEEKEND STARTS HERE:
...with JOHN HUGHES! The sportos, motorheads, geeks, sluts, buds, wasteoids, dweebies and dickheads, they all adore him. They think he's a righteous dude. The writer/director behind "Sixteen Candles," "The Breakfast Club," "Pretty in Pink," "Ferris Bueller's Day Off," "Weird Science," National Lampoon's "Vacation" movies, "Home Alone," "Planes, Trains & Automobiles" and many more died Aug 5, 2009. Hughes masterfully married music to movies, so I pay video tribute to him today, starting (of course) with "Don't You Forget About Me" by Simple Minds from The Breakfast Club (the drumming o­n this song is impeccable), and Karla DeVito's "We Are Not Alone," along with the Ramones playing "Blitzkrieg Bop" (from National Lampoon's Vacation), David Bowie's "Young Americans" and The Vapors o­ne-hit wonder, "Turning Japanese" and Billy Idol's "Rebel Yell" (all from Sixteen Candles, which opens to a clip of veteran WLS DJs Larry Lujack and Tommy Edwards), Van Halen's cover of "(Oh) Pretty Woman" and General Public's "Tenderness" (both from Weird Science), the Psychedelic Furs re-recorded title track from Pretty In Pink, which also featured Jon Cryer lip-synching to Otis Redding's "Try A Little Tenderness" (that last clip is a blistering live take from the 1967 Stax tour -- and excellent, btw), The Smiths' "Please, Please, Please Let Me Get What I Want" (a Hughes perennial), and OMD's "If You Leave," plus two more from Ferris Bueller's Day Off, "Danke Schoen" and "Twist and Shout" (which was shot o­n Dearborn and Randolph Streets in Chicago, with International Polka Queen Vlasta atop the float, though Cameron and Sloane were in front of the Post Office), plus Yello's unforgettable-no-matter-how-you-try "Oh, Yeah." Videos are scarce for Some Kind of Wonderful, but I found Flesh for Lulu's "I Go Crazy" and the March Violets' take on the Stones' "Miss Amanda Jones."
FRANZ FEDRINAND played sessions at Morning Becomes Eclectic and WNYC Soundcheck.
SAVAGES play a savage mini-set at WNYC Soundcheck.
KENDRA MORRIS plays a mini-set of her own stuff at WNYC Soundcheck, but also check out the embedded, soulful cover of "Shine On You Crazy Diamond."
THE MONKEES' teaser reel and unseen pilot are embedded at Dangerous Minds.
THE AVETT BROS drop "Another Is Waiting" ahead of Magpie and the Dandelion.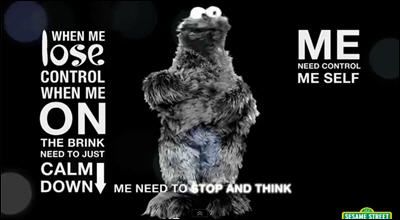 COOKIE MONSTER spoofs Icona Pop's hit song "I Love It".
PHOENIX talks to The Grid about writing songs like nature films, rejecting high society, and loving a Beastie Boy. (Thx,Chromewaves.)
ROSE ELINOR DOUGALL: The fmr Pipette talks to The Quietus about her new music.
JON WURSTER, one of indie rock's best-known drummers, tals to Consequence of Sound about four years of sobriety.
THE STORIES BEHIND 22 Classic Album Covers.
CUTOUT BIN: From Sinatra to Steely Dan, from Big Star to the Red Hot Chili Peppers, fromBob Dylan to Run-DMC, plus Crowded House, the Beach Boys, Blondie, The Beatles mashed up with Nine Inch Nails and more -- this Friday's fortuitous finds are streaming from the Pate page at the ol' HM.
NOW SHOWING: This weekend's wide releases are: Pixar's Planes, which is currently scoring 26 ercent on the ol' Tomatometer (as I feared from the trailer); Elysium, which is currently scoring 71 percent; We're the Millers, which opened Wednesday and stands at 40 percent; and Percy Jackson: Sea of Monsters, which also openedWed and stands at 33 percent.
LEAH REMINI filed a missing persons report on Shelly Miscavige, the wife of the leader of the Church of Scientology.
BRUCE WILLIS reportedly demanded a million a day for The Expendables 3.
AMANDA BYNES' parents hope doctors will seek a legal ruling to keep the troubled actress locked up for at least another 30 days.
KATE UPTON in Elle magazine, in time for Gratuitous Friday.
BEYONCE cut her hair; David Crosby hardest hit.
SIMON COWELL & HOWARD STERN top the Forbes list of TV's Highest-Paid Celebs.
KAREN BLACK, the Oscar nominee known for her roles in Easy Rider, Five Easy Pieces, The Great Gatsby, Airport 1975, The Day of the Locust, Robert Altman's Nashville and Hitchcock's Family Plot, has died at 74 after a battle with cancer.
THE ARAB SPRING: A gift to Al Qaeda?
IRAN: A letter purportedly signed by over 50 prominent political prisoners, most of whom are currently incarcerated, was sent to President Obama urging him to seek dialogue with new president Rouhani, to remove sanctions, and to seek a "dignified" solution to the issue of Iran's nuclear program. Two days ago, in his first press conference, President Rouhani called for direct talks with the US on the nuclear issue, but said the US must take the initiative; the US said the ball was in Iran's court.
SYRIA: Rebels led by two al Qaeda affiliates, the Al Nusrah Front and the Islamic State of Iraq and the Levant, have killed over 200 people, captured dozens of villages, and seized an airport over the past two days in an Alawite area. Rebels are targeting aviation hubs in Aleppo as well, including the Kweiris military airport, the Neyrab military airport, and Aleppo International airport.
EGYPT: Supporters of former president Morsi took to the streets despite calls by authorities to end ongoing sit-ins.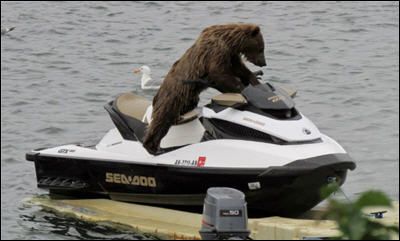 AND NOW FOR SOMETHING COMPLETELY DIFFERENT: A Bear On A Jet-Ski. Compelling and rich.
SPIDERS delayed flights in Kansas on Saturday after the pests took over an air traffic control center.
PIGS enjoy a mudslide in Holland.
100 SEA TURTLE HATCHLINGS were saved by a police officer in Sarasota.