THE WEEKEND STARTS HERE:
First D.J.: "Rise and shine, campers and don't forget your booties 'cause it's cooooold out there today." Second D.J.: "It's cold out there every day. What is this, Miami Beach?" First D.J.: "Not hardly. So the big question o­n everybody's lips..." Second D.J.: "O­n their chapped lips..." First D.J.: "...their chapped lips is, 'Does Phil feel lucky?' Punxsatawney Phil! That's right, woodchuck chuckers it's...
(IN UNISON): GROUNDHOG DAY!!!"
Tomorrow, Punxsutawney Phil --- the Seer of Seers, Sage of Sages, Prognosticator of Prognosticators, and Weather Prophet Extraordinary will predict whether we will have six more weeks of winter. According to the Punxsutawney Groundhog Club, Phil has seen his shadow 97 times, and hasn't seen it (predicting an early spring) only 14 times. Phil's track record is hotly disputed, though he's has had a pretty good run recently. Nevertheless, thousands will await the sunrise and the groundhog at Gobbler's Knob in the tiny Pennsylvania hamlet that has become known as the "Weather Capital of the World," due in no small part to the movie that makes every day Groundhog Day.
This is o­ne time where the Internet really fails to capture the true excitement of a movie about a large squirrel predicting the weather. However, you can see the trailer as a refresher (while BuzzFeed compiles trivia).
In 2005, Roger Ebert revisited Groundhog Day, declaring that the film "finds its note and purpose so precisely that its genius may not be immediately noticeable. It unfolds so inevitably, is so entertaining, so apparently effortless, that you have to stand back and slap yourself before you see how good it really is."
At the other end of the political spectrum, Jonah Goldberg's equally effusive movie meditation grabbed the cover of National Review: "When I set out to write this article, I thought it'd be fun to do a quirky homage to an offbeat flick, o­ne I think is brilliant as both comedy and moral philosophy. But while doing what I intended to be cursory research -- how much reporting do you need for a review of a twelve-year-old movie that plays constantly o­n cable? -- I discovered that I wasn't alone in my interest. In the years since its release the film has been taken up by Jews, Catholics, Evangelicals, Hindus, Buddhists, Wiccans, and followers of the oppressed Chinese Falun Gong movement."
Indeed, a 2004 article mentioned by Ebert (but not linked) from London's Independent observes that the Harold Ramis comedy has been hailed by some religious leaders as the most spiritual film of all time. More examples can be found at the NYT and the Christian Science Monitor.
As Phil Connors ultimately observed: "When Chekhov saw the long winter, he saw a winter bleak and dark and bereft of hope. Yet we know that winter is just another step in the cycle of life. But standing here among the people of Punxsutawney and basking in the warmth of their hearths and hearts, I couldn't imagine a better fate than a long and lustrous winter."
ACCORDINGLY, we start off the weekend:
...with Sonny & Cher o­n Hullabaloo and famously o­n Letterman years later, plus UB40 with Chrissie Hynde, not to mention The Cynics (from the Bonograph tribute CD), and David Bowie & Marianne Faithfull. A bit more for Fivefer Friday.
UPDATE: Phil predicts an early Spring.
RICHARD THOMPSON rolled out new tracks from his upcoming LP on Morning Becomes Eclectic.
OF MONTREAL plays a Tiny Desk Concert at the offices of NPR.
YOU LA TENGO stopped by the KEXP studio to showcase a few of Fade's breezy, ice-cool singles.
PINBACK played a taught and propulsive mini-set at KEXP.
DEPECHE MODE drops "Heaven," their first new music since 2009.
STEVE EARLE drops "Calico Country" ahead of The Low Highway.
DAVID BOWIE: Guitarist Earl Slick talks to Rolling Stone about the new songs, the possibility of a tour and his memories from the famously debauched Station to Station sessions. So let's revisit "Golden Years" and "Fame" circa 1975.
THE HISTORY OF APPLE PIE: Stephanie Min talks to DIY about the band's full-length debut, Out Of View.
TEGAN & SARA talk to Spinner about the more personal tone and commercial sound of Heartthrob.
DAVID LOWERY (CVB, Cracker) talks to Spinner about streaming music royalties.
EMMYLOU HARRIS was charged with hi-and-run after a freeway accident.
CUTOUT BIN: From the Sonics to Sonic Youth, from Dean Martin to David Bowie, from Japandroids to Josie & the Pussycats, plus Robyn Hitchcock, Buffalo Springfield, Shoes, Pavement and more -- this Friday's fortuitous finds are streaming from the Pate page at the ol' HM.
NOW SHOWING: This weekend's wide releases are Warm Bodies, which is currently scoring 73 percent on the ol' Tomatometer; and Bullet To The Head, which is scoring 43 percent.
DAN MARINO knocked up a CBS Sports production assistant in 2004. Happy 28th wedding anniversary, Mrs. Marino.
LINDSAY LOHAN has a new baby brother.
BRADLEY COOPER has a foot fetish?
ARNOLD SCHWARZENEGGER sex photo may fetch 150K.
SHARON STONE reportedly split from 27-year-old Martin Mica. Basic Instinct turns 21 in March.
PULP FICTION: Vanity Fair teases The Oral History.
SCTV: The A.V. Club lists 10 episodes making the case for the show as one of the greatest. Certainly, I have very fond memories of "Play It Again, Bob." But what really struck me about the piece is the degree to which the culture SCTV satirized -- from Bob Hope to Joey Heatherton to local horror movie shows to William F. Buckley to the Midnight Special -- no longer exists.
IRAN: The IAEA has warned its member states that Tehran has embarked on a modernization program of its uranium enrichment facilities that will speed up production of weapons-grade fissile material — by a factor of five. Nonproliferation expert Mark Fitzpatrick described the planned upgrade as a potential "game-changer."
ISRAELI jets bombed a convoy near Syria's border with Lebanon. The convoy, believed to destined for Hezbollah, was carrying antiaircraft missiles but apparently not chemical weapons.
MALI: France said Islamist forces are "in disarray" as some had returned home and others had made a "tactical withdrawal" to a mountainous 96,000-square mile area east of Kidal. President Traore ruled out talks with Islamist groups but is willing to negotiate with the Tuareg MNLA if it gives up territorial demands and agrees to reintegrate into Mali.
LIBYA: The UN envoy warned that the conflict in Mali may spill over to Libya, and said 200000 fighters remain in "revolutionary brigades" in Libya. More than 20000 former revolutionary fighters are training for the police force. An estimated 15000 to 20000 personnel are needed to secure Benghazi.
EGYPT: Secular and Islamic groups met to try to defuse the political crisis. Protesters in Cairo rejected prosecutors' decision to arrest members of the Black Bloc group on terrorism charges. Islamist parties said Black Bloc members must be killed.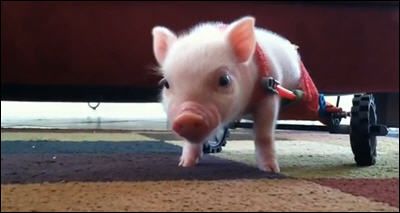 A DISABLED PIGLET pops wheelies just fine.
"GAY" DOG faces a death sentence in Tennessee.
MOUSE PATÉ is off the menu in Switzerland.
A GIANT EAGLE OWL has been causing a major flap in a Scottish city center by terrorizing passing pedestrians.