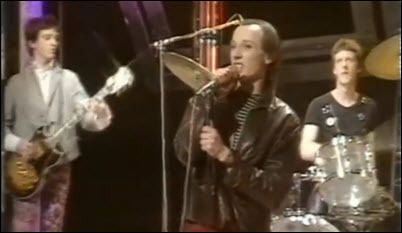 X
MAGAZINE: "Shot By Both Sides" on TOTP.
ERIKA WENNERSTROM (Heartles Bast*rds) stops by the World Cafe for a chat and mini-set.
L7 stops by The Current to talk and play.
ALL SONGS CONSIDERED, with Guest DJ Ben Schneider of Lord Huron.
THE LONGSHOT: Green Day's Bilie Joe Armstrong is streaming a surprise new album.
LYKKE LI shares "Hard Rain" and "Deep End."
BELLY shares "Starryeyed."
ANDREW W..K. thinks "Music Is Worth Living For."
PRINCE: As his health waned, his inner circle had grown increasingly alarmed.
LIZ PHAIR reflects on the 25th anniversary of Exile in Guyville in the MeToo era.
WYE OAK: Jenn Wasner and Andy Stack talk to Aquarium Drunkard about... Metallica? And more.
THE NUMBER ONES looks at Elvis Presley's "Good Luck Charm" and the end of Presley's pop-domination era.
WEEKEND BOX OFFICE: A Quiet Place rebounds to top the chart with 22MM on a 33 percent drop; its 132MM domestic gross against a 17MM budget is a rare spot of good news for Paramount these days. Rampage shows with 21MM on a 41 percent drop, which is likely better than expected (and more than 75 percent of its money is being made overseas, primarily Asia, which loves them some giant monsters). I Feel Pretty shows with 16.2MM against a 32MM budget, which raises the question of whether Amy Schumer can make a hit without Judd Apatow. Super Troopers 2 takes the fourth slot with 14.7MM against a 13.5MM budget, but there was likely a lot of front-loaded demand, esp. on 4/20. Truth or Dare rounds out the Top Five with 7.9MM on a 58 percent drop, but a 30MM domestic gross to date against a 3.5MM budget ensures more of these cheapies from Blumhouse.
VERNE TROYER, the actor best known for his role as "Mini-Me" in the Austin Powers series, died on Saturday. He was 49.
AVICII: Artist, DJ, and producer Tim Bergling, a.k.a. Avicii, died Friday afternoon in Oman, according to a statement from his rep. He was 28.
PIPPA MIDDLETON is reportedly expecting her first child with husband James Matthews.
ALISON MACK The Smallville actress has been arrested for her alleged role in notorious upstate sex slave cult Nxivm.
NICOLAS CAGE is preparing to retire from acting.
MOVIE THEATERS want to know what it's going to take to get you off the couch.
ISLE OF DOGS: What Wes Anderson gets right about Japan.
CADDYSHACK: A Cinderella story about the moment when improvisational comedy took on the staid, stuffy moviemaking business.
THE SQUIRREL THREAT: They're giant and rainbow-colored.
A MAN bitten by a shark, a bear, and a snake in less than 4 years.
WHO CARES IF THEY'RE CUTE: Zoologist Lucy Cooke talks about how we are (literally) looking at sloths upside down, why Aristotle was so confused about eels, and why pandas need ambiance to get in the mood.
HEADLESS GOAT Near Topless Bar. Bada Bing.