THE WEEKEND STARTS HERE:
... with THE BYRDS! Pretty much because I dig them as we turn into Spring (or Fall). Let's start with a rare 1965 clip of their breakthrough smash cover of "Mr. Tambourine Man." There are screaming girls, plus go-go dancers when they hit Shivaree for "All I Really Want to Do" and "Feel A Whole Lot Better." Next up is a rare sync of "I Knew I'd Want You." There are even more dancers when they cover Buddy Holly's "Not Fade Away" for Shindig! on June 23, 1965, while I'm pretty sure that's Ed Wynn introducing "Chimes of Freedom." You might recognize the voice introducing "Bells Of Rhymney" from poolside in August 1965 and "It Won't Be Wrong" from a corral in January 1966 on Where The Action Is. BONUS: Want a couple in color? Here's "Turn, Turn, Turn!" and "Mr. Spaceman." DOUBLE BONUS: A rare 1967 sync of "Eight Miles High."
AMEN DUNES advance streams Freedom.
THE SHACKS advance stream Haze.
ORQUESTA AKOKAN advance streams their self-titled LP on Dap-Tone.
LANGHORNE SLIM plays Morning Becomes Eclectic.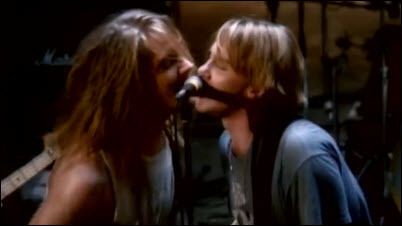 SOUL ASYLUM's near-breakthru, "Someone to Shove."
OK GO have been fielding requests for years from teachers who want use their videos in their classrooms.
SUNFLOWER BEAN talks to Paste about youth culture, the future of rock, and why everything isn't Spotify's fault.
TINA TURNER: The making of a rock'n'roll revolutionary.
YOUTUBE plans to jack up the ads to annoy people into subscribing to their streaming music service.
DON'T BORE US, start with the chorus.
NOW SHOWING: This weekend's wide releases include Pacific Rim: Uprising, which is currently scoring 45 percent on the ol' Tomatometer; Sherlock Gnomes, which was not screened for critics; Midnight Sun, also not screened for critics; Unsane, which is scoring 80 percent; and Paul, Apostle of Christ, scoring33 percent. Wes Anderson's Isle of Dogs begins a platform release on a couple dozen screens, scoring 93 percent.
PRINCE WILLIAM & KATE are expected to welcome their third child in April.
DEADPOOL 2 drops an official trailer. Language warning, but you knew that.
TAYLOR SWIFT's Reputation is the only album to sell more than 2MM copies domestic in the past two years.
BYRON ALLEN bought the Weather Channel. Really.
WES ANDERSON films, ranked by Vulture.
HOW WES ANDERSON perfected the nerd-rock soundtrack.
FRANK AVRUCH, the first nationally syndicated Bozo the Clown, has died. He was 89.
A DOG is excited to run again.
MONKEY ON THE LAM last seen near the King of Diamonds strip club.
AUTONOMOUS ROBOT BEES, created by Walmart. What could possibly go wrong?
TEACHING A DOG the Nazi salute is a hate crime in Scotland.