THE WEEKEND STARTS HERE:
... with NEIL YOUNG! Live on the Beeb, circa '71. Your setlist includes: "Out on the Weekend," "Old Man," "Journey Thru the Past," "Heart of Gold," "Don't Let It Bring You Down," "A Man Needs A Maid," "Love in Mind," and "Dance, Dance, Dance."
SYLEENA JOHNSON advance streams Rebirth of Soul.
THE NATIONAL stopped by Morning Becomes Eclectic for a session.
TORI AMOS stopped by The Current for a chat and mini-set.
PINEGROVE shares "Intrepid."
MOUNTAIN GOATS share "From The Lake Trials."
WILCO shares "Myrna Lee."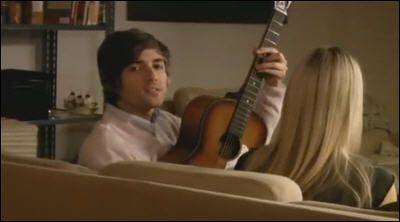 WE ARE SCIENTISTS; "After Hours." For the weekend.
R.E.M.: Michael Stipe and Mike Mills discuss Automatic For The People.
ROBERT PLANT discusses some of his back catalog.
PARQUET COURTS frontman Andrew Savage talks to The Creative Independent.
THE BEATLES are putting out a Chrstmas box set (which suggests those singles may dry up online).
NOW SHOWING: This weekend's wide releases include Thor: Ragnarok, which is scoring 95 percent on the ol' Tomatometer; and A Bad Moms Christmas, which opened Wednesday scoring 27 percent. LBJ expands near-wide at 53 percent.
THOR: RAGNAROK has already been the subject of a thousand Asgardians of the Galaxy jokes, I presume. And the tone is in fact pretty much what you get from the trailer. I can't say I blame Marvel Studios for going this direction. After all, the Thor movies tended to underperform in the Marvel Cinematic Universe, while the Guardians franchise is second only to those films with Robert Downey, Jr in them. So if this means Thor has to regress a bit as a character to bring in some cockiness and humor, so be it. Keep Tom Hiddleston as the scene-chewing Loki, Idris Elba as the heroic Heimdall, toss in the Hulk as a guest star, Tessa Thompson's as a hard-drinking, hard-fighting Valkyrie, and Jeff Goldblum as Jeff Goldblum and you can lard on the humor. For the most part, all of that works pretty well. Cate Blanchett and Karl Urban are alright, but mostly wasted as the villains because they aren't given all that much to do, really. Indeed, the overall plot here isn't very much -- just enough to get you to the next Avengers flick (for which you'll want to see the mid-credits bonus scene more than the end of credits bonus scene). But the jokes and the action set pieces land enough and with enough frequency that you won't mind the plot too much. And I will say that for all the jokes and fights, they actually sneak an interesting idea into the third act.
KEVIN SPACEY is anonymously accused of an extended relationship with a 14-year-old in the 1980s. Spacey made the set of Netflix's House of Cards into a "toxic" work environment through a pattern of sexual harassment, eight people who currently work on the show or worked on it in the past tell CNN. One former employee told CNN that Spacey sexually assaulted him. Actors and former staff at the Old Vic have accused the theatre of turning a blind eye to inappropriate sexual behavior by Spacey during the 11 years that the Hollywood star was its artistic director. He's been dropped by his talent agency and his publicist who of course had no reason to suspect anything like this was going on.
DUSTIN HOFFMAN gets a second sex harassment accusation.
DANNY MASTERSON was accused of sexual assault by four women.
HARVEY WEINSTEIN is under federal investigation regarding supposed charity fundraising.
ARNOLD SCHWARZENEGGER & MARIA SHRIVER filed for divorce in 2006... but still aren't divorced.
MEGHAN McCAIN: The newest panelist on The View got engaged to Bon Domenech, publisher of The Federalist.
WESTWORLD: Filming for season 2 has been suspended after a cast member suffered a medical emergency.
SHARCANO! Sharks discovered living in an underwater volcano.
HUMANS love dogs more than their fellow man.
OYSTERS are stressing out over noise pollution.
A PLANE hits an eagle... and a rabbit?