THE WEEKEND STARTS HERE:
... with GRAM PARSONS! As a member of both The Byrds and The Flying Burrito Brothers, and as a solo artist, Parsons anticipated the so-called country rock of the 1970s and the alt-country movement that began around 1990. There is not a lot of GP video floating around, but "Christine's Tune" is a good place to start, though the video for "Older Guys" is great because someone made them go out to christen Judge Smails' sloop. The Hell's Angels make an unfortunate cameo in the clip of "Six Days o­n the Road" from the infamous Altamont festival in 1969. The posthumous video for "Sin City" is nice also. BONUS: Dwight Yoakum covers "Wheels" at a Parsons tribute concert. DOUBLE BONUS: Frequent duet partner Emmylou Harris covers "Return of the Grievous Angel" with alt-country icon Ryan Adams (and Buddy Miller o­n bass) at a different tribute.
THE PAINS OF BEING PURE AT HEART advance streams The Echo Of Pleasure.
HERCULES & LOVE AFFAIR advance streams Omnion.
DAN WILSON stopped by The Current for a chat and mini-set.
FASTBALL covered Dolly Parton's "9 to 5."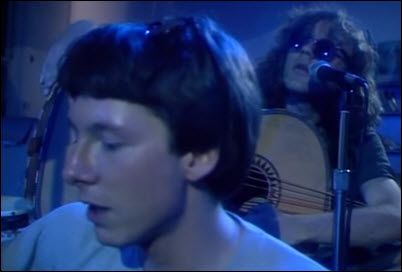 R.E.M.: "Don't Go Back to Rockville," very unplugged.
JASON ISBELL talks to the TimesDaily about touring with the family, the Deep South, and more.
THE MOUNTAIN GOATS' john Darnielle talks to The Independent about writing songs and novels.
TORI AMOS talks to PopMatters abouther upcoming LP and tour.
THE 15 BEST TOM PETTY & THE HEARTBREAKERS SONGS, according to Paste.
NOW SHOWING: This weekend's wide releases are Leap!, which is currently scoring 30 percent on the ol'Tomatometer; and Birth of the Dragon, which went unscreened. Good Time expands near wide scoring 91 percent. (Wonder Woman and Baby Driver are re-expanding wide in advance of Labor Day, while Wind River expands wider.)
BRAD PITT's nudes didn't impress Shania Twain, but it wasn't...personal.
GAL GADOT is profiled by Rolling Stone.
JAMES CAMERON calls Wonder Woman "a step backwards."
THE BATMAN will be part of the DCEU, which some nerds were freaking out about yesterday. >slap<
THE JOKER & HARLEY QUINN may get their own film that isn't The Joker origin film reported earlier this week (which may be directed by Todd Phillips of The Hangover), but another one.
LAURA PREPON has welcomed her first child — a girl — with fiancé Ben Foster.
JAY THOMAS, the comic actor who starred on the sitcoms Mork & Mindy, Murphy Brown and Cheers, has died. He was 69.
RALLY CAT cannot be adopted by the St Louis Cardinals.
THE DOG STOLEN by a Tinder date has been returned.
AND NOW FOR SOMETHING COMPLETELY DIFFERENT: A duck on a leash on the subway.
AND NOW FOR SOMETHING COMPLETELY DIFFERENT: A mutant monkey-pig.
TIAN TIAN, the UK's only female giant panda, is pregnant.