CINCO DE MAYO STARTS HERE:
...with LOS LOBOS: "I Got Loaded" (with an added snippet of "Turn On Your Lovelight") from their fabulous first full-lengther, How Will the Wolf Survive? "Don't Worry Baby," "Evangeline," "Our Last Night," and "A Matter of Time" were on that album, too.
PEE WEE HERMAN: "Tequila." Obvs.
HERB ALPERT & THE TIJUANA BRASS: Rare video of "A Taste of Honey" from 1967.
CHEAP TRICK brings you the Mariachi mash-up of "Surrender."
JIMMY BUFFETT: Margaritaville. Obvs.
LIZ PHAIR: "Cinco de Mayo." Obvs.
BILLY JOEL talks to the L.A. Times about Donald Trump's wedding, quasi-touring, future projects and more.
THE POGUES are the subject of a musical written by David Simon, Laura Lippman, and George Pelecanos.
SON VOLT: Jay Farrar talks to the Bend Bulletin about his (relatively) raucous new LP. (Thx, LHB.)
THURSTON MOORE talks to Rolling Stone about putting Sonic Youth to rest.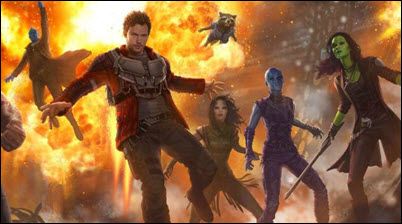 GUARDIANS OF THE GALAXY VOL 2 is this weekend's sole wide release, currently scoring 86 percent on the ol' Tomatometer. I read a number of reviews claiming that GotG2 isa lot of fun, but seems to have to work harder to get there. I tend to disagree. It is a lot of fun, but it is in some ways an unfair comparison. A sequel like this one can never have the same novelty factor. This is particularly true here, as I have to think most people were skeptical that a movie with a talking raccoon and a walking tree could be as good as the original was. Arriving a day after the 40th anniversary of Star Wars, it's a reminder that you can only be original once. I don't know that GotG2 will ever be considered as good as The Empire Strikes Back, but I do remember that some were vaguely disappointed back in the day (mostly by its Act 2, unresolved ending), and GotG2 could similarly rise in the estimation of someof those with a wary view now. GotG2 delivers most of the fun of the original, but is really only derivatively sequelly in its opening sequence, and takes you deeper with most of the characters in what is also a meditation on families -- how they are alike and also uniquely dysfunctional in their own ways. The cast, both the originals -- esp. Karen gillan, Bradley Cooper and Michael Rooker -- and newcomers like Kurt Russell really deliver on these themes. You may already know the signature retro soundtrack here is well-curated, but it's also clear that director James Gunn got exactly the songs he wanted and constructed entire scenses around some of them. Stay to the end for all five post-credits bonus scenes, most of which set up all kinds of interesting possibilities (if you're not a hardcore comics nerd, ask one who "Adam" is).
GOTG2 director James Gunn talks mom rock and why Led Zeppelin missed the cut for his awesome sequel mix.
AARON RODGERS is 'just friends' with Sports Illustrated model and Baywatch star Kelly Rohrbach.
MILEY CYRUS talks about returning to her roots, fiance Liam Hemsworth, and 'Merica.
JOE SCARBOROUGH & MIKA BRZEZINSKI are engaged folowing to worst-kept secret relationship in TV.
SYRIA: Dozens of black veils dotted a freshly laid sand berm in northern Syria, ditched by women fleeing the Islamic State group's bastion of Raqa as US-backed fighters close in.
AN EAGLE is rescued from the mud by a photographer.
A RUSSIAN was arrested at Amsterdam's international airport after dozens of poisonous snakes and frogs were found hidden in his luggage.
RAM vs DRONE: Who You Got?
OLIVER THE DONKEY joined several therapy dogs offering stress relief during Finals Week at Montana State University in Bozeman.