THE WEEKEND STARTS HERE:
... with GARAGE ROCK! It's the time of year when I bring out The Standells - "Dirty Water/ Why Pick On Me", but I couldn't stop there. Let's have a baker's dozen of Nuggets, like Music Machine - "Talk Talk"; Blues Magoos - "We Ain't Got Nothin' Yet"; The Knickerbockers - "Lies"; The Outsiders - "Time Won't Let Me"; Count Five - "Psychotic Reaction"; The Seeds - "Pushin' Too Hard"; 13th Floor Elevators - "You're Gonna Miss Me"; Love - "My Little Red Book"; The Leaves - "Hey Joe"; Electric Prunes - "I Had Too Much To Dream Last Night," the Crazy World of Arthur Brown - "Fire" and The Nazz- "Open My Eyes."
SAM BEAM & JESCA HOOP advance stream Love Letter For Hire.
STURGILL SIMPSON advance streams A Sailor's Guide to Earth.
SANTANA advance streams Santana IV, which reunites the mid-70s combo.
GRAHAM NASH advance streams This Path Tonight.
PAUL SIMON drops his "Wristband" ahead of Stranger to Stranger.
BRITTA PHILLIPS shares a "Daydream" ahead of Luck Or Magic. (Not a Lovin' Spoonful cover)
WUSSY covered New Order's "Ceremony" for Record Store Day.
THE LA's: "There She Goes." Again.
THE MOUNTAIN GOATS: John Darnielle talks to...People magazine?
THE GREATEST PUNK ALBUMS, according to...Rolling Stone?
OUTLAW COUNTRY: The revival of two lost films - 'Heartworn Highways' and 'A Poem Is a Naked Person' - documents the nascent scene.
SOUL ASYLUM: The A.V. Club recommends deep cuts, as do I, heartily.
THE SMITHS launched a Twitter account...but for what?
NOW SHOWING: This weekend's wide releases include The Boss, which is currently scoring 16 percent on the ol' Tomatometer; and Hardcore Henry, which is scoring 59 percent. Everybody Wants Some!! expands, scoring 90 percent.
STAR WARS: ROGUE ONE, a prequel about the theft of the plans for the Death Star, has a trailer online. And when joking, make sure you know the Bothans stole the plans for the second Death Star.
ANNE HATHAWAY has given birth to her first child with husband Adam Shulman.
JENNIFER LAWRENCE is profiled by Harper's Bazaar.
BEN AFFLECK put Simon & Garfunkel back on the charts.
MADONNA has returned to London as she and ex-husband Guy Ritchie continue to battle over the custody of their 15-year-old son, Rocco.
NAGORNO KARABAKH: A seemingly obscure, long-simmering conflict could drag in major powers.
CHINA: The U.S. military's top commander in the Pacific is arguing behind closed doors for a more confrontational approach to counter and reverse China's strategic gains in the South China Sea, appeals that have met resistance from the White House at nearly every turn.
BANGLADESH: Hundreds of protesters have taken to the streets of Dhaka to demand the capture and punishment of those responsible for the murder of a law student who criticised Islamism on his Facebook page.
AN IRAQI army offensive touted as the first phase of a campaign to recapture the northern city of Mosul from Islamic State has been paused until more forces arrive to hold ground.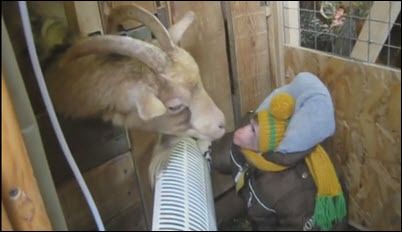 A MONKEY bundles up to check in on his goat friend.
A DALLAS POLICE DOG is being hailed as a hero after finding a 12-year-old girl who ran away from home after leaving a suicide note.
A MARINE DOG who lost her leg when an IED detonated underneath her, received a medal for courage on Tuesday.
A RARE SHARK was caught in the Sea of Cortez by a teenager from Oak Brook, IL.