THE WEEKEND STARTS HERE:
...with JOHN HUGHES! The sportos, motorheads, geeks, sluts, buds, wasteoids, dweebies and dickheads, they all adore him. They think he's a righteous dude. The writer/director behind "Sixteen Candles," "The Breakfast Club," "Pretty in Pink," "Ferris Bueller's Day Off," "Weird Science," National Lampoon's "Vacation" movies, "Home Alone," "Planes, Trains & Automobiles" and many more died Aug 6, 2009. Hughes masterfully married music to movies, so I pay video tribute to him today, starting (of course) with "Don't You Forget About Me" by Simple Minds from The Breakfast Club (the drumming o­n this song is impeccable), and Karla DeVito's "We Are Not Alone," along with the Ramones playing "Blitzkrieg Bop" (from National Lampoon's Vacation), David Bowie's "Young Americans" and The Vapors o­ne-hit wonder, "Turning Japanese" and Billy Idol's "Rebel Yell" (all from Sixteen Candles, which opens to a clip of veteran WLS DJs Larry Lujack and Tommy Edwards), Van Halen's cover of "(Oh) Pretty Woman" and General Public's "Tenderness" (both from Weird Science), the Psychedelic Furs re-recorded title track from Pretty In Pink, which also featured Jon Cryer lip-synching to Otis Redding's "Try A Little Tenderness" (that last clip is a blistering live take from the 1967 Stax tour -- and excellent, btw), The Smiths' "Please, Please, Please Let Me Get What I Want" (a Hughes perennial), and OMD's "If You Leave," plus two more from Ferris Bueller's Day Off, "Danke Schoen" and "Twist and Shout" (which was shot o­n Dearborn and Randolph Streets in Chicago, with International Polka Queen Vlasta atop the float, though Cameron and Sloane were in front of the Post Office), plus Yello's unforgettable-no-matter-how-you-try "Oh, Yeah." Videos are scarce for Some Kind of Wonderful, but I found Flesh for Lulu's "I Go Crazy" and the March Violets' take on the Stones' "Miss Amanda Jones."
CLOUD NOTHINGS stopped by WFUV's Studio A for a session.
CAMERA OBSCURA perfoms on WNYC's Soundcheck.
NICOLE ATKINS stopped by KUTX for a mini-set.
HAMILTON LEITHAUSER played a Tiny Desk Concert at the offices of NPR
STEELY DAN turn in a spirited "Reelin' in the Years" on the Midnight Special.
DOUG GILLARD ( Guided By Voices, Cobra Verde, Death Of Samantha, Nada Surf) talks to Magnet about his early musical experiences, Tommy Ramone, Bob Stinson, and more...
ARIEL PINK tells an odd story about getting maced by a feminist.
SLOWDIVE's Neil Halstead and Simon Scott talked to The Big Takeover about the reunion tour, solo projects and more (Thx, Frank Yang.)
ROBERT PLANT is slightly disappointed and baffled about Jimmy Page's hankering for more Zeppelin.
THE CUTOUT BIN: from ABC to the VU, from Stiff Little Fingers to Seals & Crofts, from the Baseball Project to the Bee Gees, plus the Clash, Bruce Springsteen, Sly & the Family Stone, the Cure and more -- this Friday's fortuitous finds are streaming from the Pate page at the ol' HM.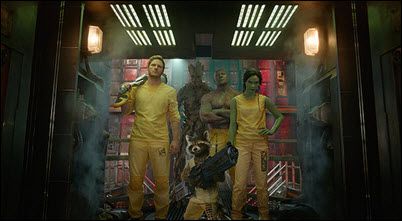 NOW SHOWING:This weekend's wide releases include Marvel's Guardians of the Galaxy, which is currently scoring 90 percent on the ol' Tomatometer; and the James Brown biopic Get On Up, currently scoring 82 percent.
GUARDIANS OF THE GALAXY, to quote TV's Andy Levy, was an absolute blast. It is one thing for Marvel --having sold the rights to Spider-Man, the Fantastic Four and X-Men to other studio-- to build a box office empire from ostensibly second-tier characters like Iron Man, Captain America and Thor. Now they have delivered a deserved smash based on the decidedly geek third-tier GotG. If you've watched the bonus credits scenes in The Avengers and Thor: The Dark World, you may recognize a couple of the characters here, but virtually everyone will be meeting the Guardians themselves for the first time. Removing the comics' Adam Warlock and softening Peter Quill (played by Chris Pratt) brodens the appeal. Throw in Zoe Saldana and Karen Gillan as ruthless assasins, Dave Bautista ans the vengeful Drax, James Brolin as the god of death, and the voices of Bradley Cooper (the irascible Rocket) and Vin Diesel (who gets the most out of the least words in the film as Groot) a space opera that's mostly Han Solos and Chewbaccas, rife with the humor and 70s centric rock you may have seen and heard in the trailers. The first act is particularly good, while the second act gives just enough of a breather to prepare for the more conventional heroic climax--though even this is not played too seriously. And it is Marvel, so stay past the end of the credits.
THE ORLANDO BLOOM/JUSTIN BIEBER FIGHT gets even better.
CAMERON DIAZ & BENJI MADDEN have talked about marriage.
BRADGELINA sent handwritten letters to each other while they were filming on opposite sides of the world. Awww.
CHARLIZE THERON's smart friends who are warning her about wedding Sean Penn? Let's hope so.
SHARKNADO 2 pulled in 3.9 million total viewers on Wednesday. That number is nearly three times what the original TV movie got in its debut, with the sequel setting a Syfy Original Movie record in the process.
THE 25 BEST COMING OF AGE MOVIES, according to Flavorwire. Yes, there's some John Hughes represented.
TURKISH women are posting laughing selfies on social media in defiance of one of the country's top government officials who said that women scolded women for laughing out loud in public.
ISRAEL: U.N. Secretary-General Ban Ki-moon and U.S. Secretary of State John Kerry announced Thursday that an unconditional humanitarian cease-fire will begin at 8 a.m. Friday in Gaza (1 a.m. ET). It will last 72 hours -- or three days -- "unless extended," the United Nations and United States said in a joint statement. The terms are similar to those propsed by Egypt and rejected by Hamas on July 15th, when the death count was 200.
THE ISLAMIC STATE, which advocates public stoning for adultery, has opened a "marriage bureau" for women who want to wed its fighters in territory they control in Syria and Iraq.
IRAQ: "Islamic State" jihadists have executed hundreds of Shi'ite Muslims in northern Iraq in what may be one of the worst atrocities yet since the al-Qaeda splinter group seized much of northeastern Syria and made huge gains in parts of Iraq.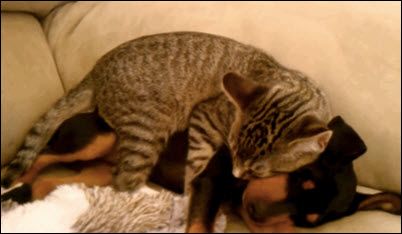 A CAT snuggles a PUPPY...
A CROCODILE was already in the shower.
NO ANCHOVIES, PLEASE: Thousands of dead anchovies have washed up this week in the town of Seaside, Oregon, providing a welcome feast for marine birds but a foul stench for tourists and residents of the popular beachside village northwest of Portland.
AND NOW FOR SOMETHING COMPLETELY DIFFERENT: A three-tusked walrus...for dinner.