ARCADE FIRE covers INXS's "Devil Inside."
ROBERT ELLIS is advance streaming The Lights from the Chemical Plant.
JEREMY MESSERSMITH is advance streaming Heart Murmurs.
MARISSA NADLER is advance streaming July.
DAVID CROSBY is advance streaming Croz.
MARCHING BAND is streaming So Much Imagine.
TEGAN & SARA sing an Oreo jingle.
THE MARY ONETTES drop "Silence Is A Gun" ahead of Portico.
THE BOTH: Aimee Mann and Ted Leo share "Milwaukee" ahead of their self-titled LP.
PAUL COLLINS & PETER CASE, formerly of The Nerves, play "Hanging On The Telephone" in-store.
NEIL YOUNG shares his recording philosophy.
NEIL GALLAGHER reviews Oasis videos...and he hates them.
THE PIXIES talk to Salon about the perks of being veteran artists, and the downsides of social media.
A HISTORY OF THE DRUM MACHINE, from Soul-Sides' Oliver Wang.
WEEKEND BOX OFFICE: Ride Along repeats atop the chart with 21.2 million; its 49 percent drop is not terrible after a long weekend debut, and 75.4 million against a 25 million production budget should leave a happy studio. Lone Survivor repeats at No. 2 with 12.6 million; again, a 43 percent drop isn't great for a well-reviewed war movie (and one unlikely to do big overseas biz), but 93.6 million so far against a 40 million production budget isn't bad. The Nut Job shows with 12.3 million on a 37 percent drop -- and should recoup its 42 million production budgetin the coming week. Frozen moves up a notch to the fourth slot with another 9 million and a 347 million domestic total against a 150 million production budget (worldwide, it has crossed the 800 million mark). Jack Ryan Shadow Recruit rounds out the Top Five with 8.8 million; the reboot seems unlikely to recoup its 60 million budget domestically, but has grossed 76.7 million worldwide so far. Below the fold, I, Frankenstein opened in sixth place with 8.3 million against a 65 million budget. Ouch. I note, however, that Lionsgate isn't really taking the hit for this -- Lakeshore Entertainment (which produced the similar Underworld series) is really the company on the hook for this one. Also, American Hustle continues to lead the Oscar-bait on this week's chart, despite the widening releases for Dallas Buyers Club and Nebraska.
BEHOLD A PALE HORSE: The Grammys Winners.
JAY-Z & BEYONCE top Billboard's Power 100 List.
JUSTIN BIEBER resurfaces on the beach in Panama with Chantal Jeffries, who has a record. Bieber's people are asking the singer to come back to L.A. so they can sit with him and convince him to go into therapy. Meanwhile, TMZ questions the charges against him.
ROBIN WILLIAMS & PAM DAWBER, together again. Ork, ork.
JOSH LUCAS and his wife, Jessica Ciencin Henriquez, are calling it quits after almost two years of marriage.
UKRAINE: Dozens of protesters on Sunday seized the justice ministry in Kiev, smashing its windows.
THE UNITED KINGDOM: The head of the Police Officers' Association said British nationals who travel to Syria to fight with the rebels could be arrested upon their return, and noted that already this year UK authorities have arrested 16 people on suspicion of terrorism offenses in Syria, compared to 24 arrests total in 2013.
LIBYA: Kidnappers holding five Egyptian diplomats gave Egypt 24 hours to release Libyan Revolutionaries Operations Room head Shaban Hadia Al-Zway, who was arrested two days ago in Alexandria on suspicion of links to al Qaeda. As a precaution, Egypt evacuated staff from its embassy in Tripoli and consulate in Benghazi.
SYRIA: The Assad regime and the Syrian opposition failed to reach any agreements in their first face-to-face meeting.
THE UNITED STATES Congress cut the US military and development aid budget for Afghanistan for this year to $1.1 billion, down from last year's $2.1 billion, in the wake of President Karzai's refusal to sign a bilateral security agreement and reports of waste and fraud in Afghanistan.
IRAN: The head of the UN's nuclear watchdog says the interim deal reached with Iran on its nuclear program is an important step forward, but that "there is still a long way to go".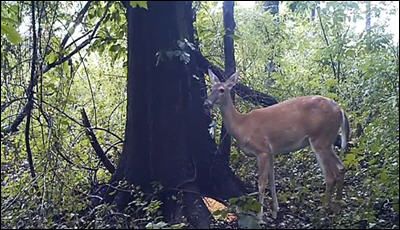 A DEER. In the woods.
THE BIRDS are forcing the move of a Spokane bus stop.
THE CANNIBAL RATS' GHOST SHIP likely sunk.
AN ABANDONED PINK PUPPY finds a home.