PATE REUNION UPDATE: Jon, Mike & Jon (and we hope Ron) will be retaking a stage somewhere near Iowa State University on July 5th, 2013, just one short decade after their last reunion gig. Clear your calendar for something transcendent, a train wreck, or both! If you're on the Facebook, check in with the event page.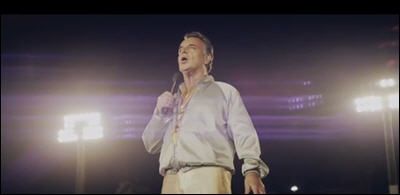 BEACH HOUSE drops a video for "Wishes," directed by Eric Wareheim (Tim & Eric) and featuring Ray Wise (Twin Peaks, Mad Men).
SUEDE is advance streaming Bloodsports.
LOW is advance streaming The Invisible Way.
KACEY MUSGRAVES is advance streaming Same Trailer Different Park.
DAN CROLL is streaming his From Nowhere EP.
RADIOHEAD: Thom Yorke and Nigel Godrich dropped previously unheard track "Harmonics Loop"on the BBC, along with the unreleased Yorke solo cut "Has Been."
LAURA MARLING asks "Where Can I Go?," ahead of Once I Was An Eagle.
ROBYN HITCHCOCK covers "Parasite" for an upcoming Nick Drake tribute LP.
THE KINKS muscle through an abbreviated "Catch Me Now I'm Falling" live. An early Pate cover, btw.
STEVE MASON: The fmr Beta Band frontman Steve Mason explains to The Guardian why not everything on his new solo album is political.
IS PUNK ROCK "TOXIC"? John Roderick. frontman for The Long Winters, makes the case. FWIW, I find much to agree with -- and disagree with here. His best case is against dogmatism and the failure to evolve and mature. His worst case is in assuming this is the fault of punk rock, and in assuming that music is a driver of, rather than a reflection of, society. Anytime you manage to decry Punk for both being capitalist and pseudo-Marxist in the same column, the intervention of an editor may be required.
ROBERT POLLARD, celebrated by Andrew W.K. (Thx, LHB.)
WHEN DAVID BOWIE Met William Burroughs.

WEEKEND BOX OFFICE: Oz the Great and Powerful worked box office magic to the tune of 80.2 million dollars. That's easily the highest opening of 2013 to date, but less than the 116 million debut of Tim Burton's Alice In Wonderland back in 2010 (in part due to being on fewer 3-D screens). Oz thus projects to finish at 200+ million domestically, rather than 300+. Jack the Giant Slayer took the brunt of Oz, dropping 63 percent to place with 10 million and a 43.8 million total against a 195 million budget. Identity Thief shows with 6.3 million and a 116.5 domestic total against a 35 million budget. The debut of Dead Man Down took the fourth slot with 5.4 million. Snitch rounds out the Top Five with 5.1 million and a 31.9 million total.
OZ, THE GREAT AND POWERFUL is far from perfect, but better than I expected. It is a prequel always destined to suffer by comparison to the 1939 classic adaptation of L. Frank Baum's beloved book. Those going expecting a musical are bound to be disappointed, though music punctuates one really fun moment here. Director Sam Rami's other Spider-Man star, Tobey Maguire, might've brought a more Frank Morgan vibe to the Wizard than James Franco does here. The characters that go on a quest here are generally less compelling -- and their arcs less developed -- than the classic. And the visual effects are tonally uneven; the characters are realistically and effectively rendered, while the landscapes are often given a more impressionistic and less effective treatment reminiscent of 1939. However, my big fear for this film was that it would turn out too much like Tim Burton's Alice In Wonderland -- or any number of other pics that take classics and "reboot" them by turning them into some version of The Lord of the Rings saga, regardless of whether it's appropriate. This movie strays in that direction a few times early on before finding its own voice, such that the climax actually played on my fear before neatly subverting it in a very Oz -- and vintage Disney -- manner. Better still, it echoes the 1939 film in its most significant aspect. When Raimi was miking Spider-Man, he told interviewers that he was interested in the project not only as a fan, but also because he was interested in a film providing moral instruction to children. As with the original Wizard, the prequel has a good message to impart to kids, even if their conscious focus is on the technological wizardry on display.
KELLY OSBOURNE's seizure may have been much more serious than first suspected, because doctors say she could be suffering from epilepsy.
LINDSAY LOHAN: Prosecutors are offering house arrest to end her lying-to-cops and probation violation cases, but she's reportedly not biting.
RICK SPRINGFIELD was arrested on a bench warrant stemming from his DUI case.
CHRIS BROWN expounds on how to talk to a woman, and it's every bit as klassy as you might guess.
ELLE MacPHERSON is engaged to Jeffrey Soffer, with whom most thought she broke up last March.
STAR TREK: INTO DARKNESS has a new, action-packed trailer online.
NORTH KOREA: Rejecting a UN Security Council resolution to end to its nuclear arms program, North Korea said it planned to become a full-fledged nuclear state. China called for calm.
IRAN: Haven or prison for al Qaeda?
SYRIA: The Sunni jihadist group Al Nusrah Front and Lebanese Shiite Hezbollah clashed for the first time near the Lebanese-Syrian border. The 21 UN peacekeepers seized by rebel forces in the Golan heights four days ago were released. Russia said it would not pressure President Assad to resign.
EGYPT: Protesters tried to torch buildings in Cairo, including the headquarters of Egypt's soccer federation, and targeted shipping in the Suez Canal.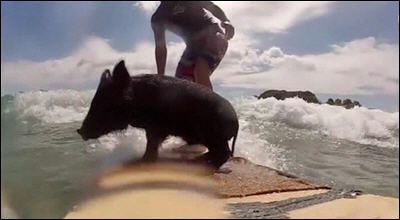 SURFING PIG: Everybody's heard about the pig.
BEE VENOM may wipe out HIV.
A PIT BULL alerts the missus that his owner had a heart attack. And that Timmy is stuck in the well.
A MOUSE has been given its freedom after it tackled a poisonous snake in a bid to save a fellow rodent at a zoo in China.