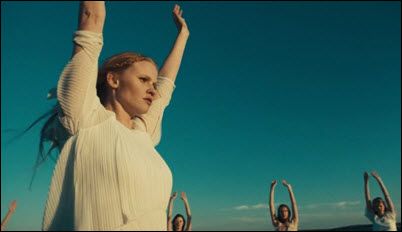 THE BLACK KEYS drop a NSFW clip for "Weight Of Love".
LET'S ACTIVE reunited, with Suzi Ziegler of Game Theory sitting in for the late Faye Hunter. Stereogum has video of "Waters Part", "Every Word Means No", and "Ornamental".
J MASCIS advance streams Tied to a Star.
TY SEGALL advance streams Manipulator.
SHOVELS & ROPE advance streams Swimmin' Time.
MERCHANDISE advance streams After the End.
FIELD REPORT drops "Home (Leave The Lights On),"ahead of Marigolden.
BLONDE REDHEAD gives away "The One I Love." (Not an REM cover)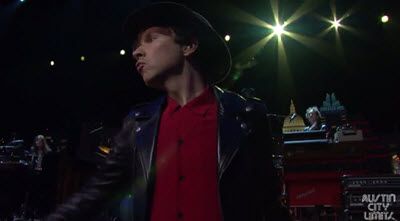 BECK drops "Loser" as a teaser for his Austin City Limits appearance.
RYAN ADAMS talks to the New York Times Magazine about making amends with his record label, getting clean and bridging the gap between punk and metal.
MICHAEL CERA talks to Stereogum about his surprise albim, True That.
THE THURSTON MOORE BAND plays a near-accidental debut gig.
DEV HYNES' muscial journey is traced by The Guardian.

WEEKEND BOX OFFICE: Teenage Mutant Ninja Turtles repeats atop the chart with 28.4 million; that's a 57 percent drop, but the reboot's 117 million domestic nearly recoups its production budget. Guardians of the Galaxy repeats in second with 24.7 million, on a leggier 41 percent drop. Guardians --which has already beaten the theatrical runs for both Thor movies and the first Captain America flick--now seems likely to beat out Transformers 4 for the biggest film of the summer. It needs to make about a half-billion to profit, and likely will, given that it has yet to open in some big European and Asian markets. The ill-timed debut of Let's Be Cops still shows with 26 million against a 17 million budget. The Expendables 3 underperformed with a 16.2 million fourth-place debut (earlier installments opened at 34.8 and 28.6 million).That seems like a flop, but this franchise has been incraesingly big overseas, so this may not be the end of the series.The opening of The Giver rounds out the Top 5 with 12.8 million, which sounds bad until you note the budget was only 25 million.
CHRISTINA AGUILERA and fiance Matt Rutler welcomed their first child together, a baby girl, on Saturday.
JENNIFER LAWRENCE & CHRIS MARTIN have been spending quality together since late June.
DENZEL WASHINGTON detoxed for weeks after a wild, alcohol-fueled, gluttonous month-long vacation.
JUSTIN BIEBER & SELENA GOMEZ...at Bible study?
LINDSAY LOHAN has spoken about her reaction to James Franco's short story about her for the first time.
KENDRA WILKINSON and Hank Baskett seem happily together again, suggesting their turmoil may have been scripted for reality TV.
FRANK MILLER is profiled by The New York Times ahead of Sin City: A Dame To Kill For.
UKRAINE: The so-called Russian aid convoy was virtually empty. A cynic might think the entire purpose was to provoke. Ukrainian forces have advanced into one of the last remaining separatist strongholds in a significant breakthrough in the civil war.
LEBANON: The US issued a travel warning for Lebanon noting that the Islamic State, the Al Nusrah Front, the Abdullah Azzam Brigades, and Hezbollah all operate there, and stressed the increasing frequency of suicide bombings.
SYRIA: The Islamic State clashed with regime forces in Raqqah in Al Tabaqa; and in Aleppo, where the IS also battled the Islamic Front, the Al Nusrah Front, and Kurdish forces. In Deir Izzour, the Islamic State told families of Labor City oilfield workers to vacate their homes so foreign fighters could move in. The Syrian Observatory for Human Rights reported that the IS has executed 700 al-Sheitaat tribesmen in Deir Izzour over the past two weeks; the head of the tribe called for other tribes to join in resisting the IS. The Al Nusrah Front and the Islamic Front fought regime forces in Hama and Aleppo. The Islamic State is also said to be closing in on the Islamic Front stronghold of Marea in Aleppo.
IRAQ: Kurdish fighters pushed to retake Iraq's largest dam on Sunday in an attempt to reverse gains by Islamic State insurgents who have overrun much of the country's north.
THE SQUIRREL THREAT: A militant rodent attempts to rape scientific equipment.
THE BIRDS: Seagulls steal ice cream at St Ives beach.
SHARKS attack Google.
CUPPY THE CAT trapped its owners in the bedroom. This is not that earlier cat, it's another cat.