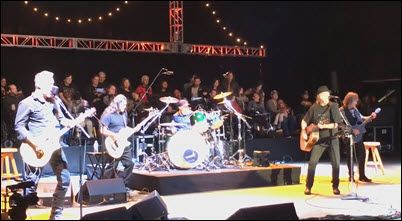 NEIL YOUNG joins METALLICA for a cover of his "Mr. Soul."
WARPAINT stopped by World Cafe for a chat and mini-set.
PHANTOGRAM stopped by The Current for a chat and mini-set.
BLIND PILOT played a Tiny Desk Concert.
THE MOUNTAIN GOATS originally believed "Cubs In Five" was the height of the unlikely.
BOB DYLAN has quietly scrubbed the one mention of him as the "winner of the Nobel Prize in literature" in "the lyrics" section of the site following his surprise win last week. The Nobel comittee is in disarray.
PRINCE: A remastered, repackaged edition of Purple Rain is coming, with a second album of previously unreleased material.
BEFORE THE SMITHS, Johnny Marr and Andy Rourke were in a funk band named Freak Party.
BRUCE SPRINGSTEEN wrote a song for...Harry Potter?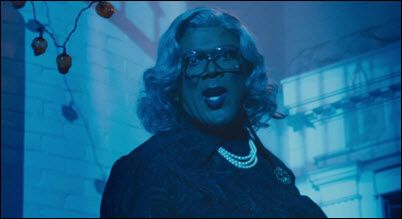 WEEKEND BOX OFFICE: Boo! A Madea Halloween topped the chart with 27.6MM, again establishing that Tyler Perry makes a lot more money with drag comedies than with family dramas, though the 20MM budget is probably acceptable only because Perry keeps the marketing costs down. Jack Reacher: Never Go Back placed with 23MM, much better that the original's 15MM debut and likely to do big worldwide business (already 31MM) against a very reasonable 60MM budget. Ouija: Origin of Evil showed with 14MM against a 9MM budget, and good reviews may make this prequel as hugely profitable through the next two weeks as the original (which was a far worse film). The Accountant slid 43 percent to the fourth slot with 14MM as it recoups its production budget domestically; its modest 44 million budget should allow overseas markets to bring this one into the black. Similarly, The Girl on the Train, which rounds out the Top Five with 7.3M, is most of the way to profit on worldwide grosses exceeding 100MM.
DONALD GLOVER will be playing the part of Lando Calrissian in the still-untitled Han Solo Star Wars film.
LEONARDO DiCAPRIO will play Sun Records' Sam Phillips, who helped make stars of artists as diverse as Elvis Presley, Ike Turner, Howlin' Wolf, Jerry Lee Lewis, Johnny Cash and Carl Perkins.
DEADPOOL 2 lost director Tim Miller over what insiders say are creative differences between him and Ryan Reynolds, the actor who plays the titular Marvel character.
ANNE HATHAWAY talked to The Guardian about Colossal -- and about getiing awards in a way that may have people on her back again.
SNEAKERS may be headed to the small screen.
BILL MURRAY crashed the White House press room to talk baseball.
DAVID LETTERMAN (and his beard) shop at Target these days.
VENEZUELA goes Full Dictatorship. You never go Full Dictatorship.
A U.S. DESTROYER sailed close to a cluster of islands claimed by Beijing in the South China Sea on Friday, the Pentagon said, amid continued tensions in the contested waterway.
PLAYER 3 has entered the game.
AN EMU was found wandering an Arizona highway.
THE POLICE HORSE did not like being slapped.
AN OVER-FRIENDLY OCTOPUS tries playing Alien with a diver.