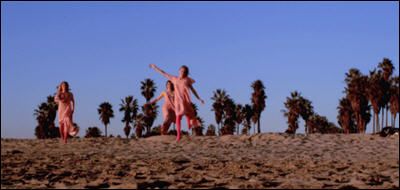 UNKNOWN MORTAL ORCHESTRA is "So Good At Being In Trouble."
THE MOUNTAIN GOATS stopped by Oregon Public Broadcasting for a session.
THE HELIO SEQUENCE stopped by World Cafe for a chat and mini-set.
GUARDS stopped by World Cafe for a chat and mini-set.
ALL SONGS CONSIDERED: Tracks from MBV, Youth Lagoon, Cloud Cult and more highlight the latest edition.
THE JAMES HUNTER SIX is dropping a soulful new LP this month (produced by one of the Dap-Tone dudes); the title track is "Minute by Minute."
THE HOLLIES: "I Can't Let Go."
BRIAN ENO, interviewed by LAURIE ANDERSON.
CRAIG FINN writes for ClashMusic about Fightened Rabbit and their new track, "State Hospital."
THE 20 BEST-GLAM ROCK SONGS, according to The Guardian's Jon Savage.
"STAND BY YOUR MAN": An Oral History.
KRISTEN STEWART plans to dump ROBERT PATTINSON, a source tells RadarOnline.
RHIANNA... and JUSTIN BIEBER? Given that she was spotted in court with the heinous Chris Brown, it seems unlikely.
KIM KARDASHIAN's doctor thinks Kim's unborn baby may be at risk, because of the stress Kris Humphries is causing by dragging out their divorce. Litigation is fun!
LEIGHTON MEESTER & ADAM BRODY are an item.
FERGIE pregnant? Josh Duhamel says there's no new news, which may be a denial.
PHIL SPECTOR: The HBO pic has a trailer online. Wigtastic.
NORTH KOREA: China said it was "extremely concerned" about North Korea's threat to go beyond a third nuclear test.
MALI: France announced it will begin pulling its nearly 4000 troops out of Mali in March, handing over operations gradually to the UN-backed AFISMA force of some 8000 troops."
SYRIA: After a lull, heavy fighting broke out in Damascus. Rebels said they had gone on the offensive against strategic targets in the city's southern neighborhood of Jabar.
IRAN: At the Organisation of Islamic Cooperation summit in Cairo, Ahmadinejad called for a strategic alliance with Egypt and proposed a loan to the cash-strapped country. Egypt's response was cool.
EGYPT: Mohamed ElBaradei, head of the opposition National Salvation Front coalition, denounced a fatwa that authorized the killing of NSF members. An NGO linked to the Muslim Brotherhood called for the National Council for Women and other women's rights associations to be abolished.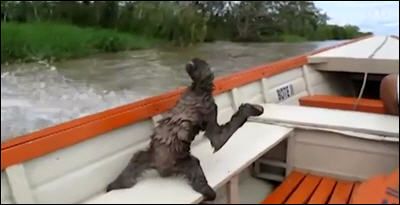 SLOTHS: Sink or swim?
THE WORLD'S LONGEST CAT has passed away.
LEAVE THE KID, TAKE THE CORN SNAKE: Not a line from The Godfather.
THE BOBCAT POPULATION is on the rise... in New Jersey.