THE WEEKEND STARTS HERE:
...with AIMEE MANN's CHRISTMAS CAROL (profanity warnings): Part One has your Scrooge-y set-up with Michael Penn. Part Two features The Office's John Krasinski. Part Three has Michael Cera. Part Four has John C. Reilly.
THE NEW PR0NOGRAPHERS stopped by WFUV for a mini-set; A.C. Newman chats about the new LP.
PARQUET COURTS performs from the stage of World Cafe Live.
LILY & MADELEINE stopped by World Cafe for a chat and mini-set.
ELEPHANT STONE combines the sounds of Indian classical music and '60s psychedelic rock at World Cafe.
BAND OF HORSES & GRANDADDY "Hang an Ornament."
TOM WAITS gives a reading of a "Christmas Card From a Hooker in Minneapolis."
ARIEL PINK talks to Bomb magazine about the ugly nature of performing, his method of creating an album, and how recording is a rip-off.
NICK CAVE's Handwritten Dictionary.
THE TOP ALBUMS of 2014 according to the staff at The Guardian.
STEREOGUM's 70 Favorite Songs of 2014.
NOW SHOWING: This weekend's wide reelases are The Hobbit: The Battle of the Five Armies, which opened on Wednesday scoring 62 percent on the ol' Tomatometer; Night at the Museum: Secret of the Tomb,currently scoring 49 percent; and Annie, scoring 19 percent.
STEPHEN COLLINS released a lengthy statement in which he admits to inappropriate sexual contact with three female minors.
STEVIE WONDER has welcomed his ninth child.
KRIS & BRUCE JENNER have settled their divorce.
ASHLEE SIMPSON and Evan Ross are expecting their first child together.
JENNIFER LAWRENCE and... director and producer Gabe Polsky?
BRAD PITT was dismissed from jury duty for being too distracting.
THE NATIONAL FILM REGISTRY at the Library of Congress recognizes The Big Lebowski, Saving Private Ryan, Ferris Bueller's Day Off, Rosemary's Baby, Willy Wonka and the Chocolate Factory, and more.
UNITED STATES Army Lt. Gen. James Terry, commander of US forces in the battle against the Islamic State in Iraq and Syria, said it is likely to take "a minimum of three years" to reach a turning point against the group. The Pentagon said that coalition airstrikes in Iraq since mid-November have killed "multiple senior and mid-level" Islamic State leaders.
SYRIA: A mass grave holding 230 bodies was uncovered in Deir Ezzor province. Those killed, including many civilians, were members of the Shaitat tribe, which had resisted the Islamic State.
THE ISLAMIC STATE gained ground in the Iraqi city of Baiji in northern Iraq, close to the country's largest oil refinery, forcing Iraqi forces to retreat on December 17.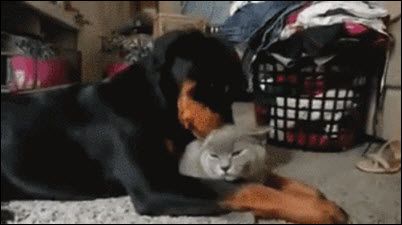 A ROTTWEILER and a CAT, snuggling together... mass hysteria!
THE SQUIRREL THREAT: Arctic ground squirrels could play a greater role in climate change than was previously thought.
THIS ADORABLE BIRD is one of the most vicious creatures in the world.
AN UNHAPPY CAT is extracted from a car engine.