THE WEEKEND STARTS HERE:
...with POWER POP! A few of these may be well-known generally, like Cheap Trick's "Way of the World" and Nick Lowe's "Cruel to Be Kind"... and some well-known to fans of the genre, like Dwight Twilley's "I'm On Fire," Shoes "Too Late," The Records' "Starry Eyes," the Flamin' Groovies' "Shake Some Action" and the Plimsouls' "A Million Miles Away" (seen here in a rare live slot). Others are well-known to longtime Pate fans, like the Three O'Clock's "Her Head's Revolving" or Let's Active's "Waters Part."
BEST COAST plays WFUV Live.
MAC McCAUGHAN performs in the WNYC Soundcheck studio.
KOPECKY: The Family Band stops by World Cafe.
TRAILS & WAYS advance streams Pathology.
SLY & THE FAMILY STONE drop the previously unreleased "Color Me True" ahead of Live at the Fillmore East.
FFS: The Franz Ferdinand/Sparks collab drops "Call Girl" ahead of a self-titled debut.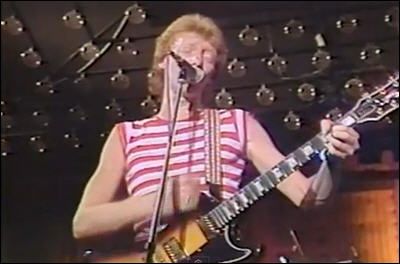 BRAM TCHAIKOVSKY: "Girl Of My Dreams" and "Lady From the USA", live. Because it's Power Pop Friday, of course.
JOAN JETT: "Everything rocks: Food rocks, clothes rock, everything rocks except rock."
FRANK BLACK talks songwriting with Paste.
THE RISE AND FALL of the Compact Disc.
RIPPED FROM THE HEADLINES: 15 True Crime Songs, compiled by Paste.
NOW SHOWING: This weekend's wide releases include San Andreas, which is currently scoring 52 percent on the ol' Tomatometyer; and Cameron Crowe's Aloha, which is scoring a tragic 11 percent.
LINDSAY LOHAN is off prbation, after a mere eight years.
GEORGE CLOONEY vs DWAYNE "THE ROCK" JOHNSON: Who you got?
JESSICA ALBA: One of America's Richest Self-Made Women.
JUSTIN BIEBER & SELENA GOMEX, together again...on Snapchat.
STAR WARS: THE FORCE AWAKENS boasts Andy Serkis as the man in charge of... something.
NETFLIX now uses more bandwidth than X-rated sites.
SYRIA: The leader of al-Nusra Front — the al Qaeda-affiliate group in Syria — insisted that he is under orders from the organization's central leadership not to attack Western interests in Syria, but rather focus on toppling President Bashar al-Assad.
IRAN: France announced it would not sign any nuclear deal which did not give inspectors access to military sites.
IRAQ: With new waves of civilians fleeing ISIS violence in Anbar there are now more internally displaced Iraqis than there were at the height of the bloody sectarian fighting that followed the American invasion.
A BADGER raids a fridge in Midhurst, West Sussex.
PIP THE PUG, 4 inches tall, may be Britain's smallest dog.
THE SWARM: A Chinese man was covered in a million bees in an attempt to set a new record.
A COW that made a daring bid for freedom when it escaped from a slaughterhouse was tracked down and shot near a McDonald's.