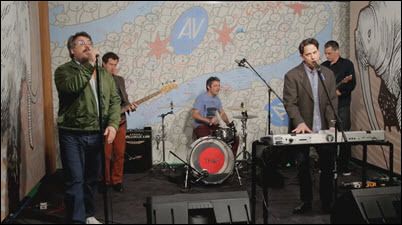 THEY MIGHT BE GIANTS performs Destiny's Child's "Bills, Bills, Bills" for the A.V. Club Undercover.
RYAN ADAMS drops a three-track single on Spotify.
WIN WIN advance streams Primaries.
CLASS ACTRESS: Dance music isn't really my genre, but the Movies EP is exec produced by Giorgio Moroder and sounds it.
SONGS OF THE SUMMER, 1962-2015, streaming via NPR on Spotify.
IRON & WINE and BEN BRIDWELL cover Talking Heads' "This Must Be the Place (Naive Melody)".
BELLE & SEBASTIAN played "Allie" and "Suki in the Graveyard" for Seth Meyers. The latter is one of my fave tracks from the band, tho this take is a little subdued to start.
DAVID BOWIE announced the first in a series of career-spanning box sets.
WOLF ALICE talks to The Guardian about taking years to make a debut LP.
LOW: Alan Sparhawk and Mimi Parker talk to Stereogum about their long, slow trip and their upcoming LP.
JENNY HVAL talks to Pitchfork about a particular form of soft rock.
KIM KARDASHIAN & KANYE WEST underwent an IVF gender-selection process this spring to predetermine baby No. 2's sex.
DIDDY is now also charged with making terrorist threats during the alleged fight with a UCLA football coach.
BOBBI KRISTINA BROWN is in hospice care and family members are now just waiting for the inevitable.
BRIAN WILLIAMS is getting a frosty welcome at MSNBC.
WILL ARNETT has split from girlfriend Arielle Vandenberg.
SHIA LeBEOUF received 20 stitches and 13 staples to his head and finger following a bloody onset injury while filming a movie in North Dakota.
SPIDER-MAN: Marvel and Sony have found their Peter Parker — The Impossible actor Tom Holland.
EGYPT reportedly intends to establish a free trade zone with the Eurasian Economic Union, comprising Russia, Kazakhstan, Belarus and Armenia, by the end of 2016. Losing economic influence with Egypt would represent a major reversal of bipartisan US policy dating back to the Nixon and carter administrations. Meanwhile, Muslim Brotherhood clerics call for the overthrow of the current government.
AFGHANISTAN: Do you think it couldn't get much worse?
SAUDI diplomats in Khartoum believed Iran shipped advanced nuclear equipment including centrifuges to Sudan in 2012, according to a document leaked last week that WikiLeaks says is a cable from the embassy.
IRAN's Supreme Leader Ayatollah Ali Khamenei ruled out freezing sensitive nuclear work in the country for a long time and said sanctions imposed on it should be lifted as soon it reaches a final deal with major powers, state TV reported. Also, the deal would be unlikely to improve the world's ability to react to a sudden effort by Iran to build a bomb. So maybe not surprising that five former members of President Obama's inner circle of Iran advisers have written an open letter expressing concern that a pending accord to stem Iran's nuclear program "may fall short of meeting the administration's own standard of a 'good' agreement" and laying out a series of minimum requirements that Iran must agree to in coming days for them to support a final deal.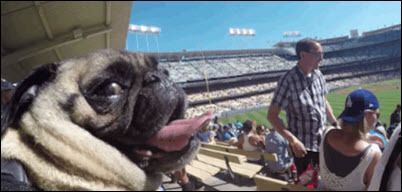 A PUG's EYE VIEW of Dodger Stadium.

MOOSE RIDE sparks an investigation in Canada.
A NOTORIOUS INVASIVE WORM has invaded the US. No word on whether it raps.
A FLUORESCENT LAMB ended up mistakenly being eaten in France.