THE WEEKEND STARTS HERE:
...with THE FACES! Rod Stewart, Ron Wood, Ronnie Lane, Kenny Jones, and Ian McLagan, live on the Beeb circa 1972. Your setlist includes: "Three Button Hand Me Down"; "Maybe I'm Amazed"; "Too Much Woman/Street Fighting Man"; "Miss Judy's Farm"; "Love In Vain"; "Stay With Me"; and "I'm Losing You."
JEFF LYNNE's ELO advance streams Alone In The Universe.
CHRIS ISSAK advance streams First Comes The Night.
BILL RYDER-JONES (The Coral) advance streams West Kirby County Primary.
COOL UNCLE: Veteran smooth pop and soul singer-songwriter Bobby Caldwell and the contemporary hit-making producer Jack Splash advance stream a self-titled LP.
THE WINTER PASSING is streaming A Different Space of Mind.
BILLY PAUL: "Me and Mrs. Jones." Got a thing going on.

BLITZEN TRAPPER is profiled at length by the HuffPost.

ALICE COOPER discusses classical composers crazier than he is. He's narrating a new version of Peter and the Wolf.

EVERY SMASHING PUMPKINS SONG, ranked by SPIN.

THE 12 BEST DRIVE-BY TRUCKERS SONGS, according to Paste.
NOW SHOWING: This weekend's wide releases are Spectre, which is currently scoring 61 percent on the ol' Tomatometer; and The Peanuts Movie, scoring 86 percent.
BLAKE SHELTON & GWEN STEFANI are not just dating, they've written a country song together.
EDDIE MURPHY is going to be a father for the ninth time.
ANGELINA JOLIE PITT gets a super-deluxe profile from the WSJ magazine.
KATY PERRY tops the 2015 Forbes list of the Highest Paid Women in Music.
ALL 102 BOND VILLAINS, ranked by Esquire.
RIDLEY SCOTT, SAM ROCKWELL, TREY PARKER and more discuss seeing the original Star Wars for the first time.
ALICE THROUGH THE LOOKING GLASS: Tim Burton & Co. have a trailer online for the sequel to the director's billion-dollar hit.
THE ISLAMIC STATE: The growing fears that an explosive device may have brought down Russian Metrojet Flight 9268, killing all 224 on board, stems in part from the rise of the ISIS affiliate in the northern part of the Sinai peninsula.
IRAN is banning the entry of US consumer goods, the commerce and industry minister said Thursday, as the country prepares for a lifting of economic sanctions.
SYRIA: Chemical weapons experts have determined that mustard gas was used in a Syrian town where Islamic State insurgents were battling another rebel group, according to a report by an international watchdog seen by Reuters.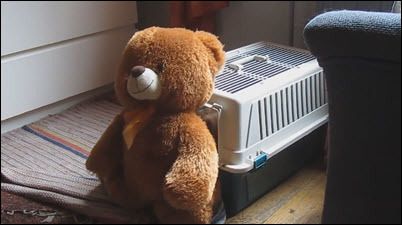 A DACHSHUND and his teddy bear.
A LIVE TAPEWORM was removed from a California man's brain during emergency surgery. The man had 30 minutes to live.
A FOX slaughtered14 penguins at Australia's Melbourne Zoo.
AND NOW FOR SOMETHING COMPLETELY DIFFERENT: A lizard with six tails.