THE BEATLES: A video for "We Can Work it Out" drops to promote the upcoming box set.
DESTROYER stopped by the World Cafe for a chat and mini-set.
FRANKIE COSMOS streams her Fit Me In EP.
ALEX BLEEKER covers The Beatles, Little Wings, and the Jeremy Spencer Band for Aquarium Drunkard.
YO LA TENGO playlists your next dinner party.
BRIAN WILSON plays "Sail On Sailor" at the Ed Sullivan Theater, with Matthew Sweet and Darius Rucker.

BOB DYLAN: The day "Like a Rolling Stone" came together.

MUSIC-MAKING and the Myth of the Tortured Genius.

DAN CORRIGAN, who photographed The Replacements' Let It Be cover, as well as many bands of the era, is interviewed for Pitchfork Unsung.

TEN ESSENTIAL SPARKS SONGS, according to Pitchfork.
WEEKEND BOX OFFICE: Spectre topped the chart with 73MM, which is strong, but short of Skyfall's 88MM debut. Given 223MM in overseas receipts already, the North American take is probably enough to suggest it will break evenagainst its reported 650MM breakeven cost.The Peanuts Movie placed with 45MM against a 100MM budget, but good reviews, an "A" Cinemascore from viewers, no serious competition until Thanksgiving, and the merch sales (Oh, the merch sales!) will likely leave Charlie Brown unusually content. The Martian shows with 9.3MM, which is pretty darned leggy, considering Bond was at the box office; Ridley, Matt & Co. are well into the black with 458MM worldwide against a 108MM production budget. Goosebumps takes the fourth slot with 7MM, which probably should be considered good post-Halloween against Peanuts. Bridge of Spies rounds out the Top Five with 6.1MM, and istill rolling out slowly in foreign markets. Beow the fold, there are mostly flops and disappointments...but The Intern, coming in ninth this weekend, has earned 180MM worldwide against a 35MM budget.
SPECTRE: I'd rank this lower than Skyfall or Casino Royale, but above Quantum of Solace. That said, it's closer tot he first two than to the last of these. It contines the Craig-era's focus un Bond's backstory (which hardcore Bond fans tend to dislike). OTOH, it continues to to evolve the franchise more toward the more typical Bond film (which I presume others may dislike), albeit with less humor. Given the title, I don't think it's a spoiler to note that Bond's nemesis is revealed and in that sense, there are elements of the third act that reminded me of Dr. No. The cast, pretty much returning from Skyfall, all does well, with Lea Seydoux (Midnight In Paris, Mission impossible: Ghost Protocol, Inglorious Basterds) and Monica Bellucci (The Matrix Reloaded and so much more) making for two notable Bond women (though I wish Bellucci had more to do). Christopher Waltz also brings his quirks to the role of the antagonist. Sam Mendes manages the drama and the action with aplomb (the latter being my problem w/ QoS). My main issue with the film is Bond's caharacter arc, which technically falls within the scope of the novels and previous films, but which I think will ultimately ring untrue with most viewers.
STAR WARS: THE FORCE AWAKENS has a TV spot with new material as well as an international trailer with even more new footage. TIME looks for clues in the translated subtitles for the latter.
THE HATEFUL EIGHT: Quentin Tarantino's 8thfilm has a new trailer online.
GAVIN ROSSDALE is "suspicious" over estranged wife Gwen Stefani's story that she just became an item with Blake Shelton.
CHLOE MORETZ is set to play the title character in Working Title and Universal's The Little Mermaid retelling with Richard Curtis in talks to pen the script.
GERMAN INTELLIGENCE systematically spied on friends and allies around the world. I'm not sure why this is scandalous; I expect most all countries spy on friends and foes alike.
THE ISLAMIC STATE: U.S. spy agencies now believe the preponderance of intelligence about last week's crash of a Russian passenger plane over Egypt points to a terrorist bombing as the cause, U.S. officials said Sunday. The U.S. and U.K. are shared intell with Russia and Egypt regarding the crash.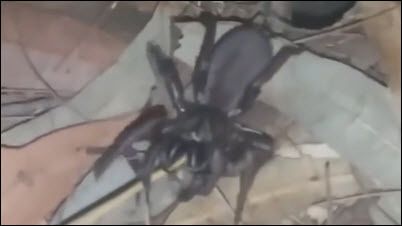 A HUGE TRAPDOOR SPIDER plays tug-of-war with a human.
KANGAROOS fail to solve climate change issue.
EMUS ON THE LAM, recaptured in Pima County, AZ.
PART HUMAN, PART MOUSE: Chimeras Face Ethical Scrutiny. What is the law?