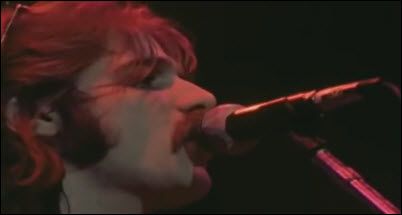 GLENN FREY, 67, a founding member and guitarist of the Eagles, died in New York City of complications from rheumatoid arthritis, acute ulcerative colitis and pneumonia. Here's the Rolling Stone obit, and bandmate Don Henley's tribute. And here's journalist-turned-filmmaker Cameron Crowe recalling the making of his Rolling Stone cover story on the band (which begins with a cameo from WCFL Superjock Larry Lujack). Most of the Eagles' hits were collaborations, but Frey was the lead vocalist on "Take It Easy", "Peaceful Easy Feeling", "Tequila Sunrise", "Already Gone", "Lyin' Eyes", "New Kid in Town", and "Heartache Tonight," a selection basically consistent twith the notion from interviews that Henley was the darker of the band's two main songwriters. After the Eagles split, Frey continued to chart with hits including "The Heat Is On", "Smuggler's Blues",and "You Belong to the City." It may sound at first like I'm speaking ill of the dead if I say I was never a huge Eagles fan. But my parents were fans, along with millions upon millions of people. And if you grew up in the 70s and early 80s, they were an inescapable part of the musical landscape and the culture in general. I have a relationship with Eagles songs that comes from marinating in them to the degree that I cannot say whether it is because I like them (though I do like some of them, I think). So it is impossible not to feel a sense of loss at Frey's passing, even if it is not the sort of loss I feel over the passing of, say, David Bowie.
LANGHORNE SLIM stopped by Morning Becomes Eclectic for a session.
FOALS stopped by World Cafe for a chat and mini-set.
SON LITTLE, Live In Concert.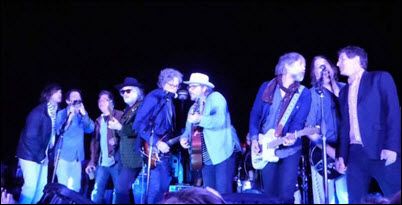 JEFF TWEEDY, Peter Buck, Mike Mills, Scott McCaughey, Gary Louris, Kurt Bloch, Corin Tucker and more cover "All the Young Dudes", while BRUCE SPRINGSTEEN covers "Rebel Rebel" for a Bowiesque Twofer Tuesday.
THE KINKS: How We Made "Waterloo Sunset."
DON McLEAN was arrested early Monday on a charge of domestic violence assault.
DALE GRIFFIN, drummer and co-founder of Mott The Hoople, has died at age 67.
MIC GILLETTE, renowned trumpet and trombone player and founding member of the legendary Oakland funky soul band Tower of Power, died suddenly of a heart attack over the weekend. He was 64.
MILEY CYRUS and some friends drove a U-Haul truck over to Liam Hemsworth's pad in Malibu and unloaded over the weekend.
SPIKE LEE & JADA PINKETT SMITH are boycotting the Oscars.
SEAN PENN, who gave Mexican drg lord El Chapo editorial control over their interview, is sad about the state of journalism.
STEPHANIE SEYMOUR was arrested for DUI.
FRIENDS are sorta reuniting, but there's no reboot.
IRAN: The U.S pardoned or dropped the charges against seven Iranians in a prisoner swap for the release of four Americans held by Iran.Afterward, the U.S. imposed new sanctions on Iran as a result of its repeated test-firing of ballistic missiles.
IRAQ: Three Americans reported missing from a Baghdad neighborhood were kidnapped by Shiite militiamen from an apartment in the capital, a senior police official and resident of the building said Monday.
DOG's BEST FRIEND is...another dog.
MATING NEWTS close a California road.
A SHARK found in the swimming pool of a Hypoluxo condominium community was barely alive when it was rescued, said the woman who reported the incident and tried to save it.
GIANT WORMS the size of a baby snake, weighing as much as a small mouse, have been discovered on the Isle of Rum.