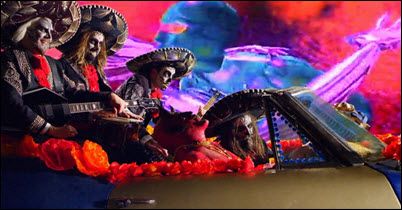 ROB ZOMBIE shares a video for "The Life And Times Of A Teenage Rock God."
WHITE DENIM stopped by World Cafe for a chat and mini-set.
ANIMAL COLLECTIVE also stopped by World Cafe for a chat and mini-set.
WEAVES advance stream their self-titled debut.
DUNGEN covers Aphex Twin and Wil Malone for Aquarium Drunkard's Lagniappe Sessions.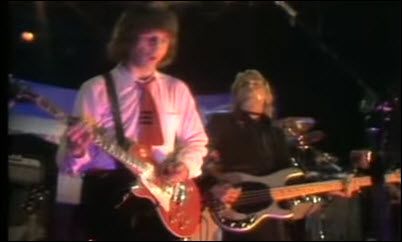 THE CARS relesaed "Candy-O" this week in 1979. Add "The Dangerous Type" for Twofer Tuesday.
PRIMAL SCREAM frontman Bobby Gillespie talks to Under The Radar about the band's twelfth album, Chaosmosis.
BAND OF HORSES frontman Ben Bridwell talks to Rolling Stone about moving past writer's block and "teenage dorkazoid stories" to craft tthe new Why Are You OK.
THE QUEEN IS DEAD, reconsidered 30 years later by The Quietus.
THE BEST of 2016 (So Far), according to Drowned In Sound.
JOHNNY DEPP will likely assert his fifth amendment privilege Friday at a hearing on the protective order sought by wife Amber Heard.
BILL MURRAY will (probably) appear at the Kennedy Center in Washington on Oct. 23, when he is presented with its annual Mark Twain Prize for American Humor.
NICOLE KIDMAN is reteaming with her Portrait Of A Lady director, Jane Campion, for the second season of thriller Top Of The Lake. She's also celebrating 10 years of marriage to Keith Urban.
ROADIES, the upcoming Showtime series from Cameron Crowe (Almost Famous), put the debut episode online early for free.
JANET WALDO, the prolific voice actress best known for her role as The Jetsons' eldest daughter Judy, has died. Waldo was 96.
MICHU MESZAROS, an actor who brought the titular alien in '80s sitcom Alf to life, has died. He was 76.
VENEZUELA: The recent wave of lootings and food riots in crisis-hit Venezuela has left three people dead in the last week, authorities and a rights group said.
A CROCODILE was caught strolling around Coral Gables, FL.
A KANGAROO and a PIG get it on, as a goose watches...mass hysteria!
A SPIDER was removed from an English IT worker's eardrum.
A COW, rescued from a tree with a saw and a chainsaw. The crowsstare, unamazed.