THE WEEKEND STARTS HERE:
....wtih THE PRETENDERS! Circa 1981, via one of Pate's two fab drummers, Jon Hahn. Your setlist includes "The Wait," "The Adultress," "Message of Love/Louie Louie," "Talk of the Town," "English Roses," "Birds of Paradise," "Kid," "Stop Your Sobbing," "Private Life," "Day After Day," "Jealous Dogs, " Up the Neck," "Tattooed Love Boys," "Bad Boys Get Spanked," "Precious," and "Brass In Pocket/MysteryAchievement."
HURRAY FOR THE RIFF RAFF advance streams The Navigator.
VALERIE JUNE advance streams The Order of Time.
MARTY STUART advance streams Way Out West.
JAY SOM advance streams Everybody Works.
ALL SONGS CONSIDERED features new tracks from Land of Talk, Juana Molina, Ride and more in the latest edition.
PETER BJORN & JOHN share "Stuck," a bonus track from the deluxe edition of Breakin' Point.
LAURA MARLING shares "Nothing, Not Nearly," ahead of Semper Femina.
THE DISTRICTS share "Ordinary Day."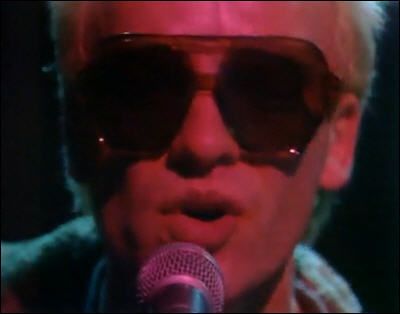 THE POLICE want to get "Next To You."
LOU REED's personal archives are headed to the New York Public Library for the Performing Arts.
NEW ORDER: Peter Hook talked to VICE about his book Substance: Inside New Order.
BECK talked to the New York Times about his upcoming album.
THE BIG LEBOWSKI: A history of the soundrack.
NOW SHOWING:This weekend's wide releases include Logan, which is currently scoring 93 percent on the ol' Tomatometer; The Shack, which was not advance screened; and Before I Fall, scoring 67 percent.
LOGAN: Uproxx talks to director James Mangold.
PIRATES OF THE CARIBBEAN: DEAD MEN TELL NO TALES has a new trailer online.
AVENGERS: INFINITY WAR is set to become the most expensive movie ever made.
KONG: SKULL ISLAND's early reviews are pretty good.
FRIENDS: Lisa Kudrow revealed their secret reunion.
SHIRLEY MacLAINE felt her younger brother Warren Beatty's pain during Sunday's big Oscar flub.
TUCK ME IN: Terror in one minute.
SYRIA: A senior official of Al Qaeda was killed on Sunday in Syria by a United States drone strike, an American official said on Wednesday.
IRAN is likely to go on an international shopping spree for surface warships, submarines and anti-ship missiles after the expiration in 2020 of a United Nations resolution prohibiting it from acquiring sophisticated weapons, according to the U.S. Office of Naval Intelligence.
YEMEN: The United States conducted 20 airstrikes against al Qaeda in the Arabian Peninsula in Yemen, including targets in the Abyan, Shabwa and Baydha regions.
THE TALLEST FEMALE DOG in the World.
A BLACK BEAR was accidentally dropped from a helicopter and killed in Thailand.
A PINK PUPPY and her brother were rescued in Wildomar, California.
A CROCODILE SHARK washed up on a UK beach, baffling experts.