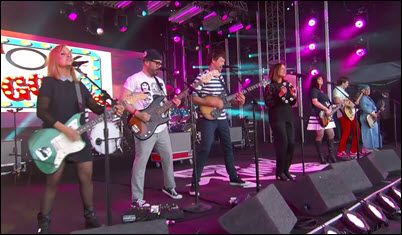 OK GO & THE GO-GOs mash up "Here It Goes Again" and "Our Lips Are Sealed" for Kimmel.
JENS LEKMAN stopped by The Current for a chat and mini-set.
MIDDLE KIDS stopped by The Current for a chat and mini-set.
CHERRY GLAZERR stopped by Morning Becomes Eclectic for a session.
SPIRAL STAIRS (Pavement) and MATT BERNINGER (The National) team up on "Exiled Tonight."
BEWARE THE IDES OF MARCH: The friendly stranger in the black sedan.
THE JESUS & MARY CHAIN's Jim Reid talks to The Quietus about the band's long-awaited new album and the surprising reality of the band's continued existence.
THE WHO announced a six-show residency at Las Vegas' Caesars Palace. All copies of "My Generation" spontaneously combusted.
THE BEACH BOYS: Aquarium Drunkard essays songs from Holland and Surf's Up.
A MALICIOUS MUSIC FILE can be used to control everything from your phone to your car.
BEN AFFLECK revealed, in a Facebook post on Tuesday, that he recently completed a stint in rehab for alcohol addiction. It apparently did not alter his involvement with The Batman.
GUARDIANS OF THE GALAXY VOL. 2 drops another teaser online with Jay & the Americans.
JORDAN PEELE is the first Black writer-director to break 100MM with his feature debut.
BEAUTY & THE BEAST has been pulled from release in Malaysia, even though the country's official censors approved the release after cutting a well-publicized "gay moment" from the film.
ANGELINA JOLIE gave her first lecture as a visiting professor at the London School of Economics and Political Science.
ALISON BRIE & DAVE FRANCO have officially tied the knot.
THE BIG BANG THEORY spinoff "Young Sheldon" gets a series order.
THE MATRIX Rebooted? C'mon.
OLLY the JACK RUSSELL TERRIER crushes the Crifts agility test. Sort of.
MYSTERY SOLVED: Here's why a goat was behind the wheel at the Ottawa Hospital.
A CAT got a snake up her nose.
MR. TOAD has been given a collection of custom-made miniature hats by his human friend.