THE WEEKEND STARTS HERE:
... with THE BYRDS! Pretty much because I dig them as we turn into Spring (or Fall). Let's start with a rare 1965 clip of their breakthrough smash cover of "Mr. Tambourine Man." There are screaming girls, plus go-go dancers when they hit Shivaree for "All I Really Want to Do" and "Feel A Whole Lot Better." Next up is a rare sync of "I Knew I'd Want You." There are even more dancers when they cover Buddy Holly's "Not Fade Away" for Shindig! on June 23, 1965, while I'm pretty sure that's Ed Wynn introducing "Chimes of Freedom." You might recognize the voice introducing "Bells Of Rhymney" from poolside in August 1965 and "It Won't Be Wrong" from a corral in January 1966 on Where The Action Is. BONUS: Want a couple in color? Here's "Turn, Turn, Turn!" and "Mr. Spaceman." DOUBLE BONUS: A rare 1967 sync of "Eight Miles High."
BOB DYLAN advance streams songs from Triplicate.BONUs: Here's the music Bob is digging now.
AIMEE MANN advance streams Mental Illness.
RODNEY CROWELL advance streams Close Ties.
JASON ISBELL shares a new single "Hope The High Road," ahead of The Nashville Sound.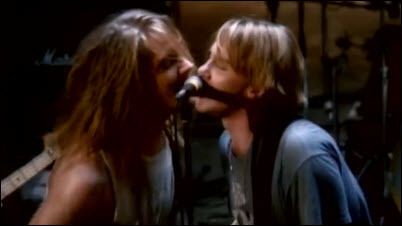 SOUL ASYLUM's near-breakthru, "Someone to Shove."
THE JESUS & MARY CHAIN talk to The Guardian about being trapped in the desert, playing the Haçienda and the horrors of Heart FM.
FATHER JOHN MISTY talks to Rolling Stone about the president, his daily LSD habit, why social media is "self-harm" and more.
GOD SAVE THE QUEEN: John Lydon really means it, man.
SIB HASHIAN, former Boston drummer, has died. Hashian was performing on stage at the Legends of Rock Cruise when he collapsed and died. He was 67 years old.
NOW SHOWING: This weekend's wide releases include Power Rangers, which is currently scoring 43 percent on the ol' Tomatometer; Life, which is scoring 69 percent; and CHiPs, scoring 33 percent.
BRANGELEXIT: Brad Pitt is becoming more at peace with his newfound single life, but he's in no rush to enter the dating world.
TOM CRUISE intervened in a divorce when Scientology was raised as an issue.
WHY BELLE SHOULD HAVE CHOSEN GASTON: A PowerPoint Presentation.
YOUNG HAN SOLO tidbits, including a really lame one.
KATE WINSLET got candid about being bullied as a child during a talk at the fourth annual WE Day U.K. event.
BAYWATCH has a new trailer online. (NSFW language)
BRETT RATNER: The director and producing mogul Brett Ratner says film critic aggregation site Rotten Tomatoes is a destructive force in Hollywood. His Tomatometer is better than I thought.
SHAMROCK, a retired racehorse, still has some game. Unexpectedly!
A TURKEY flew through a truck driver's windshield in New Hampshire.
FIVE BABY GATORS take a taxi, start trouble.
THE TOP 10 DOG BREEDS, according to the American Kennel Club.