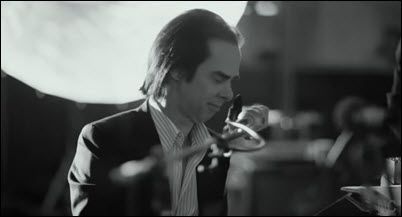 NICK CAVE & THE BAD SEEDS share a video for "Steve McQueen," a spoken word piece featured in the documentary One More Time With Feeling.
THE NEW PRONOGRAPHERS advance stream Whiteout Conditions.
GUIDED BY VOICES advance streams August By Cake.
SPOON played at Apogee Studios for Morning Becomes Eclectic.
BONNY DOON shares "I See You" and it's very Silver Jews with a bit of Pavement.
THE SHINS cover "A Taste Of Honey" for Amazon's The Man In The High Castle soundtrack.
THE SPINNERS:For twofer Tuesday, "Could It Be I'm Falling in Love" and "I'll Be Around."
RICHARD THOMPSON, masterful singer, songwriter and guitarist clebrated a birthday yesterday. Here he talks to The Vinyl District. (Thx, Frank Yang.)
STING talked to World Cafe about the real-life moment that inspired him to write "Roxannne," and more.
STEVE LILYWHITE has produced bands including the Rolling Stones and U2; now he's sold 500K CDs at KFCs in Indonesia. Not kidding.
POP STARS and their chatbots. Aerosmith's is classic.
ALEC BALDWIN would appreciate it if you didn't bring up that time he called his daughter a 11-year-old daughter a "rude, thoughtless little pig."
AVENGERS: INFINITY WAR has its Stan Lee cameo.
SPIDER-MAN: HOMECOMING got a set visit from Uprox; this two-parter contains a bunch of minor spoilers.
ORLANDO BLOOM made his Pirates of the Caribbean comeback looking worse for wear in a brand new Dead Men Tell No Tales teaser. Or is it Salazar's Revenge? Hm.
KIM KARDASHIAN denied reports she was attacked in L.A.
AMERICAN IDOL will not be coming back in 2018, despite the fact that both NBC and FOX made offers to put it back on the air, because a tug of war between co-owners of the show torpedoed the deals.
DORIS DAY was surprised to learn yesterday was her 95th birthday. Que sera sera.
PHILIP BAKER HALL, with 175 film and television credits from Boogie Nights to Seinfeld, gets a profile from the Washington Post.
A HIGH-LEVEL DEFECTOR FROM NORTH KOREA warned in a new interview that Kim Jong Un would use nuclear weapons against the U.S. or its allies to stay in power if necessary.
NEARLY EXTINCT TIGERS were found breeding in a Thai jungle.
A STONED DOG was seen leaning up against a door in the vet's after allegedly ingesting cannabis.
DOLPHINS beat up octopuses before eating them.
MONSTROUS SPIDERS AND CENTIPEDES prey on large animals.