THE WEEKEND STARTS HERE:
...with the YOUNG FRESH FELLOWS! Live at Cicero's in St. Louis, On November 23rd,1985, so this is Chuck Carroll-era YFFs. Selections include: "Gus Theme," "White Bird," "If I Had A Hammer," "Power Mowers' Theme," "Where Is Groovy Town?", "Sharing Patrol," "Topsy Turvy," "Young Fresh Fellows Theme," "Hang On Sloopy," "All Messed Up," "Big House/ Love Boat Theme medley" "Mr. Salamander's Review," "Down By The Pharmacy," "Close to You/ Someone I Care About," "Aurora Bridge," "How Much About Last Night Do You Remember?" "This Little Mystery," "Searchin' USA," "Fair Exchange," and "My Friend Ringo."
THE BLACK ANGELS advance stream Death Song.
CHARLY BLISS advance streams Guppy.
OVERCOATS advance stream Young.
CHARLIE WORSHAM advance streams Beginning Of Things.
JEFF TWEEDY shares "Laminated Cat" ahead of Together At Last.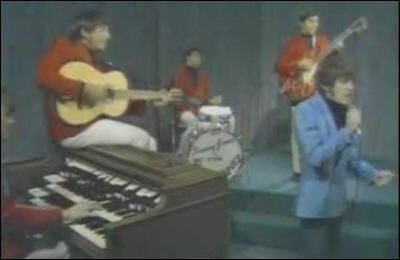 TOMMY JAMES & THE SHONDELLS: "I Think We're Alone Now," at the Village Square. No, really.
RICHARD THOMPSON talks to The ARTery about the fabric of his life. (Spoiler: It's not cotton.) (Thx LHB)
TODD RUNDGREN talks to All Songs Considered about making "Deaf Ears" with Trent Reznor and Atticus Ross.
FUTURE ISLANDS is profiled in Rolling Stone.
SGT PEPPER's Outtakes.
THE FATE OF THE FURIOUS is this weekend's wide release, currently scoring 64 percent on the ol' Tomatometer.
A TRIBUTE TO CARRIE FISHER: Is it dusty in here?
JENNIFER GARNER has just filed for divorce from Ben Affleck.
SIENNA MILLER dismissed rumors that she's been flirting with divorcing Brad Pitt.
KATIE HOLMES & JAMIE FOXX are finally ready to "go public" with their romance.
WHY IS THIS SATURDAY DIFFERENT FROM ALL OTHER DAYS? Because ABC has its annual showing of The Ten Commandments, a grand spectacle featuring acting from Edward G. Robinson and Anne Baxter that is so over-the-top that Yul Brynner starts to look good by comparison. And while Robinson's Dathan never actually spoke the line "Where's your Messiah now?" in the movie, it -- like "Play It Again, Sam" (not spoken in Casablanca) -- has become part of a part of our culture. The line actually comes from Billy Crystal, originally a bit from the Oscars, iirc. It later turned up o­n The Simpsons, with Chief Wiggum playing Dathan to Ned Flanders' Moses.
BAYWATCH is hosting a SlowMo Marathon, which will take place in Downtown Los Angeles.
SEX IN THE CITY: The Beginnings.
SYRIAN President Bashar al-Assad on Thursday denied that his government has ever launched chemical-weapon attacks, and said last week's attack on civilians—which was deemed to be carried out using deadly sarin gas—was a "play."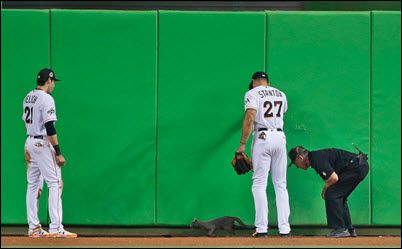 BASEBALL CAT: The hero we need right now.
EELS can sense magnetic fields and may use this ability to navigate thousands of miles through the Atlantic Ocean.
A 5-FT SNAKE was found in a hotel drawer, checking out Gideon's Bible. Much like Rocky Raccoon.