THE WEEKEND STARTS HERE:
...with STEVIE WONDER! His session at the Beat Club includes "Intro Jam," "Contusion," "Higher Ground," "Dont You Worry 'Bout A Thing," "I Can See The Sun In Late December," "He's Misstra Know-It-All," "Living For The City" and "Superstition."
LAND OF TALK advance streams Life After Youth.
THE COMO MAMAS advance stream Move Upstairs.
SPENCER RADCLIFFE & EVERYONE ELSE stream The Great Outdoors.
VAN MORRISON, Live At The Orphanage, July 29, 1974.
THE NATIONAL shares "The System Only Dreams In Total Darkness," the first single from the band's seventh album, Sleep Well Beast.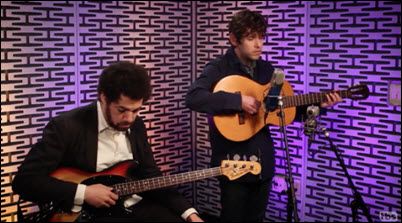 DANGER MOUSE & SAM COHEN cover "House Of The Rising Sun" and "Can't Help Falling In Love" for Conan (and The Man in the High Castle).
RAY DAVIES talks to The Guardian about Brexit, Americana, the 50th anniversary of "Waterloo Sunset," and much more.
PWR BTTM responds to allegations of sexual abuse, predatory behavior, and anti-Semitism made against one-half of the duo.
PRINCE: Universal Music Group has demanded that its 31MM deal with the Prince estate involving the late icon's recorded-music catalog be canceled and the money returned, according to court documents filed on behalf of the estate's administrator and reviewed by Billboard.
THE MP3 is officially dead, according to it's creators.
NOW SHOWING:This weekend's King Arthur: Legend of the Sword, which is currently scoring 21 percent on 21 percent on the ol' Tomatometer; and Snatched, which is scoring 38 percent.
JOHNNY DEPP: A Star in Crisis and the Insane Story of His "Missing" Millions.
STEVE HARVEY: Don't let the door hit you on the way out.
KELLY CLARKSON is headed to The Voice, not the American Idol reboot.
KATE UPTON is starting to plan her wedding; she's not dieting, for starters.
JUDGE DREDD may soon be coming to the small screen.
TWIN PEAKS has a new trailer online.
MOMO THE DOG chased a bear away from her owners.
RATS are blamed for consuming 900K liters of moonshine and other liquor seized from locals that has gone missing in one of India's prohibition states.
A DUCK was accidentally killed by a golf drive.
PARASITES could be lurking in your sushi.