THE MUPPETS get mashed-up with the Beasties' "Sabotage."
THE PIXIES played a mini-set for World Cafe Live.
REAL ESTATE played a mini-set at the 2017 NON-COMMvention in Philadelphia.
ALLISON CRUTCHFIELD stopped by World Cafe for a chat and mini-set.
SHOUT OUT LOUDS share "Jumbo Jet."
THE HOLLIES: "Have You Ever Loved Somebody", courtesy of the Beeb.

SONIC YOUTH: Diffuser celebrates Sister's 40th anniversary.

PERFUME GENIUS: Mike Hadreas discussed his fave albums at The Quietus.

JARVIS COCKER interviews PETER SAVILLE on how Joy Division and New Order influenced modern art. (Thx, Frank Yang.)

THE TOP 25 LPs of 2017 (So Far), according to Consequence of Sound.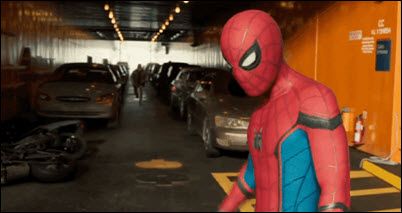 WEEKEND BOX OFFICE: Spider-Man: Homecoming easily tops the chart with 117MM, well above projections near 90MM and a tribute to the power of bringing an extremely valuable, but declining franchise under the umbrella of the Marvel Cinematic Universe. Despicable Me 3 places with 34MM on a 53 percent drop from its debutframe; it is a head of the orginal, but lages the others in this franchise. Baby Driver shows with12.8MM on a leffy 38 percent drop (esp leggy given that Edgar Wright fans likely frontloaded the debut). This will be Wright's biggest and most profitable picture to date. Wonder Woman hands on to the fourth slot with another 10.1MM on a 36 percent drop; it is gaining on the Guardians sequel for the second spot overall this year. Transformers: The Last Knight rounds ou the Top Five with 6.3MM, but plummets 63 percent in the process, cementing it as a franchise surviving on toy sales foreign grosses.
DUNKIRK: Christopher Nolan writes about the difficulty that went into trying to get the movie made and the pitch that sealed the deal with Warner Brothers.
DONAL LOGUE's child is "safely back home" after being missing for more than a week.
BEN AFFLECK reportedly started a relationship with SNL line producer Lindsay Shookus during his marriage to Jennifer Garner. Shookus left her now ex-husband, Kevin Miller, to be with Affleck.
BAYWATCH is getting rescued overseas.
MARRYING WITH THE STARS: Julianne Hough married NHL star Brooks Laich; Peta Murgatroyd and Maksim Chmerkovskiy married each other.
JEREMY RENNER has broken both his arms in a stunt that went wrong while filming Avengers: Infinity War.
JAMES CORDEN and his wife Julia are expecting their third child.
SHIA LeBEOUF was arrested in Georgia for being wasted and losing control of himself.
NELSAN ELLIS, who starred in HBO's True Blood as Lafayette Reynolds, has died at 39.
IRAQ: Prime Minister Haider al-Abadi arrived in Mosul on Sunday to congratulate Iraq's armed forces for wresting the city from the Islamic State. The victory marked the formal end of a bloody campaign that lasted nearly nine months, left much of Iraq's second-largest city in ruins, killed thousands of people and displaced nearly a million more.
WOLFGANG rescues all sorts of animals.
PRAYING MANTISES are killing birds and eating their brains.
GOATS clearing a lot at Western Michigan University have drawn a union grievance.
AN ARMED 11-YEAR-OLD saved a fishing party from a charging brown bear in Alaska on June 18.