GIVEN THE SLOW NEWS CYCLE, let's ease back into the week lightly: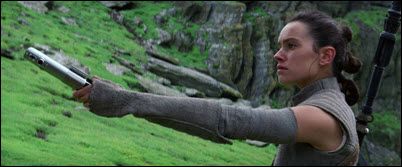 WEEKEND BOX OFFICE: The Last Jedi easily repeated atop the holiday chart with 101MM. That's a 54 percent drop from its debut; the three-day drop was an eyebrow-raising 69 percent, but Christmas Eve is a terrible movie day and Christmas is a great one. The "final" estimate is significantly below some heading into the weekend (I saw one four-day estimate of 118MM last week). Nevertheless, Episode VIII is roughly in the range most expected. The Force Awakens had grossed 540MM domestic after its 10th day, but no one expected the sort of numbers for TLJ, which has 2 years of pent-up demand for Luke & Leia, not 30. Rogue One, last year's standalone, grossed 286MM in its first 10 days (also ending on Christmas). So TLJ's 397MM is 27 percent behind or 38 percent ahead and maybe that's not shocking. It's less shocking when you see that Jumanji: Welcome to the Jungle placed with a strong 52.2MM (and 68.8MM since its release last week), supposedly against a 90MM budget (thou that seems like a lowball estmate for a vfx-heavy move with this ensemble cast; I'd guess it's at least 100MM, which is still economical). The Deadline account of how this reboot / sequel finally got greenlit is interestiing. Pitch Perfect 3 showed with 25.6MM against a 45MM budget. I think people were thinking of this as the last of this franchise, but perhaps not with this showing, despite bad reviews. The Greatest Showman debuted in the fourth-greated spot on the chart with 14MM (18.6MM since its release). The studio is struggling with marketing Hugh Jackman's passion project after it's "the songwriter of La La Land" pitch ran into mixed reviews and few awards nominations until the Golden Globes stepped in. Ferdinand rounded out the Top Five with 9.7MM on a 28 percent drop. With Coco close behind at sixth, this Christmas the box office tilted heavily toward the family fare and away from the more mature offerings.
DARKEST HOUR is one of thiose in the latter category, detailing the opening weeks of Winston Churchill's Prime Ministership as continental Europe falls swiftly under Nazi domination. It's possible to see this as a companion to Christopher Nolan's Dunkirk, which focused almost entirely on the fighting, while this one focuses on the politcal drama unfolding in the UK, though both wind up being about the character of the island nation. To that degree, while Darkest Hour makes for decent drama, it's not all that slavish about historical accuracy, and particularly shortchanges Churchill to give him more of a character arc. I generally am not overly prickly about historical accuracy in movies, but this is a case where the actual history was arguably more dramatic. Nevertheless, this is very solid entertainment, mostly due to Gary Oldman'sshould-be-Oscar-winning turn as Churchill (as written). His prosthetics man also deserves an award for creating an uncanny resemblance outside of Oldman's eyes. The supporting performances from Lily James, Stephen Dillane, Ben Mendelsohn and Kristin Scott-Thomas are also strong. I usually like Joe Wright's direction (Atonement, Prode and Prejudice) and the meat of it is fine, tho I could have done with a few less overhead shots. The team is also ultimately telling the story of -- as one characcter puts it -- how Churchill mobilized the English languageand sent it into battle. The script structurally serves this theme well, turning around three of Churchill's key speeches within this short window of time. But that theme might have been clearer and stronger had they not weakened the man himself. Darkest Hour is a movie worth seeing, but if you also want a more accurate portrait of the man and his marriage, I recommend tracking down The Gathering Storm, with Albert Finney and Vanessa Redgrave (which appears to be streaming on Amazon as I write this).