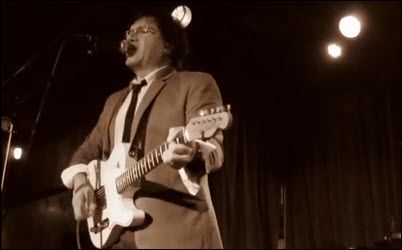 PEZ BAND play "Baby It's Cold Outside" and "Close Your Eyes" for Twofer Tuesday.


SUPERCHUNK advance streams What a Time to Be Alive.

THE BARR BROTHERS stopped by World Cafe for a chat and mini-set.

ITASCA streams Morning Flower.

OKKERVIL RIVER shares "Don't Move Back to LA."

LA LUZ shares a video for "Cicada."

THE NATIONAL is scoring a musical version of Cyrano de Bergerac.

ULTIMATE PAINTING have cancelled the imminent release of their new album Up! after deciding to split up as a band "due to an irreconcilable breakdown".

THE 50 BEST ALBUMS of 1998, acvcording to Pitchfork.

THE NUMBER ONES looks at Bobby Darin's bloodthirsty murder party "Mack The Knife."

JUDAS PRIEST guitarist Glenn Tipton has announced that he will not join the band on their upcoming Firepower tour, due to his battle with Parkinson's disease.

RACHEL WEISZ, who is married to James Bond (Daniel Craig), doesn't think the next 007 should be played by a woman.

JENNIFER LAWRENCE, channeling a little Silver Linings Playbook, took over the loudspeaker on a Delta flight from New Orleans to Los Angeles and led the plane in a "fly, eagles, fly" cheer.

SEAL will not face any criminal charges in the sexual battery complaint filed by a former neighbor.

MARLON BRANDO's son says his dad did not hook up with Richard Pryor.

ROYAL WEDDING details.

SOLO character studies.

PETER RABBIT has a food allegy problem.

VIC DAMONE, the postwar crooner whose intimate, rhapsodic voice captivated bobby soxers, middle-age dreamers and silver-haired romantics in a five-decade medley of America's love songs and popular standards, died on Sunday in Miami Beach. He was 89.

ROBOT ANIMALS seem really cool until you imagine them as the raptors in Jurassic Park.

PETE protected his fellow dogs against a black bear and succumbed to the injuries.

EYEWORMS have finally infected a human.

SUSPECTED POACHER eaten by lions.