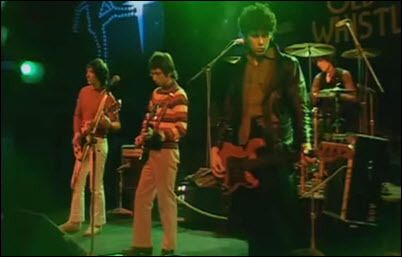 THE BUZZCOCKS play "16 Again" and "Nothing Left" on the OGWT for Twofer Tuesday.
KACEY MUSGRAVES advance streams Golden Hour.
JENNY & THE MEXICATS play a Tiny Desk Concert.
MOLLY TUTTLE plays the Mountain Stage.
STEPEHN MALKMUS & THE JICKS shares "Shiggy."
SIBILLE ATTAR shares "I Don't Have To" and "RUN" in time for Twofer Tuesday.
TRAVELLER shares "Hummingbird."
LEON BRIDGES shares some "Bad Bad News."
PAUL McCARTNEY gets over two and a half hours of appreciation and analysis with guest Mark Davis.
LANA DEL REY says her legal difficulties with Radiohead are over. So how similar are "Get Free" and "Creep," and did Radiohead have a legitimate complaint?
ALTAR ROCK: Is doing a 'Christian record' no longer a career killer?
THE NUMBER ONES looks at Ernie K-Doe's New Orleans R & B oldie "Mother-In-Law."
CAPTAIN MARVEL, set in the 90s, will feature some familiar MCU faces.
SOLO: An actor compares its different directors for Vulture, an account in no way encouraged by the House of Mouse nosiree bub.
NICKELODEON ended its long relationship with one of its most prolific series creators, Dan Schneider. For years Schneider had been under a cloud of suspicion over the treatment of some younger stars of his shows.
STEVEN SPIELBERG doesn't think Netflix movies should be eligible for Oscars.
NETFLIX scoops up the Monty Python catalog.
TIFFANY HADDIS, the breakout star of Girls Trip, has some odd views on turpentine.
CHRISTIN AGUILERA, sans makeup.
GYPSY THE CAT was rescued after three days atop a utility pole.
TWO "TRAINWRECKED" ACTORS are locked in a bitter dog cutody dispute.
THE NATIONAL ZOO awaits the arrival of its first baby gorilla in nine years.
THE SQUIRREL THREAT: Invading the SoCal coast in force.