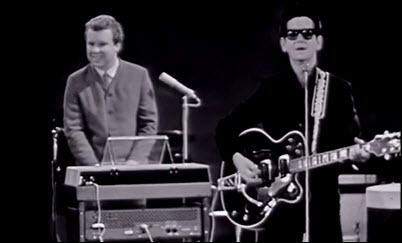 ROY ORBISON provides vintage performances of "Running Scared" and "Oh, Pretty Woman" for Twofer Tuesday.

JOHN PRINE advance streams The Tree of Forgiveness.

MARGARET GLASPY visited The Current for a chat and mini-set.

THE BETHS stream their Warm Blood EP.

TALKING HEADS get over two and one-half hours of discussion and analysis on Political Beats with WSJ exec editor Matt Murray.

LINDSEY BUCKINGHAM leaves Fleetwood Mac. Again. Did you know he wrote a song called "Go Your Own Way?" Because he totally did.

EELS: Mark Oliver Everett talks to Fresh Air about falling apart, bouncing back, and fatherhood.

THE NUMBER ONES looks at Dion's "Runaround Sue."

GAME OF THRONES just wrapped a 55-day shoot—for one enormous battle scene.

JOHN CUSACK doesn't have high hopes for a High Fidelity TV series.

BILL COSBY was accosted by a topless protester as he walked into court for his sex assault retrial.

WESTWORLD's showrunners talk Shogun World.

THE SIMPSONS responded to complaints about the Apu character, and people are still complaining.

WEINER DOG WALK in Manchester.

AN ARCTIC FOX charms a fisherman out of his catch.

A CAT that spent three days stranded in a tree was brought back to earth -- only to flee up another tree.

A SNEAKY SEAGULL was caught on camera swooping down on a shopper's cart in a grocery store parking lot and stealing a package of bacon.