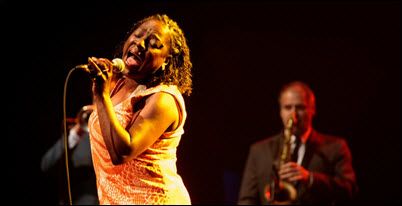 SHARON JONES, a powerhouse soul singer with a gritty voice, fast feet and indomitable energy, died Friday of pancreatic cancer. She was 60. Here's what I wrote after I first saw her back in October 2005: "Though my weekend schedule was in flux, I was able to scurry down to the Double Door (where Barry Jive and the Uptown Five played at the end of High Fidelity) to see Sharon Jones and the Dap-Kings at the last minute Saturday night. ... That band puts o­n o­ne helluva hot, sweaty, funky soul extravaganza. Indeed, the Dap-Kings did an entire power-packed set before they brought Sharon Jones out. the set included not o­nly highlights from Dap Dippin' With Sharon Jones & the Dap Kings and Naturally (an Amazon Best of 2005 (so far) pick and one of mine too), but also several new songs that were equally smokin'. It's like finding a big stack of Stax wax that somehow never got released in the late '60s or early '70's. You can see video at the Daptone records site, but it really doesn't do the band's James Brown Live at the Apollo energy level justice. Ms. Jones may be built more like Aretha, but moves like Tina Turner. Suffice it to say the Woody Guthrie's "This Land Is Your Land" and Janet Jackson's "What Have You Done For Me Lately" have never sounded funkier." This 2007 clip of Miss Jones and the band strutting and percolating thru Naturally's "How Do I Let a Good Man Down?", with a Brown-style introduction, captures what I was writing about pretty well. Her cover of Marva Whitney's "Things Got To Get Better" also captures it pretty well. They even sound pretty dang hot just rehearsing a James Brown medley with Lee Fields. And while the band could bring it down for a ballad like "100 Days, 100 Nights"or go a little Motown on songs like "Retreat!" or "Stranger to My Happiness," I will always remember her working a crowd with mastery as in this Paris performance of "When I Come Home" where Prince stops by to solo. BONUS: Here's Sharon joining Iggy Pop on Bowie's "Tonight", and singing "Sweet Jane" with Lou Reed.
THE MAGNETIC FIELDS advance stream 5 songs from the upcoming 50 Song Memoir.
ALEJANDRO ESCOVEDO stops by The Current for a chat and mini-set. On his latest album, Burn Something Beautiful, Escovedo collaborated with R.E.M. alumni Peter Buck and Scott McCaughey.
THE ARKELLS also stopped by The Current for a chat and mini-set.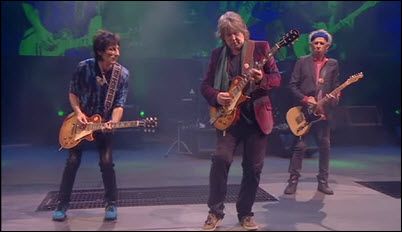 THE ROLLING STONES brought Mick Taylor out for "Can't You Hear Me Knockin'" at Glastonbury 2013.
SUICIDE: Pitchfork runs an uncondensed version of a 2002 interview the late Alan Vega did with author Simon Reynolds.
BRATMOBILE's Allison Wolfe shares the soundtrack of her life with Pitchfork.
ANDY SCHAUF talks to Now about the Polaris Prize, Christian pop-punk and why he doesn't leave his new neighborhood.
DWEEZIL ZAPPA talks to Magnet about his new LP and his family woes.
WEEKEND BOX OFFICE: Fantastic Beasts and Where To Find Them domianted the chart with 75MM, but with a 180MM budget may need to make 350-400MM to break even; the additional 143MM it has grossed overseas suggests that's doable, esp since it has yet to open in China. Doctor Strange places with 17.7MM on a 59 percent drop borne not only of the competition from Fantastic Beasts, but also the drop-off from a holiday weekend; global receipts are still on track for this one to make a decent profit in theaters. Trolls showed close behind with 17.5MM on a 50 percent drop. Arrival, the highly-acclaimed-including-by-me sci-fi flick, takes the fourth slot with 11.8MM on a 51 percent drop; it's just getting stararted in foreign markets. Almost Christmas rounds out the Top Five with 7MM on a 54 percent drop, all tribute to how much oxygen the Potterverse consumed this weekend. The Edge of Seventeen and Bleed For This, both generally well-reviewed, debuted seventh and eight, respectively.
EMILIA CLARKE (Game of Thrones) is joining the Star Wars Han Solo spinoff.
DEADPOOL 2 has a new director: John Wick's David Leitch.
KANYE WEST was booed at a concert on Thursday in San Jose, California, revealing that he didn't vote - but he would have cast his ballot for President-elect Donald Trump.
DWAYNE JOHNSON talked about his heavily publicized feud with Fast 8 costar Vin Diesel in a new interview with The Los Angeles Times.
MARC ANTHONY is separating from his wife of 2 years.
WEDDING CRASHERS is getting a sequel, or so Vince Vaughn told Isla Fsher.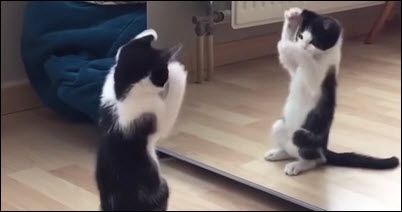 KITTENS Make Everything Better.
GOAT YOGA: All the news that's fit to print, in the New York Times.
RIVER RAT is the hot new hambuger in Russia.
A HALF-DOZEN YAKS in British Columbia are looking for a home.