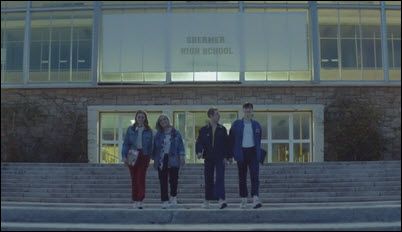 SHURA isn't typically my bag but the video for "What's it Gonna Be?" explicitly works the John Hughes vibe. Plus, it's the day after Ferris Buelle's Day Off.
CAR SEAT HEADREST performed live for WXPN's 16th annual Non-COMMvention.
MOON HOOCH advance streams Red Sky.
BRANDY CLARK advances streams Big Day In A Small Town.
THE POSIES do a little bit of "Black Night" before covering Chris Bell's "I Am the Cosmos."
PAUL SIMON talks to Morning Edition about Stranger to Stranger and more.
BJORK talks to The Guardian about her new VR work, nature, technology and her habits on Airbnb.
THEY'RE NOT THERE: The True Story Of The Fake Zombies, The Strangest Con In Rock History.
THE ULTIMATE WEDDING PLAYLIST contains tracks that, upon reflection, seem inappropriate.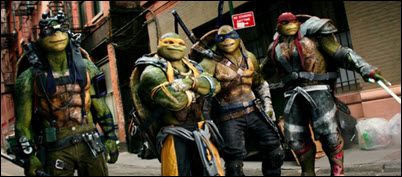 WEEKEND BOX OFFICE: Teenage Mutant Ninja Turtles: Out of the Shadows tops the chart with 35.2MM...but that's only a little more than half of the 2014 reboot's opening take against a 135MM budget. Even the 69.25MM worldwide total isn't looking too great here. X-Men: Apocalypse places with 22.3MM...but that's a 66 percent drop from its opening. Overseas grosses may be needed to keep the franchise going...and crossing the 400MM mark worldwide suggest they may just make it. Me Before You shows with 18.3MM which means the teen tearjerker may see profit on the big screen, if the marketing costs were reasonable. Alice Through The Looking Glass takes the fourth slot on a nasty 60 percent drop in its second weekend. Oof. The Angry Birds Movie rounds out the Top Five with 9.8MM on a 48 percent drop and part of the overall pattern of bad holds this weekend.
MUHAMMAD ALI, the three-time world heavyweight boxing champion who helped define his turbulent times as the most charismatic and controversial sports figure of the 20th century, died on Friday in a Phoenix-area hospital. He was 74. Author David Remnick essayed his life. Of course, I tend to remember his song.
AMBER HEARD is suing comedian Doug Stanhope, and others who have not yet been named, for defamation and intentional infliction of emotional distress, arising from his accusation thst she is "blackmailing" Johnny Depp.
RICHARD SIMMONS has been released from a Los Angeles hospital after demonstrating bizarre conduct Friday night.
JACK BLACK: Reports of his death were greatly exaggerated.
STAR WARS ROGUE ONE: An explainer on the much-commented-upon reshoots.
KARL URBAN talks to IGN about why he almost didn't return as Dr. McCoy for Star Trek Beyond, his favorite episodes, and why he's a fan of Gene Roddenberry's series.
ANTHONY HOPKINS joins the cast of Transformers 5, in case you were wondering how picky he is these days.
D-DAY: The anniversary of the invasion of Normandy is marked with five essential stories and some color footage.
SYRIA: A U.S.-led coalition fighting against Islamic State in Syria air-dropped weapons to rebels in the town of Marea in northern province Aleppo on Thursday, a rebel commander and monitoring group said.
IRAQ: A 17-month U.S. effort to retrain and reunify Iraq's regular army has failed to create a large number of effective Iraqi combat units or limit the power of sectarian militias, according to current and former U.S. military and civilian officials.
A BABY MINIATURE HORSE chases a person.
DOGS IN BANDANAS: A World Record?
FOXES stand accused of damaging a doctor's brake lines, but I think we all know squirrels masterminded it.
SNAILS use just two brain cells to make decisions, just like me.