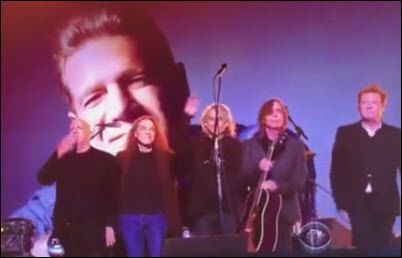 JACKSON BROWNE joined the surviving EAGLES at the Grammys for "Take It Easy," a song Browne (mostly) co-wrote with the late Glenn Frey. They may never be here again.
BEN FOLDS plays a Tiny Desk Concert, including "Emaline" and "One Angry Dwarf And 200 Solemn Faces."
SIOUX FALLS advance streams Rot Forever.
THE SNAILS, a Future Islands offshoot, is streaming Songs From The Shoebox.
BETTER PERSON advance streams the It's Only You EP.
MAVIS STAPLES drops "Action," written by tUnE-yArDs' Merrill Garbus, ahead of Livin' on a High Note.
TANYA DONNELLY drops "Tooraloo," from her upcoming three-CD set called Swan Song Series.
BRUCE SPRINGSTEEN breaks out a 12-string to cover Jackie DeShannon's "When You Walk in the Room," which was also a hit for The Searchers.
THE REPLACEMENTS book, Trouble Boy, is excerpted at Rolling Stone, with some disturbing details about the late Bob Stinson.
ANIMAL COLLECTIVE talks to Drowned In Sound about Painting With, a deliberate departure which the band had in mind as they were going into the writing and recording process.
STEVE MASON talks to Drowned In Sound about The Beta Band, amking a living, and modern culture.
NINE CLASSIC INDIE CONCEPT ALBUMS, compiled by Baeble Music (Thx, LHB.)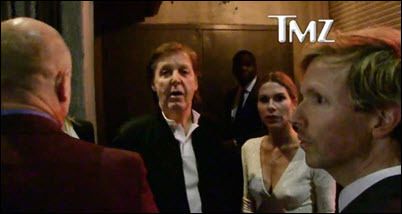 PAUL McCARTNEY, BECK & FOO FIGHTERS drummer Taylor Hawkins got turned away from a Grammys after-party. There's video: "How VIP do we gotta get? We need another hit."
KANYE WEST threw an epic tantrum behind the scenes of Saturday Night Live and petulantly threatened to walk off the show during its live weekend broadcast.
VANESSA HUDGENS and her boyfriend are under investigation for defacing one of Arizona's most prized treasures.
PEE-WEE's BIG HOLIDAY has a trailer online.
WOLVERINE 3 is hunting for an R-rating after the success of Deadpool.
GEORGE GAYNES, a veteran character actor from Tootsie to the Police Academy movies and scads of TV credits, died on Monday in North Bend, Wash. He was 98. His survivors include another great character actress, wife Allyn Ann McLerie.
PARIS ATTACKS: CIA director John Brennan said that the agency and its allies were aware of covert ISIS activity in the lead up to the attacks in the French capital, however attempts to stop it was foiled by "sophisticated" use of encrypted Internet communication.
UKRAINE: A year-old ceasefire deal has failed to stop violence in Ukraine's separatist eastern territories, and international monitors have voiced concern over increased shelling in recent weeks.
RUSSIA is bombing to pieces the Obama administration's hopes of halting the violence in Syria.
JESPER is an outdoorsy cat.
A PIGLET gives new meaning to the word eyeballs.
MONKEYS photobomb a model with a NSFW performance.
FERAL PARAKEETS invade London.