THE WEEKEND STARTS HERE:
...with BLIND FAITH! Live at London's Hyde Park in June 1969. After an introduction and brief segments about supergroup members Steve Winwood, Rick Grech, Ginger Baker, and Eric Clapton, your set list includes:"Well All Right", "Sea of Joy","Sleeping in the Ground", "Under My Thumb", "Can't Find My Way Home", "Do What You Like", "In the Presence of the Lord", "Means to an End", and "Had to Cry Today".
BOB DYLAN: Aquarium Drunkard has some Blood on the Tracks alternates from New York.
CLOUD NOTHINGS remixed Here and Nowhere Else (in Wingdings) for Record Store Day.
TWIN SHADOW stopped by The Current for a chat and mini-set.
PETER BJORN & JOHN return with the rhythm-heavy "High Up (Take Me To The Top)".
THE GO! TEAM drops "Ye Ye Yamaha" for Record Store Day.
JON PRATT: Pate's frontman plays "Watts Up Doc?" and "Watt the Funk?", two instumrntals he wrote for an upcoming video promoting NIST's LEGO watt balance. Jon also talks about his axe, in this case a 1938 Vega Archtop.
LOU REED's sister sets the record straight about his electroshock therapy.
BEST COAST talks to Stereogum about their friendship, haters, and California Nights.
GRIZZLY BEAR: Ed Droste talks to The Standard about moving to LA, getting divorced, and coming back together with his band. (Thx, LHB.)
STEVE ALBINI: Not a fan of Jay Z's new streaming service.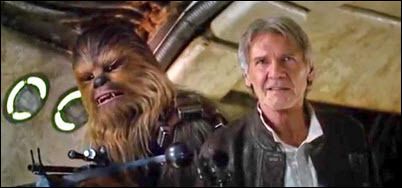 STAR WARS: THE FORCE AWAKENS dropped a second teaser trailer online.
NOW SHOWING:This weekend's wide releases include Paul Blart: Mall Cop 2, which is currently scoring 0 percent on the ol' Tomatometer; Unfriended, which is currently scoing 71 percent; and Monkey Kingdom, scorng 92 percent. True Story opens near-wide with 49 percent.
RYAN GOSLING is in negotiations to star in the Blade Runner sequel opposite Harrison Ford.
NICKI MINAJ is engaged to Meek Hill.
JERRY SEINFELD says TV is over.
WONDER WOMAN finds a new director--Patty Jenkins, who at one point was to direct Thor 2 for rival Marvel Studios.
FLASH GORDON may be directed by Matthew Vaughn (Kingsman: The Secret Service, X-Men: First Class, Kick-Ass).
TURKEY held a ground-breaking ceremony for the construction of parts of its first nuclear reactor, sparking an angry protest by activists.
SAUDI ARABIA & SOUTH KOREA have signed a memorandum of understanding to cooperate on the development of nuclear energy, Saudi state news agency SPA said, building on a deal signed in 2011.These nuke stories are surely coincidental to Iran's pursuit of nuclear weapons.
IRAN has greatly increased the frequency and skill of its cyberattacks, even while negotiating with world powers over limits on its nuclear capabilities.
IRAQ: Islamic State militants launched a fierce attack Wednesday to capture the city of Ramadi, dealing a setback to a newly launched Iraqi military offensive in the Sunni-dominated region.
YEMEN: Military officials and residents said al-Qaeda has taken control of a major airport, a sea port and an oil terminal in southern Yemen after brief clashes with troops. The UN peace envoy to Yemen has resigned, a UN official said, after losing support from Gulf countries for his mission in the conflict-riven nation.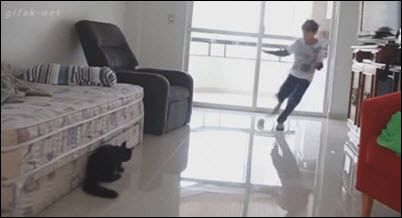 GOALKEEPING CAT: Almost hypnotic.
A RACCOON clung to the ladder of a crane in Toronto – more than 200 meters up.
A WOLVERINE was tranquilized at Newark International Airport in New Jersey.
MINI-GODZILLAS have been discovered in the Andes.