THE WEEKEND STARTS HERE:
...with LIVE AID! 30 years ago on July 13, 1985, a trans-Atlantic rock even aimed at aiding starving people in Ethiopia (Its prime movers, like Bob Geldof & Bono, would later discover, actually getting the aid past the Marxist dictatorship would be the difficult part). Let's start with the full set from Queen, because they knew how to work a Wembley stadum gig. Your setlist includes: a partial Bohemian Rhapsody, Radio Ga Ga, Ay Oh!, Hammer To Fall, Crazy Little Thing Called Love, We Will Rock You/We Are The Champions, and Is This The World We Created...? But on a more 80s note--and the event was certainly that-- we have U2 (pre-global stardon) with Bono working the crowd during "Bad," a pre-lip-syncing Madonna getting "Into The Groove," Phil Collins (who played both in Philly and London with help from the Concorde) playing "Against All Odds." The concerts featured their share of legends too-- Led Zeppelin blasting "Whole Lotta Love" with an assist from Collins, Mick Jagger and Tina Turner dueting on "State of Shock" and "It's Only Rock and Roll," and David Bowie (with help from Thomas Dolby and the band) delivers "Heroes." And for a day, they were.
WILCO will give you a shiny new album, Star Wars, in return for your email address.
ASHLEY MONROE advance streams The Blade.
JESSIE JONES advnace streams her self-titled debut.
WATKINS FAMILY HOUR advance streams a cameo-laden debut.
OMAR SOLEYMAN advance streams Bahdeni Nami.
KEITH RICHARDS makes "Trouble" the first release from his upcoming solo LP.
THE GOOD LIFE drops their latest single "Forever Coming Down," the title tack of their upcoming album.
FOUNTAINS OF WAYNE work the car wash for "Denise," whom you may know as T'Pol.


RAY DAVIES talks to The Guardian about the art of songwriting, that difficult relationship with his brother Dave and how he once saw Madonna in Waitrose.

BOBBY FULLER: The short life and mysterious death of the Rock 'n Roll king of Texas.

TAME IMPALA: Kevin Parker talks psychedelia, Glastonbury, and more with NME.

BYRDMANIA: A feature by the late, great Derek Taylor, originally published in Melody Maker on 17 July 1965.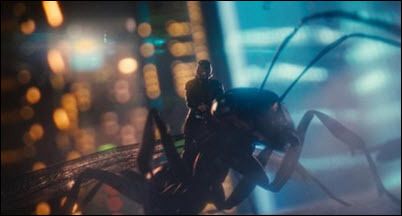 NOW SHOWING: This weekend's wide releases are Ant-Man, which is currently scoring 77 percent on the ol' Tomatometer; and Trainwreck, currently scoring 89 percent.
ANT-MAN: You will believe a man can fly...on the back of an ant. Like another of its lesser properties, Guardians of the Galaxy, Marvel ladles some humor on the actiion and largely succeeds, though not on the scale of Guardians. The story --and some of its kinetic style--bears the imprint of the project's fist choice for director, Edgar Wright (Shaun of the Dead, Hot Fuzz, Scott Pilgrim, as polished up by Adam McKay and star Paul Rudd (who go back at least as far as Anchorman). This film adds father-daughter melodrama (far beyond Gamora's or Nebula's issues with Thanos in Guardians); while these are probably the weakest parts of the film, they do help the viewer invest in this micro-scale epic. Rudd (a classically-trained actor, dontcha know) carries this all off with aplomb, assisted by a cast generally well-versed in comedy, including Michael Douglas as the original Ant-Man, Dr. Hank Pym (who in the comics also invented Ultron, who gets a sort of mention here). The surprise may be that Evangeline Lilly (Lost, Lord of the Rings) can also do a bit of comedy, albeit usually as the straightwoman to Rudd, Another surprise is that this movie is more directly tied to the main Marvel Cinematic Universe than one might have guessed; the copious advertising managed to leave a few surprises in the bag, especially if you stay past all of the credits.
THE EMMYS: Nominations went to these folks. Congrats!
AMBER HEARD was charged with the illegal importation of Johnny Depp's dogs, meaning she could, technically, face up to 10 years in an Australian prison.
CHRIS BROWN was targeted by the robbers who staged a bold home invasion robbery after tailing him to check whether he wass out clubbing.
AMY SCHUMER sexted Katie Couric's husband as Katie Couric.
X-MEN: APOCALYPSE fans aren't thrilled with the first look at the film.
CHATTANOOGA: Four U.S. Marines were killed on Thursday by a suspected gunman who opened fire at two military offices in Chattanooga, Tennessee, before being fatally shot in an attack officials called a brazen, brutal act of domestic terrorism. The FBI named the suspect as Muhammod Youssuf Abdulazeez and said he was 24 years old. NBC reported he was a naturalized American born in Kuwait.
IRAN: It's possible the nuclear deal could be worth it. If Iran keeps its word and over time the government changes or moderates. Fmr Obama adviser Dennis Ross believes Iran will cheat, and wonders what happens then. U.S. and Iranian officials confirmed Thursday that no American nuclear inspectors will be permitted to enter the country's contested nuclear sites under the parameters of a deal reached with world powers this week, according to multiple statements by American and Iranian officials.
A SCARED HOMELESS DOG was rescued just before a major storm.
A GORILLA shuns the paparazzi.
A RECENTLY DISCOVERED LEMUR has the largest testes per body weight of any primate, new research finds.
THE BANANA DERBY -- a race involving monkeys riding on the backs of dogs -- will go on in Lake County, IL, despite objections.