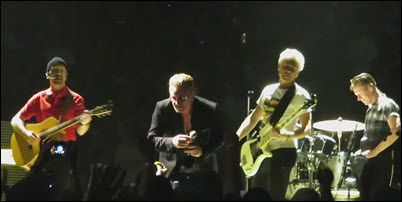 U2 busts out "In God's Country" by request...after the requester lends a hand.
DAWES advance streams All Your Favorite Bands.
WILLE NELSON & MERLE HAGGARD advance stream Django And Jimmie.
SOAK advance streams Before We Forgot How To Dream.
DAUGHN GIBSON advance streams Carnation.
THE RASPBERRIES crush "Go All The Way" and "I Wanna Be With You" for Twofer Tuesday.
DESTROYER: Dan Bejar talks to Pitchfork about postmodernism, pop, and more.
THEY MIGHT BE GIANTS: John Flansburgh talks about writers block on their Tumblr.
B.B. KING's daughters, Karen Williams and Patty King, are accusing King's two closest aides of poisoning him.
JOY WILLIAMS talks to The Guardian about reinventing herself after The Civil Wars.
WEEKEND BOX OFFICE:Tomorrowland topped the holiday weekend with ~33MM dollars...which ain't great against a 180MM budget.Nevertheless, as long as it doesn't bomb, Disney likely wrings added value out of the advertising for their parks. Pitch Perfect 2 places with 30.8MM on a 55.5 percent drop that ain't bad, considering how front-loaded this sequel might have been. Mad Max: Fury Road shows with 24.8MMon a 45 percent drop, which ain't bad for a violent, R-rated movie. The Poltergeist reboot did alright in the fourth slot with 22.6MM against a reported 35MM budget, despite blah reviews and word-of-mouth. Avengers: Age of Ultron rounds out the Top 5 with another 21.7MM to its already massive pile of moolah. Overall, this holiday weekend fell about 30MM short of last year's take.
CHRIS PRATT pre-apologizes for any impolitc remark he makes on the press tour for Jurassic World.
TWIN PEAKS: David Lynch's return will be 18 episodes long, The Double R Diner is being restored, and Angelo Badalamenti will be creating new music for the show.
ALISON PILL married her fiance Joshua Leonard on Sunday.
MARY-KATE & ASHLEY OLSEN will not be in Netflix's Fuller House.
KATY PERRY talks to the Telegraph about moving on from Russell Brand.
KELLY RUTHERFORD won a battle in her 3 year war to get her kids back from her ex-husband.
ANNE MEARA, who was half of Stiller & Meara, one of the most successful male-female comedy teams of all time, and who went on to enjoy a long and diverse career as an actress and playwright, died on Saturday in Manhattan. She was 85. She met her husband and longtime comedy partner, Jerry Stiller, as members of the Compass Players, an improvisational theater troupe that evolved into Second City. Her son, Ben Stiller, tweeted a brief message to fans.
JOHN NASH, the Princeton mathematician profiled in "A Beautiful Mind," has died in a car crash, along with his wife.
BLACK MASS, starring Johnny Depp as gangster Whitey Bulger, has a new trailer online.
SYRIA: Islamic State militants have seized the last Syrian government-controlled border crossing between Syria and Iraq, a Syria monitoring group says. The United Nations says it has received reports that Syrian forces in Palmyra prevented civilians from leaving, ahead of its fall to Islamic State militants.
THE ISLAMIC STATE: A new, coundfunded journalism project reports that Western governments deliberately allied with al-Qaeda and other Islamist extremist groups to topple Syrian dictator Bashir al-Assad. Meanwhile fighting simmering frustration in their ranks over ISIS advances in Iraq and Syria, top U.S. special operations commanders say they are building forces for a multi-generational fight—not a war that will be won in the next few years.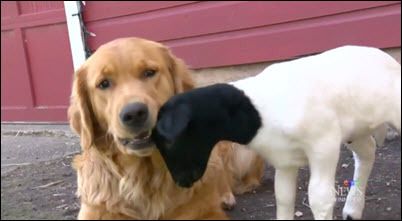 A LAMB, adopted by a GOLDEN RETRIEVER.
TWO GRIZZ;Y BEARS fight over trash in Montville, New Jersey.
A COYOTE attacked a young girl in an Irvine, CA park.
A RARE SPIDER TORTOISE hatched at the Smithsonian's National Zoo.