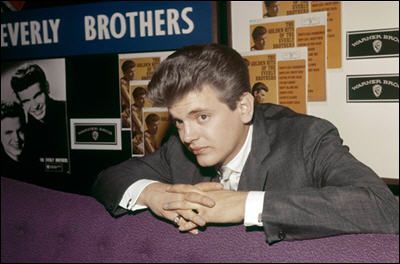 PHIL EVERLY, whose hits with his older brother, Don, as the Everly Brothers were models to generations of rock vocal harmonies for the Beatles, Linda Ronstadt, Simon and Garfunkel and many others, died Friday from complications of chronic obstructive pulmonary disease. He was 75. In 2013, younger musicians released two albums of Everly Brothers songs: What the Brothers Sang by Dawn McCarthy and Bonnie Prince Billy (the indie rocker Will Oldham), and Foreverly by Norah Jones and Billie Joe Armstrong of Green Day, a remake of every song on Songs Our Daddy Taught Us. Don released a statement, of course. Tributes poured in, including tweets from the accounts of Brian Wilson and Johnny Ramone. The Rolling Stone obit is also pretty good, as is this essay at the L.A. Times. The Everlys' hits included "Bye Bye Love," "Wake Up, Little Susie," "All I Have to Do is Dream," "Gone Gone Gone," "When Will I Be Loved," "'Til Kissed You," "Love Hurts," and "Bowling Green," which was their last time on the Billboard Hot 100 for many years to come.
BRUCE SPRINGSTEEN is advance streaming High Hopes.
SHARON JONES & THE DAP-KINGS advance stream Give the People What They Want. Oh, yes.
DAMIEN JURADO is advance streaming Brothers and Sisters of the Eternal Son.
ROSEANNE CASH advance streams The River & The Thread.
THE PIXIES drop EP-2, available exclusively through the band. Plus, a video at the link.
BRITT DANIEL: The Spoon frontman covers Shelley Fabares' "Love Letters."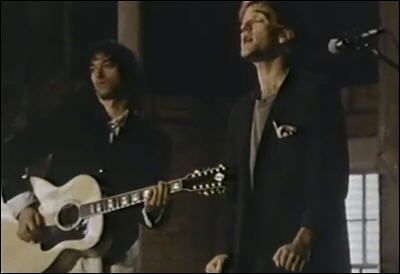 R.E.M.: Michael Stipe just had a birthday, and given the other news of the weekend, I picked "All I Have to Do Is Dream" from Athens, GA - Inside/Out, a soundtrack I played on the radio at the time.
PAUL SIMON: "All of the hits I had were pretty oddball."
ARCADE FIRE: Rainn Wilson interviews Win Butler in the back of a van.
NOTABLE UPCOMING LPs of 2014, according to All Things Considered.
SAUL ZAENTZ, who parlayed a successful career in the music business (Including tormenting CCR frontman John Fogerty) into a Oscar-winning second act as an independent movie producer, died Friday at his home in the San Francisco area from complications of Alzheimer's.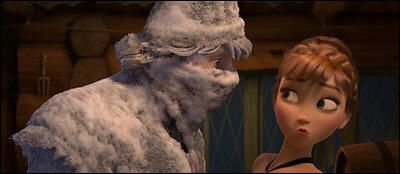 WEEKEND BOX OFFICE: Frozen climbs back to the top of the chart with 20.7 million, in a phenomenally leggy performance. It now has a 297.8 million domestic box office, and will likely dethrone The Lion King (312.9 million) as Disney's biggest-grossing, non-Pixar animated first run. Paranormal Activity: The Marked Ones places with 18 million against a 5 million budget for what is more a spinoff than sequel. The Hobbit: The Desolation of Smaug shows with 16.3 million, on a sizable 44 percent drop roughly matching the trajectory of the first Hobbit installment and thus decreasing the odds this one will clear a billion worldwide. Competing for the same demographic, The Wolf of Wall Street (13.4 million) looks to edge American Hustle (13.2 million) for the fourth slot, though this could change when estimates become actuals.The difference is that American Hustle cost much less (40 million) to produce than the Wolf (100 million), and is thus more likely to reap profits, even after creative accounting. Below the fold, Anchorman 2 and Saving Mr Banks continued to do strong biz. Walter Mitty struggles, but may get bailed out overseas, where it's playing pretty well.
KE$HA has gone to rehab for an eating disorder.
MILA KUNIS & ASHTON KUTCHER obliged Kiss-Cam at a Lakers game.
JUSTIN BIEBER & SELENA GOMEZ, together again... on Segways.
PAUL WALKER will appear in the next Fast & Furious, a franchise planned to continue after his death.
LACEY CHABERT tied the knot with her longtime boyfriend. That is so fetch.
THE YOUNG & RESTLESS: Michael Muhney was fired last month after one of his co-stars complained of groping incidents.
THE WORLD'S LOSERS of 2013, according to Walter Russell Mead.
EGYPT: The government said it planned to confront the Muslim Brotherhood with "full force."
IRAQ: The Iraqi army shelled Falluja on Saturday in an effort to clear out al Qaeda-linked fighters amid dueling claims by the terror group and government forces about just who was in control of the flashpoint city in the Anbar province. Secretary of State Kerry said the US is not contemplating sending troops to Iraq to fight al Qaeda, and added that although the US could help Iraq, the fight was Iraq's.
POWER VACUUM: The bloodshed that has engulfed Iraq, Lebanon and Syria in the past two weeks exposes something new and destabilizing: the emergence of a post-American Middle East in which no broker has the power, or the will, to contain the region's sectarian hatreds.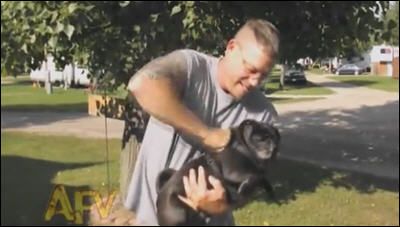 A WIND-UP PUG, courtesy of America's Funniest Videos.
SHARKS tracked by Twitter. Gonna need a bigger social network.
LION ON THE LAM nabbed in Florida.
DEAD GOLDFISH blamed for a late tax return. Good luck with that.