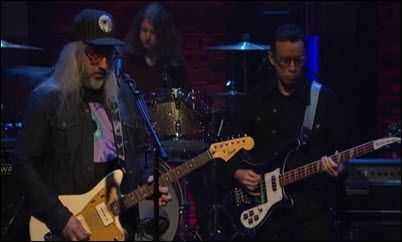 J MASCIS --and Fred Armisen--played "Every Mornng" and Mazzy Star's "Fade Into You" for Seth Meyers.
JOSE GONZALEZ advance streams Vestiges & Claws.
POPS STAPLES advance streams the posthumous Don't Lose This.
SIX ORGANS OF ADMITTANCE advance streams Hexadic.
THE DWARVES stream The Dwarves Invented Rock & Roll. (NSFW).
KC & THE SUNSHINE BAND: "Boogie Shoes," on AB.
BOB DYLAN used his MusicCares tribute address to both hail supporters like Jimi Hendirx and Johnny Cash, and to take aim at his early detractors like Merle Haggard and the songwriting duo of Jerry Leiber and Mike Stoller.
JAY REATARD: Pitchfork surveys his lost legacy, five years after an untimely death.
BRUCE SPRINGSTEEN: PopMatters surveys his first seven albums. I love this observation about The River: "And like all great and debated double LPs, it's the messier and (debatably) less successful bits that bestow an extra staying power, not unlike the way that fat makes for a well-marbled slab of steak."
DON LETTS: The 59-year-old film director, DJ and musician on Punk, his pet ferret, and how Bob Marley tried to pull his girlfriends.
WEEKEND BOX OFFICE: The SpongeBob Movie: Sponge Out of Water tops the chart with 56 million against a 74 million budget. That's much better than the 2004 SpongeBob movie's 32 million opening. American Sniper, the prior champ, places with 24.2 million with a leggy 21 percent drop, suggesting Clint will continue to add to his 350 million in worldwide receipts through the Oscars. The movie has now outearned all the other Best Picture nominees combined The debut of Jupiter Ascending shows with a mere 19 million against a 176 million budget (some reports have it topping 200 million); at some point, Hollywood will realize the Wachowskis have many more bombs than hits on their resume. The debut of Seventh Son comes in fourth with a mere 7.1 million against a reported 95 million budget (with some reports higher). That might seem like as big a bomb as Jupiter Ascending, until you notice Seventh Son has 82 million in foreign receipts, due in part to the productions biz relationship with the Chinese government. It remains to be see whether Jupiter Ascending can do biz overseas. Paddington rounds out the Top Five with another 5.4 million, and over 200 million in worldwide receipts.
THE GRAMMY AWARDS went to these folks. The highlight? Maybe a tie between Annie Lennox and people asking "Who is Beck?" on Twitter after he beat Beyonce. Good to see ELO also.
THE BAFTAS went to these folks.
BRUCE JENNER was involved in a horrific car accident on Pacific Coast Highway in Malibu at around noon Saturday, one person is dead, and it looks like Bruce caused the accident. He volunteered to go to the hospital to have his blood drawn for blood alcohol testing. The L.A. County Sheriff's Dept. will get a search warrant to determine if he was texting at the time he slammed into a car, causing the driver to die. A photo sggests he was smoking, not texting.
BOBBI KRISTINA BROWN: There is an active criminal investigation underway, centering on possible foul play and the target is her boyfriend.
BRIAN WILLIAMS decided on his own to step aside from his NBC newscast for several days; reports conflict over whether he's under an internal investigation.
ROSIE O' DONNELL is leaving The View and her wife.
CHARLIE SHEEN: Back for the Two and a Half Men finale?
RICHARD BONEHILL, an expert swordsman and horseman who played Nien, Nunb, a stormtrooper, Rebel soldier and many other characters in the Star Wars universe, has died. He was 67.
YEMEN: The Houthi rebels in Yemen, who effectively forced the country's president and cabinet to resign last month, announced on Friday that they intended to dissolve Parliament and take control of the country, which does not now have a functioning government.
THE UNITED ARAB EMIRATES says it will send a squadron of F-16 aircraft to Jordan to support an intense program of air strikes against Islamic State militants.
ISLAMIC STATE terrorists are selling abducted Iraqi children at markets as sex slaves, and killing other youth, including by crucifixion or burying them alive.
OSCAR Loves Bubbles.
A BOA CONSTRICTOR is on the lam at Castleton State college in Vermont.
A STOLEN KITTEN was returned with an apology note.
A BABY ORANGUTAN was born in Berlin.